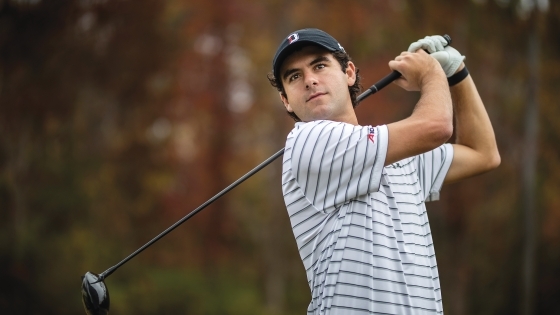 Alex Ross '21 and Mira Hartshorn '21 navigated a very different fall at Davidson by following their passions.
Ross, named Rookie of the Year and Most Outstanding Rookie in the A-10, captains the golf team. He reflects on the uncertainties of this year and how they have reminded him to focus on what he can control, on and off the fairways. Hartshorn, who got a glimpse of Davidson's Lake Campus in a brochure only to fall in love with the Honor Code, rigorous academics and close community, is preparing to join the ranks of the first responders by becoming a nurse practitioner. Through her commitments, she's found continuity in the midst of profound change.
Alex Ross '21
What was your path to Davidson?
I looked all over the country. I was recruited by big schools, small schools—I knew I wanted a Division I golf program and very strong academics. I was used to both, coming from Pace Academy in Atlanta, and I wanted to continue that kind of an experience in college. I considered Ivy League schools as well as the University of Michigan. Ultimately, I was drawn to the small student body at Davidson. And I won't lie—the weather in North Carolina was hard to beat. You were the only incoming player on the golf team your first year.
How did that experience shape your first days on campus?
Typically, two or three players will come in each year. As the only first-year player, I didn't have a natural person to hang around with right away. But it turned out to be great for me because I was forced to form relationships outside of golf. I'm very close with several guys on the soccer team, and I joined Kappa Sigma fraternity. I think it's really important to have friends from different organizations and activities. I obviously got very close with other members of the golf team, but it helped me expand my friend groups immediately. Now, I'm the only senior on the team, which is a valuable leadership opportunity. 
How have the challenges of COVID-19 affected your on-campus experiences?
When we went home back in March, my parents were understandably nervous, so I was home for a couple of weeks. Courses opened quickly in Atlanta, so I was playing again pretty soon. Thankfully, golf is one activity where it is easy to stay safe. Over the summer, I was able to travel to tournaments and continue training and competing. Every four years, the Davidson golf team travels to Ireland, and this would've been my year to go. I was completely gutted when I learned we wouldn't be able to take the trip. But much of the golf experience has continued this fall. We can play up to four people together at a time—we pick a new group each day. Coach Straub has organized team match play brackets to keep us competitive. There have obviously been tougher restrictions at Davidson compared to some other schools, but the flip side of that is the Davidson community has really pulled together to make sure we can stay on campus. It's worth it, but it hasn't always been easy.
So, what's next?
Our first tournament is scheduled for February in Alabama. I'm excited for my senior season. And fortunately, my collegiate golf career will continue. I was able to get another year of NCAA eligibility, so the plan is to play as a graduate transfer while I earn my MBA. For this next step, I'm focused on larger universities in the SEC, ACC and Power Five conferences. I think it will be fun to experience a completely different environment. If everything goes according to plan, I'll play golf professionally after that.
The question for all athletes who plan to go pro: What if it doesn't work out?
By majoring in economics, minoring in philosophy and getting my graduate business degree, I feel prepared for anything. I'm interested in all facets of business, and I know Davidson has prepared me for a career outside of golf, as well. The mix of high-level academics and athletics is the best foundation I could have. I've taken classes covering such a wide variety of topics, from applied ethics with Professor Daniel Layman to game theory with Professor Mark Foley. My professors have been so engaging and they are so knowledgeable—it's opened my eyes to areas I may not have thought about before Davidson.
You have played a lot of golf at a lot of places. What's been the best?
Frederica Golf Club in Sea Island, Georgia—I played there in high school. It's right on the water, and it is the single most beautiful course I've ever seen.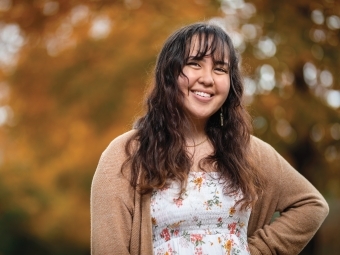 How have you adjusted to this fall on campus?
I was very anxious coming back and really kept to myself at first. I live in a senior apartment with three friends, but other than them, I rarely saw anyone else the first couple of weeks. I had the opportunity to help develop some of the COVID-19 plans for campus, including a petition that led to masks being available at Lula Bell's Resource Center, so I had a behind-the-scenes look at what the administration was doing. When we first hit zero cases, I was floored. I had been panicking about campus closing, and as the numbers stayed low, I started to feel more comfortable going out on campus. It is nice to see people hanging out safely, chilling outside—it has such a direct impact on our morale.
What does campus life look like for you outside of classes?
I love way too many things, and I can't let go of them, so I do a lot! As a Bonner Scholar, I complete 280 hours of community service a year, primarily spending my time at health clinics. The Union Board, where I previously served as chief of staff, helped me find my leadership voice. Active teamwork was critical for our efforts, so it was important to make sure everyone's voices were heard. I am an active member of Latinas Promoviendo Comunidad/Lambda Pi Chi Sorority, Inc., which is the Latinx sorority on campus. Through my roles as community service chair and academic adviser, I've further developed my confidence and learned that it's okay to be proud of who I am. Lastly, I sing in the Delilahs a cappella group—toward the end of the semester we started gathering for small, four-person rehearsals. My involvement has shaped who I am, and even though these activities look little different right now, they are still central to my experiences on campus.
How have you remained involved on campus and off during the pandemic?
Our sorority's philanthropic work is important, and we have had to adjust how we serve communities. We focus on HIV/AIDS education and prevention as well as educating and mentoring in the Latinx community. This fall, we had the challenge of coming up with service opportunities that kept everyone safe, so we packaged kits for RAINN (the nation's largest anti-sexual violence organization), and sorority members would come by my patio and pick up the materials. We also wrote postcards to Latinas in Mecklenburg County who weren't registered to vote, making sure they knew how to register, and the deadlines. Some people tagged us on Instagram thanking us for the resources, so we were able to see our impact even in a remote setting.
What has Davidson taught you about yourself?
Growing up, I was always a shy person, and I came to Davidson rather naïve to social and political issues because of the many privileges I hold. I felt like the bottom of the barrel coming in, not sure if I belonged. That all changed thanks to the student body, especially the BIPOC (black, indigenous, and people of color) community, and professors who have believed in my work and the importance of my voice. They invited me into their spaces and have taken a deep interest in me, which has meant so much. I've learned that my work is powerful and that I can have a lot of impact on this campus—that I have an identity and a culture that I can be proud of.
What are your post-Davidson plans?
I fell in love with nursing through volunteering at Lake Norman Community Health Clinic in Huntersville and at Serenity House, an end-of-life care facility. Specifically, I fell in love with the public health/holistic view/patient relationship focus that nursing provides. Nursing is a fairly uncommon path at Davidson as most pre-health students are pre-medical and pre-dental. I've actually helped to revive the pre-nursing society on campus. Right now, I am applying to nursing schools to earn my MSN, and I would ultimately like to become a nurse practitioner.
---
This article was originally published in the Fall/Winter 2020 print issue of the Davidson Journal Magazine; for more, please see the Davidson Journal section of our website.
Published
Category
Davidson Journal Fall/Winter 2020