Davidson College Creates New Department of Public Health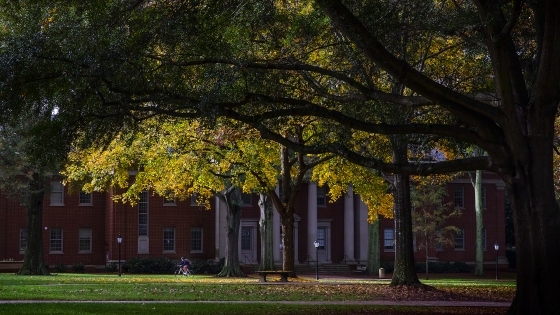 As vaccines push hope for the COVID-19 pandemic's ending into sight, Davidson College announced it's creating a Department of Public Health to turn out leaders who will work toward preventing the next one and many other diseases that threaten our well-being.
COVID-19, which has so far claimed more than 525,000 lives in the United States, upended life around the world. It's taken its highest toll among the elderly, people with underlying health conditions, and in poor and Black and Brown communities, amplifying disparities that have existed for centuries.
It's not just pandemics: Davidson wants its students equipped with the knowledge and skills to combat a multitude of public health threats, said Kata Chillag, Hamilton McKay Professor in Biosciences and Human Health.
"We want everyone to understand that we all have a stake in public health problems and how they affect our most vulnerable communities," Chillag said. "Public health is public service. We want to show that it's a valuable, meaningful way to spend your life."
Chillag, who came to Davidson last year after a long career with the federal government, including the Centers for Disease Control and Prevention (CDC), will lead the new department.  She previously worked on efforts to combat HIV/AIDS in the United States and Africa, polio in Bangladesh, and the 2014-16 Ebola virus epidemic.
The college is hiring a new tenure track professor and plans to expand student opportunities for research and internships in a variety of public health related fields. A new public health minor will be available to students in fall of 2021.
Chillag said many at Davidson have spent years laying the groundwork for the new department. The pandemic and the past year's spotlight on racial inequities further reinforced the need for professionals committed to science, disease prevention and social justice, she said.
She hopes students seeking careers in both medical and non-medical professions will consider public health studies as important career preparation. Today's political science major, for example, could become tomorrow's governor, senator or policy writer. Understanding public health issues would help them navigate complexities as they make policy and funding decisions, she said.
"We want this to be relevant for the whole Davidson community," Chillag said. "Until we fully understand and address the inequities that exist, we're not going to be able to prepare for the next pandemic or public health crisis. We're centered on improving the health and well-being of all people. Justice should always be the north star of our work in public health."
Davidson students can currently create a public health major through the college's Center for Interdisciplinary Studies and will continue to have that option.
Cheyanne Morris '23, a Posse Scholar from Florida who's also a member of the Honor Council and women's track and field team, plans to declare a public health major. She's excited the college is committed to a public health department and hopes students in every major will recognize its importance.
She became especially interested in a public health career in high school because of family members and friends with Type II diabetes. One close family friend wasn't diagnosed until his disease was full-blown. Morris said better access to medical services and intervention strategies could have reduced the risk factors, "and some of his later health issues might have been prevented."
She views a public health career as a path to prevent disease and address the country's disparities—and the many issues that contribute to them, from genetics to environmental factors to a lack of access to healthy foods and high-quality medical care.
"The pandemic will definitely draw more people to public health careers. This new department will allow them more opportunities to explore different ideas of what public health means. It's collaborative work, it's community work," she said. "Unfortunately, it took a pandemic and more than 525,000 lives lost to realize there has to be systemic change."
Multifaceted Discipline
Public health experts say the needs are great; and opportunities to address them abound.
"Public health offers a diverse professional trajectory," said Angela Shen, a Philadelphia-based vaccine expert and scientist who served 22 years with the U.S. Department of Health and Human Services. "The things that threaten health and public health are multi-faceted, as is health, which is physical, psychological and social. Solutions will need to be multi-dimensional."
"No matter what you decide to major in and no matter what path you choose in society, public health affects your life and potentially the decisions you make as a future leader," Shen said. "Davidson is striving to arm students with the training to tackle the world's problems in a meaningful way."
Arjun Srinivasan '92, a medical epidemiologist for the CDC and practicing physician who specializes in antibiotic resistance, said he's confident Davidson's public health department will produce leaders in many specialties.
"I think it's fantastic," Srinivasan said. "Too often we think of healthcare as going to the doctor if you're sick and getting medicine. While we'll always need healthcare providers, there's an awful lot more to health than taking care of patients. This will allow people to see the full universe of careers that can make a difference in the health of all Americans."
He cites the CDC, where his colleagues include scientists, doctors, lawyers, economists and communications specialists. Srinivasan, a biology major in college, said his many liberal arts courses at Davidson gave him valuable perspective on real-world issues.
"It pushes you to have a much more expansive view of what education is, and that has never been more important than now, and where we are as a country," Srinivasan said. "We not only need people ingrained in the subject matter; we also need people to engage in the discussions from a variety of different viewpoints.
"We're never going to solve big problems with small ideas."