The Science of Resiliency: Paul Gomez '22 and Andrea Liu '23 Earn Goldwater Scholarships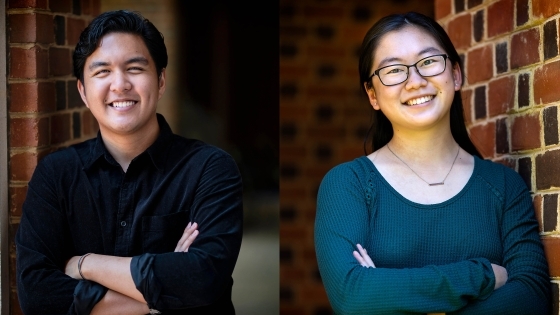 Science requires embracing the unexpected as much as the expected.
"I don't mind it at all if an experiment fails or faces a big hindrance," said Paul Gomez '22. "I value the process more than the outcome."
This flexibility empowered two Davidson College science students, Gomez and Andrea Liu '23, during the biggest hindrance of their college careers: COVID-19. When pandemic shutdowns separated these two researchers from their labs, they were forced to find new processes. Their creativity and resilience during COVID-19, in addition to their devotion to scientific research, led to their recognition as 2021 Goldwater Scholars.
The Goldwater Scholarship Program is among the most prestigious scholarships for top collegiate talent pursuing research careers in the natural sciences, engineering and mathematics. From a pool of more than 5,000 sophomores and juniors around the country, 438 colleges and universities nominated 1,256 students for the award this year. Of these, only 409 were selected—and two were Davidson College students, Gomez and Liu.
Finding Contentment – and Independence – in a Lab
When Gomez arrived at Davidson as a first-year student, he introduced himself to biology professors and told them how much he wanted lab experience. Coming to a small liberal arts college, he wasn't sure how much would be available—and was pleasantly surprised.
"Coming to Davidson, I didn't expect to be doing a lot of lab research, compared to larger universities where they have established labs and big names," he said. "But coming here, the independence you experience is really nice, and that's because of the small size. You don't have post-doctoral fellows or graduate students in the lab. You really get to figure out a lot of things on your own first. You fail a lot, and you obviously have your mentor there, but a lot of it is, 'Okay, let me sit down and plan, think about what I'm doing, and figure out how to move forward from here.'"
Gomez's first lab experience conducting protein synthesis research with Herman Brown Professor of Biology Malcolm Campbell had him hooked. It wasn't long before he landed on the goal of investigating regenerative therapies for people with neurological disorders.
"Paul's operating at a level of a senior graduate student while still an undergrad—and not even as a senior," said Biology Professor Barbara Lom, Gomez's current mentor. "He's really making it happen. He's got a passion for being in the lab that's really rare and special … He's got this beautifully inquisitive, friendly nature."
In spring 2020, Gomez joined a developmental neuroscience lab after having spent a semester in 2019 learning the biology behind Parkinson's disease in the lab of R. Stuart Dickson Professor of Psychology Julio Ramirez, where he conducted behavioral testing of rats, and performed neurosurgery on one. Then COVID sent students home. It was another moment of having to stop, sit down and plan, and figure out how to move forward.
"I was just getting started [studying spinal cord development in zebrafish], when COVID cut me short. It forced me to go back to the literature to supplement not being in the lab," Gomez said. "One thing I learned is that there are different ways to conduct science other than being in the lab. Part of science is about what's been established about the topic I'm studying. Every time I go back to the literature, I realize, 'Oh, I missed that paper! I missed that one!' There's always so much more to learn."
An Early Start to Research
Liu grew up with science: Both of her parents are research scientists. As a kid, she loved visits to her parents' labs and dinner conversations about their research. But it was a book that narrowed her scientific interest to pediatric oncology: This Star Won't Go Out. It includes writings by Esther Earl about her childhood battle with cancer (which inspired the novel The Fault in our Stars), as well as Earl's family's memories and photographs of the experience.
"It really resonated with me in that this was someone who was just like me, a young girl who just wanted to live her life," Liu said. "I have a family history of cancer, so there already was that seed, but seeing that in a young girl—that's just incredibly heartbreaking, and I wanted to do whatever I could to help."
While still in high school, Liu reached out to professors at the University of California San Diego to inquire about volunteer opportunities in their labs. She published two papers on oncology research before high school graduation. Liu continued this research as a Davidson student while working in a lab with Chemistry Professor Nicole Snyder, taking another step closer toward her goal of one day leading a lab that focuses on finding targeted therapies to treat pediatric cancer.
"Getting a Goldwater as a sophomore is a very rare thing," said Snyder, Liu's research advisor. "This is a student who got a head start during her high school career demonstrating her commitment to scientific knowledge and scientific breakthroughs. She's continued to nurture that desire to produce original research and answer very challenging questions."
But then, of course, COVID changed Liu's plans. Even as Liu returned home to San Diego in March 2020, she continued remote research with Snyder.
"[The pandemic] required me to adapt very quickly," Liu said. "It gave me the opportunity to explore a new side of research. Before, it was almost all bench work and hands-on. When I went back home in 2020, I focused on computational research and modeling with Dr. Snyder."
"Rather than sitting there and saying that this was the most awful thing, Andrea's take was, 'What else can I learn?'" Snyder said. "She reached out to me about getting started on remote research about evaluating how drugs interact with their targets. It's a cool approach that's all done computationally … and it would lead to more opportunities in the lab."
Back to Campus
When Gomez returned to campus after COVID-19 shutdowns lifted, he returned to his Parkinson's disease research. Now, he's using CRISPR—the headline-making gene-editing technology—to study genes in zebrafish, a species that can regenerate limbs and even organs into adulthood. He's excited about how the varied nature of his lab and classroom experiences at Davidson can come together in a new way to contribute to the field of science.
"I hope to pull in all of my different experiences. Those experiences are what make me and what make my research journey unique," Gomez said. "I hope to integrate all of that, especially as it relates to medicine and clinical outcomes."
Liu's studies at Davidson have led her to adjust her scientific focus. She came to the college knowing that biology would be her primary focus. Thanks to Snyder's lab, however, another subject caught her attention.
"Chemistry was something I completely dismissed before. I was going to be biology or neuroscience, but chemistry kind of snuck up behind me and intrigued me in the best way," Liu said. "I've become really interested in the intersection between chemistry and biology, like how chemistry affects the way that things in our bodies work and how they interact with outside molecules, and Dr. Snyder's research does exactly that."
Beyond the Lab
Gomez and Liu remain active beyond campus, too, in ways that enrich their classroom and lab pursuits. During much of his time at Davidson, Gomez has volunteered at a free clinic in Mooresville that serves uninsured adults.
"A unique thing about Davidson is that they don't only want us to pursue science, but to take a step back to see bigger picture: How does science affect society?" Gomez said. "Historically underserved communities have been exploited scientifically. This isn't a purely objective field, and being aware of that, when I get the opportunity and privilege to use this, I will be thinking about these things. If I advance medicine in some way, how will that technology be applied to all people—not just the educated and rich, but also the underserved?"
Lom says that balance is crucial for scientists.
"In the lab, it can be easy to forget why we want to understand health and disease," Lom said. "Paul really wants to understand health and disease at all levels, both the day-to-day working with patients while figuring out how the body works, so that we can discover new understandings and potential drugs or therapies."
After Liu returned home to San Diego amid COVID-19, she and a few friends created a non-profit, Carmel Valley Against Corona. Their group donated 1,045 face masks to homeless shelters and youth centers, mailed 1,146 homemade cards to seniors and healthcare workers, and fed 1,375 meals to people experiencing homelessness.
Snyder sees overlap in the two ways Liu spent her summer: furthering her research and helping her community.
"Andrea's approach to science is holistic, thinking about, 'Who does this help? How can I use what I am learning to address some of the disparities we have within our medical community?'" Dr. Snyder says. "Even if Andrea decided not to be a biochemist and she decided to, say, become an economist, all of her work would still be directed toward, 'How do I help people?'"
Looking Ahead
Both Gomez and Liu want to pursue both medical degrees and doctoral degrees, to pair clinical practice with lab research. As Goldwater Scholars, they join a select group of college students who have excelled in STEM studies—and as Goldwater Scholars in 2021, they've shown their commitment to scientific research even as a pandemic upended their plans. But this commitment and flexibility will be attributes that will only empower them to meet their professional goals, no matter what.
"My parents, being in research, always taught me to learn to be comfortable with discomfort—to be okay with being wrong or to be okay with things not going your way," Liu says. "You just have to get up and go again."