We Appreciate You: Davidson College Celebrates Employees for Outstanding Service, Dedication to Students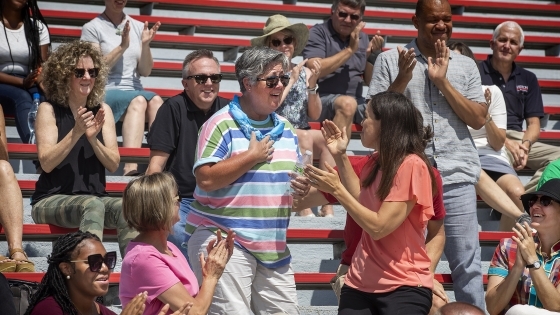 Davidson College employees went to extraordinary lengths to ensure the safety and well-being of students. The college honored their efforts at the annual Employee Appreciation Day event.
Employee Appreciation
At a time when so many spirits were down, Elena Gomez-Osario went out of her way to lift them. Hers was the friendly face with the kind smile and words that left a lasting impression on many students.
Her boss, Sharon Shipp, also made a difference in a lot of lives this past year, working tirelessly to make sure residence halls were reconfigured and ready for students to return to campus in the midst of a pandemic.
And when students were sick or exposed to COVID-19, Kathy Carstens took care of them, working countless hours to help them heal, quarantine safely and trace their contacts to alert others who may have been affected.
On Friday, Davidson College President Carol Quillen presented Gomez-Osario, Shipp and Carstens with service awards during the college's annual Employee Appreciation Day. Quillen thanked them and all employees for their extraordinary efforts to keep the campus open and students safe during the pandemic.
---
Full List of Award Winners and Retirees
---
She reminded employees about the evolution from the beginning of the school year to this month's in-person commencement celebration.
"Nine months earlier those students weren't sure if they would be able to stay on campus for an entire semester, much less the whole year," Quillen said. "Everything seemed uncertain…anxious…and awaiting the next heartbreaking piece of news. A couple of weeks ago they walked across the stage under a glorious North Carolina sky in a beautifully staged Richardson Stadium…it was an indelible milestone in their lives."
"You made that possible," she told the college staff and faculty. "Those memories and everything that led up to that moment grew out of your work, your dedication, your refusal to give up in the face of problems as unpredictable as they were intimidating."
Juneteenth Holiday
As the college grapples with its history of slavery, Quillen announced that the Board of Trustees has approved a new employee holiday to commemorate June 19. Juneteenth marks the day  that Texas became the last state to enforce President Abraham Lincoln's emancipation proclamation. Since Juneteenth falls on a Saturday this year, employees will have Friday, June 18, off.
"It will serve as an opportunity to reflect upon the work we continue to do together at Davidson College to become a more open, equitable and just community," Quillen said.
Trustees also approved a 2% bonus for all non-temporary employees, Quillen said, "in gratitude and in honor of the work you did this year…your willingness to charge in any direction and scale any obstacle…and your commitment to Davidson College, to our students and to each other."
Employee Awards
The college presented three annual awards at Employee Appreciation Day. This year's recipients include:
Spirit of Davidson Service Award: Elena Gomez-Osario
Students nominate hourly staff members for the Spirit of Davidson award. They praised Gomez-Osario, who works in building services and is assigned to the Belk dormitory, for making a tough year much kinder.
"I was on my way to an 8:15 class and it was pouring rain outside," one student wrote. "She said…'you're going to get all wet' and offered me her umbrella to borrow."
"She is so sweet, and her smile and kind words could always brighten my day," another said.
The award honors staff members who excel in service to the college and its students. It's the 10th year of the award, which Kathy and Gary Parsons established in appreciation for the caring way the staff treated and supported their son Mike '08. The original award is $850; Mathematics Professor Donna Molinek and Frank Molinek added a gift to make the award $1,000.
"Just small acts of kindness really make a huge difference in someone's life," another student wrote. "Elena's kindness will be something I remember about Davidson forever."
Hackenson Family Fellowship: Kathy Carstens
Carstens, the associate director of the Center for Student Health and Well-Being and college nurse, spent her days, nights and weekends tending to students and handling issues that arose from COVID-19.
A day in her life included April 20, when three students tested positive for the virus. That resulted in quarantine for another 19 students, and a total of 60 contract tracing interviews.
"She dealt with public health officials, she cared for our students at their lowest points," the award says. "She supported Dr. (Robert) Lutz and the nursing staff, and she was exposed over and over to COVID before any vaccine was available."
The award, established by Elizabeth and Bill Hackenson in honor of their son Billy's 2013 graduation, recognizes a staff member who provides superior service to the college and its students. The $5,400 award is to be used for travel or continuing education.
"Without her, we would not have been able to gather as a community this year," the award says. "It required a Herculean effort. She arrived early, left late and gave up her nights and weekends to care for our students."
Matthews Travel Endowment Award: Sharon Shipp
Shipp, Superintendent of Building Services, spends her days making sure campus life runs smoothly.
It's a big job in normal times; throw a pandemic into the mix and it requires round-the-clock dedication.
"There are a lot of people who make huge impacts every single day, but she is one of the biggest cornerstones," the nomination says. "She rights all the paths to make everyone's lives on campus a little easier, a little more comfortable, a whole lot cleaner—and always with a smile."
Frank Matthews '49 established the award in memory of his brothers, Eugene Robinson Matthews '36 and James Houston Matthews '50. The award is "in due recognition of the outstanding and unselfish service rendered Davidson by members of the College family." The $20,000 award covers travel for the recipients and their families, "to afford opportunities for personal renewal and enjoyment."
Colleagues say such a break is indeed in order for Shipp.
"She is my difference maker," one wrote.
And as another says: "At Christmas, when I was thinking about the people I wanted to thank before break, she was the first person on my list."
Published
Category
Center for Student Health and Well-Being

Physical Plant Building Services