A Beautiful Day: Class of 2021 Celebrates Commencement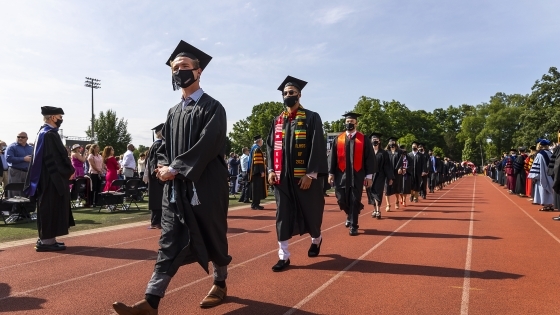 Davidson College paused on Tuesday to celebrate its graduates in an event especially cherished after a year of pandemic restrictions: An in-person commencement ceremony.
The day dawned cloudy and stayed comfortably chilly as the college bade farewell to the 508 graduates from the class of 2021. The COVID-19 pandemic moved this year's ceremony to Richardson Stadium to offer more room to maintain a safe distance. A high percentage of vaccination rates within the college community offered another measure of safety.
"We're so glad you are here," President Carol Quillen said. "We are so glad we're here!"
Quillen spoke of the class's many accomplishments during their time at Davidson; and of the extraordinary circumstances, sacrifices and challenges of the past year.
"You have turned your ideas, friendships, voices and bodies into compelling works of research and art— on the stage and canvas, on campus and in the street, in the lab, in the library and on Zoom; on the track, the field, the court, the course and in the pool," she said.
"You've started businesses, marched for racial justice and developed remote curricula for at-risk students; you've registered a lot of people to vote," she said. "You've published papers, created a Black Lives Matter mural, won fellowships and conference championships.
Quillen also took a moment to remember a great loss for the class. Isaac Scharbach, a talented artist and campus faith leader, died in a bike accident just before the start of his senior year.
"We give thanks for the gifts of his creativity, his intellect, faith and friendship," she said. "And we hold his family in our hearts." 
Class of 2021
The graduates represent 40 states and 13 foreign countries. Their most popular majors were economics (85); political science (80), biology (61) and psychology (44).
They're planning futures ranging from seeking cures to diseases to crafting better public policy. They're launching banking, technology, medical and teaching careers. Some will join the work force right away; others plan to go into graduate programs in the United States and abroad.
The class includes eight John M. Belk Scholars, bringing the Belk alumni total to 142. The Belk Scholarship recognizes students for leadership, creativity, compassion, integrity, intellectual curiosity and outstanding academic achievement. The award, which covers tuition, fees, room, board and two $3,000 stipends for special study abroad, is one of the country's most competitive and generous undergraduate scholarships.
While many families and most students attended the ceremony in person, international travel restrictions and coronavirus outbreaks in some areas forced others to watch from afar. The livestreamed ceremony drew audiences from Indiana to India, Colombia, China, Japan and other parts of the world.
"When future students use our archives to recover untold stories, or join a 'Cats Care initiative, or learn how colleges dealt with a global pandemic," Quillen told graduates, "they will be standing on your shoulders, just as we stand on the shoulders of those who have paved our path."
Quillen said that the world they're entering is flawed, divided and complicated, and needs them to approach it with open hearts, minds and a willingness to listen to people who see it much differently. "Begin not with suspicion," she said, "but with empathy, and you will come to know love."
She reminded them that wherever their lives take them: "You're not alone. You carry all of us, our love, and this special place in you and with you forever."
Hunter-Hamilton Love of Teaching Awards
The college also honored four professors with Hunter-Hamilton Love of Teaching Awards for this year and last. (The 2020 commencement was postponed because of the pandemic and is scheduled for spring of 2022.).
The awards for 2021 went to:
Economics Professor Dave Martin "For over three decades of unwavering support of your students through the ups and downs of their journey, believing in them and realizing their potential even when they lacked confidence in themselves…"
Political Science Professor Susan Roberts "For her superior abilities as a teacher, advisor, friend and a public voice for Davidson College that brought a measure of intellectual acuity to the political arena during the last election cycle."
The 2020 awards went to:
Physics Professor Mario Belloni, "For your skillful teaching, your extraordinary patience and generosity with students…and your ability to make subjects that are as intimidating as quantum physics not only comprehensible but fun."
Associate Professor of Chemistry Nicole Snyder, "For understanding your students' hopes and dreams, for challenging those students to become better people, and for being the mentor your students hope to emulate."
Algernon Sydney Sullivan Awards
The college presented the awards to one student and two community recipients, for this year and last. The recipients exemplify the "the fine spiritual qualities practically applied to daily living, usually going to persons who have given unselfish service without due recognition."
Betsy Verhey, well known for preparing meals at the Davidson-Cornelius Child Development Center, received the 2020 community service award. She has coached a youth soccer team, served as a board member for the Davidson Farmer's Market and as a chef for Davidson College Presbyterian Church.
"There is no form of caregiving more universal and fundamental than preparing food for others," the award says. "She has introduced scores of children to quinoa and sushi and vegetables of all kinds…she has expanded their palates and set them up on a path to healthy eating."
Spence "Pat" Millen '86, received the 2021 community award for his work to bring technology to families who can't afford it. Millen created E2D (Eliminate the Digital Divide) with his daughter eight years ago. The non-profit has provided laptops, broadband access and digital training to more than 50,000 people in the Charlotte metro area.
"The work is transformational for some of the most vulnerable members of our community," the award says, "and his non-profit is a model for others throughout the country."
Emily Rounds '21, a Hispanic Studies major from Princeton, New Jersey,  received the student award.
Rounds has served as a leader on the College Crisis Initiative team, as a Spanish translator and tutor and as a community volunteer. Nominators say she strove to make Davidson a more welcoming and inclusive place.
"Her brilliance is matched only by her penchant for community building," the award says. "She demonstrates how essential empathetic leadership is now in a time where the world is reckoning with crisis."
Honorary Degrees
The college awarded two honorary degrees. Charlotte attorney James E. Ferguson II received an honorary Doctor of Laws degree for his long career fighting for social justice and civil rights. Retired business executive and philanthropist Willie A. Deese received an honorary Doctor of Humane Letters degree for his efforts to lift others.
Deese grew up as one of nine children living on a farm near Davidson. His father was a custodian for the college and his mother, a maid. His two grandfathers also worked as long-time college laborers.
He rose to the top ranks of several pharmaceutical companies and became the largest supporter of his alma mater, North Carolina A&T, where he served as a chair on the board of trustees. He's provided numerous scholarships for students in need and been a strong advocate for affordable housing and Alzheimer's research. Last year North Carolina A&T named the Willie A. Deese College of Business and Economics in his honor.
The citation for Deese notes: "Because you live your own saying: 'When you get to the top, send the elevator back down; you model humane instincts and a disciplined, creative mind in your work and in your civic commitments; you honor your mother and father and their example in the way you live your life."
Ferguson co-founded North Carolina's first integrated law firm in Charlotte in the 1960s. He led the litigation team in the landmark Wilmington Ten case in the 1970s and established a groundbreaking legal training program in Apartheid-era South Africa in the 1980s. He secured official declarations of innocence for the Wilmington Ten and others after decades of ongoing advocacy. His son Jay is a member of the class of 1992. 
"Because throughout the course of your life you have sought justice, truth and reconciliation;" the citation says, "because you generously share your knowledge to empower and equip others to do the same; because you continue—persistent and unflagging—in this work of addressing inequality and injustice wherever you see it."