'Cats Really Do Love Dogs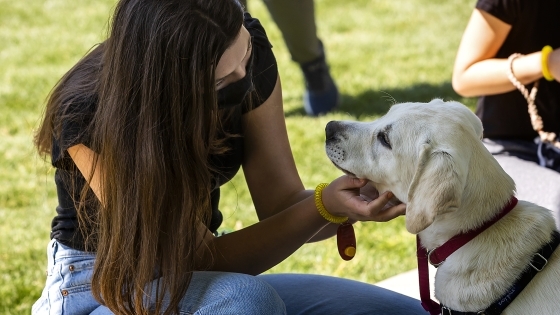 Scout's a handsome charmer with wavy blond hair, warm brown eyes and a sunny personality. People meet him and swoon, giving fresh credence to that old "love at first sight" feeling.
He and some pals spent a string of happy spring days wooing a group of Davidson College students, who did indeed fall quickly in love. Alas, Scout is already spoken for, and his friends soon will be, too.
The students knew this going in but are happy they could help prepare their new canine friends for loving relationships with other humans. The dogs will help those humans adjust to the civilian world after their military service.
If you happened to be on campus Wednesday mornings, you'd see the student volunteers and dogs going through training exercises. The college partnered with Continuing the Mission (CTM) to offer the "Cats Love Dogs" sessions. The non-profit finds and trains assistance dogs for returning veterans suffering from physical and emotional injuries.
The program lasted six weeks and gave students a chance to volunteer, get outside and enjoy the excellent company of adorable companions—a welcome break in the midst of COVID-19 restrictions. Twenty-nine students, split into two groups, spent an hour each week guiding the six dogs through exercises they'll need to navigate real life situations. On "graduation day" they received an elementary training certificate and t-shirt. 
"The students have done such a great job with them, it's been really fun to watch," says Suzy Lutz, who founded CTM in 2016 to address the issue of veteran suicides.
Her husband, Robert Lutz '87, a retired U.S. Army colonel and Special Operations medical team leader, is Davidson's team physician. He also serves as the medical leader on the college's COVID response team. During his military career he was deployed to combat zones multiple times, tending wounded soldiers in the midst of battle. He knows the toll that Post Traumatic Stress Disorder (PTSD) takes on veterans. He volunteers as CTM's medical director.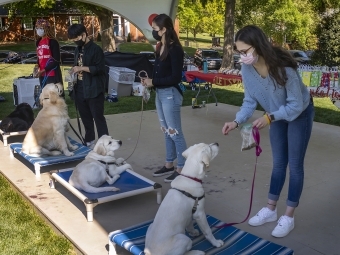 Students looked forward to the training sessions.
"We all jumped at the opportunity," says Ellie Pennybacker '21, who did the sessions with her roommates. "It was great to be out of the apartment together and do something that raises the serotonin levels. The dogs were always so excited to see us and so sweet.
"During the pandemic, so many in-person volunteer opportunities went away," Pennybacker says. "It was nice having that hour of time each week to do something for someone else."
A Collaboration
In normal times, incarcerated people at the Rutherford Correctional Facility helped CTM with training, but that stopped during the pandemic.
Suzy Lutz reached out to the college, seeing it as an opportunity for students to get outside and lift their pandemic spirits, while helping provide training the dogs will need before they're placed with veterans. She worked with Davidson Outdoors Director Katie Mathieson and the college's Center for Civic Engagement. Lutz and CTM trainer Cortney Owens coached the students. 
"Davidson students want to do community service, they want to have a purpose and be part of something that is helping someone else," says Kristin Booher, director of civic engagement and the Bonner Scholars program. "It was also such a great stress reliever for everyone.
"They went out there in the pouring rain one day, walking the dogs through these big puddles and didn't seem phased at all. Everyone was smiling—the dedication they had to this was amazing."
Jada Coffey '24, a Bonner Scholar from Monroe, North Carolina, grew up playing with dogs and their puppies. Her father bred dogs and when her parents divorced, the dogs stayed with him.
"It was so nice to have that part of my childhood back," she says. "It was a great outlet to interact with the dogs, and such a win-win, knowing they're going to people who need that emotional support." 
The pandemic forced Umut Türk '24, a Bonner Scholar from Istanbul, Turkey, to spend the first semester of his first year taking classes remotely, from home.
In Istanbul, his family lives in an apartment and can't have a dog. In high school, he volunteered at an animal shelter and loved spending time with the dogs there. When he got to Davidson for the spring semester and met the Lutzes, his host family, in person, he was thrilled that they had dogs.
He and the Lutzes would meet on campus to walk with their dogs. When Suzy Lutz told him about "Cats Love Dogs," he wanted in. As a bonus, he met the other students, which helped make his delayed transition to campus easier.
"It's great to be with dogs and dog lovers," he says. "It makes your day better."
Meeting a Need
There's a lot that goes into training an assistance dog.
Take Scout, who wants to jump up and douse people with big sloppy kisses. The students were tempted to let him. But as a good friend might caution about a new relationship, sometimes you gotta tone it down.
It's one thing to be exuberant in private, but if you're in public, say watching a football game, you can't just jump up and start chasing the players. Or try to fetch the game ball. So, the students coached the dogs on patience, getting wise to social cues, and learning how to navigate various situations. 
For veterans with PTSD combatting a stressful moment, the dog may give a calming look, or place a head on a lap to help keep them grounded. A dog might give a little nudge to a visually or hearing-impaired vet to let them know someone is approaching from behind. Dogs can also pick things up for those with physical challenges or turn on the lights to interrupt a nightmare.
All of the dogs are trained to match the specific needs of the veteran with whom they'll be placed. Scout's intended human has a goal of attending his son's football games and martial arts matches.
"We want every veteran and every dog to get a good outcome," Suzy Lutz said. "The dogs have benefitted so much from the students. And the students can feel good that they are helping change somebody's life."
---
This article was originally published in the Spring/Summer 2021 print issue of the Davidson Journal Magazine; for more, please see the Davidson Journal section of our website.
Published
Category
International Student Programs

Davidson Journal Spring/Summer 2021