Marquia Humphries '22: Artist, Runner, Teacher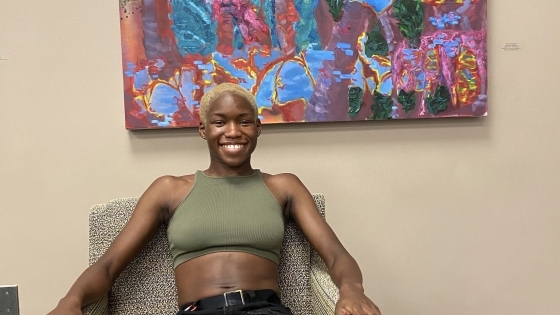 Even from a young age, Marquia Humphries '22 has always found her passion in art.
"I can look back at the house dictionary that we have now, and I can see all the scribbles that I used to do when I was a kid," she said.
Growing up, Humphries constantly found herself doodling while taking notes in class to help hold her focus. And even though she remembers getting in trouble for it during math class, her drawings always helped her make connections to the lesson at hand.
Humphries' motivation to create art was fostered by her encouraging mentors, from her high school painting teacher to Davidson's Sherry Nelson, director of Davidson Arts and Creative Engagement (DACE), to Adelle Patten '21, who worked with Davidson's Artists Mentoring Program. Humphries also has two alumni mentors with whom she meets regularly.
She describes oil painting as her comfort zone but has recently become impassioned with sculpture. Self-described as having borderline hoarder tendencies, Humphries said, "I tend to pick things up I see and stash them away for later."
Last year, her basic sculpture class was remote, so Humphries used her miscellaneous object collection in her art.
"Everything is essentially layers of stuff, regardless of what medium you're using, you're just layering different things together," she said. "That has been a pivotal idea in my process this past school year."
Whenever people ask Humphries the all-too-familiar "What can you do with an arts degree?," she feels confident knowing her creative thinking and artistic skills can easily translate to most any field.
"You can find a way to incorporate [art] into whatever you're doing," she said, "whether it's physically designing something like graphic design or just creative thinking to solve problems or issues in that field."
Humphries is not totally consumed by her creative side, though. She is also a devoted athlete and runs for Davidson's track team, where her coaches and teammates are always curious about Humphries' latest creation. Her two biggest interests—art and athletics—are not all that different from each other; both are a way to release tension from other stressful factors in life. The only difficulty she faces is balancing her time between these two demanding passions.
As Humphries gears up for her senior year, she muses about her post-graduation plans. Her father wants her to join the military, but Humphries' artistic pursuits might take precedence. She plans to attend graduate school and continue running, especially since she has a full year of eligibility for track due to COVID-19. Humphries envisions doing art therapy or becoming a teacher in higher education, where she hopes to engage her future students in deep, critical thinking.
This summer, Humphries is collaborating with Davidson's E.H. Little Library under the Stories (Yet) to be Told initiative. She is also spending her summer working alongside one of her mentors, Sherry Nelson, in organization and fundraising efforts for DACE.
Humphries receives the William Randolph Hearst Scholarship for Underrepresented Populations and the Women's Cross Country/Track Pooled Scholarship.