Philanthropic Support of Davidson Increases this Fiscal Year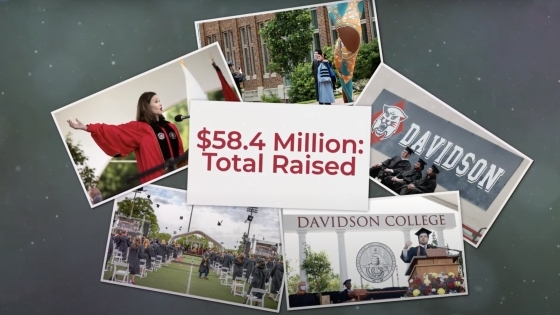 The Davidson College community raised more than $58 million this fiscal year, an increase of 3.4 percent over the past year, to strengthen the college's capacity to assist students in developing the skills and character to lead and serve.
I've had wonderful experiences with opportunities like the Davidson in Washington program and a few internships. I'm grateful to be able to learn more about management and the corporate world—excellent preparation before starting my position.
Henry Meza Flores '21 on receiving support from the Tony Snow ('77) Professional Development Fund, created by Merideth Durden Dolan '80
Davidson maintains its place among the top schools in the country for alumni giving participation, with 48 percent giving this year. This remains a distinguishing characteristic of Davidson and helps the college continue robust funding of scholarships, athletic programs, diversity & inclusion initiatives, the arts, research, internships, health & well-being, faculty enrichment and more.
"In what was certainly an extraordinary year for Davidson, our alums, families, friends and partners stepped up to ensure a future of strength, growth and new opportunities for all students," said Eileen Keeley '89, vice president for college relations. "We talk about the amazing Davidson community, and a year of unimaginable circumstances shone an even brighter light on what makes our community so special, resilient and confident. Thank you to each person who supported Davidson this year." 
Key totals from the past year include:                                    
$18.7 million raised through The Fund for Davidson

$15 million committed to scholarships

$19 million given to the college endowment

$12.5 million raised for Davidson athletic programs
Davidson was simply a school when I stepped on campus as a freshman. However, by graduation, it was my home, and now it is my pride and joy. I hope all students who walk through the doors of the Matthews Center will find their path forward to productive careers and noble lives.
Frank Matthews '49 on the naming of the Betty and B. Frank Matthews II '49 Center for Career Development
"The institution relies on annual, generous support for continued progress and excellence and to ensure we attract the best talent to Davidson, in terms of students, faculty and staff," said Trevor Stanley '02 and Kate Morris Stanley '04, national Fund for Davidson chairs. "Every gift matters, and Davidson's exceptional network makes a lasting, collective difference that is immediate and lasting. We are proud to be a part of this incredible community of Wildcats."
Visit davidson.edu/giving to learn more about Davidson's fundraising program and priorities.
Davidson has played such an important role in my life, so with the challenges of this past year negatively impacting students, Ayesha and I wanted to give back in a way that supported the needs of Davidson students.
Stephen Curry '10 on his foundation's gift to Lula Bell's Resource Center
Every alum I talk to shares how much they love Davidson and how strongly they recommend giving back in whatever way they can. It is clear to me that we are here to look out for one another. I appreciate the strength of our community.
Julia Matthiesen '24, inaugural Malú Alvarez Visual Art Scholar, created by Malú Alvarez '02
Published
Category
Giving
Betty and B. Frank Matthews II '49 Center for Career Development
Alumni and Family Engagement
Scholarships
Center for Civic Engagement
News Headlines