Davidson College President to Begin a New Chapter After 2021-22 Academic Year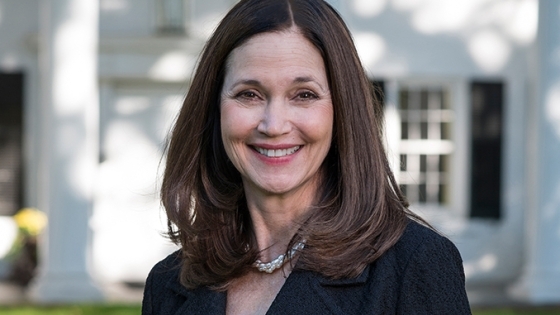 Davidson College President Carol Quillen informed the college's Board of Trustees today that the 2021-2022 school year will be her last as president.
Quillen will complete eleven years of guiding historic and uplifting changes at the liberal arts college. The student body grew more diverse, socioeconomically and racially. The endowment topped $1 billion. Applications reached record numbers. The Jay Hurt Hub for Innovation and Entrepreneurship opened, extending campus into downtown Davidson and forging partnerships in the local business community. And the physical campus gained new public art and the E. Craig Wall Jr. center's progressive design that encourages work across the physical and social sciences.
"Carol will leave Davidson stronger than when she arrived," said Alison Hall Mauzé, chair of the Board of Trustees. "She embraced Davidson's mission and, then, challenged and guided us to figure out how we live out that purpose now and in the future. She led the college in building up our financial foundation, exploring and being accountable for our past and equipping and empowering our graduates to solve problems bigger than themselves. She has led Davidson with clarity, humanity and purpose. The Board of Trustees is most grateful for Carol's exceptional leadership and service to Davidson through historic times."
Mauzé said that former U.S. Secretary of Transportation Anthony Foxx, a 1993 graduate of Davidson and former Charlotte mayor, will lead the search committee for the college's next president.
During Quillen's decade as president, Davidson stacked up top-tier status in undergraduate research and tied for second in the nation for the NCAA's graduation success rate of athletes. The college moved into, and succeeded in, the more challenging Atlantic 10 athletic conference. Alums participated in supporting the college at a rate behind only a handful of household-name institutions – all under a president who was the first woman in that role and the first non-alum in more than half-a-century.
Quillen established Davidson's Commission on Race & Slavery, which outlined a path for examining the college's history with respect to race and enslaved persons. Following their recommendations, she offered an unqualified public apology for the college's role in perpetuating slavery, Jim Crow laws and policies that excluded people based on race. Davidson now is embarked on multiple initiatives in research, scholarship, commemoration and creating and sustaining an equitable campus environment.
"Carol possesses the most valuable commodity in higher education today: courage," said Margaret Spellings, who served as Secretary of Education under President George W. Bush. "She doesn't hesitate to challenge the status quo that we know isn't working, and she does it in a way that helps those in the debate to look at an issue differently rather than grow defensive."
Quillen's influence extends to national venues for higher education, including election by her peers to a leadership role in the American Council on Education. She is a founding member of the American Talent Initiative, aimed at increasing the number of low income students in colleges and universities with high graduation rates. She routinely is invited to speak at leadership venues that cross higher education and the broader economy, such as the Milken and Aspen institutes.
President Obama appointed her to his Advisory Council on Financial Capability for Young Americans, and, in 2019, Princeton University awarded her the James Madison Medal, which goes to an alum of the university's graduate schools for their distinguished career and public service.
"Davidson College has become an even more remarkable institution because of Carol's vision, will and skill," said Aspen Institute President Dan Porterfield, who is the former president of Franklin & Marshall College. "She's one of the single most influential leaders in American higher education — and one of the best and most genuine people I've ever worked with."
Mauzé said the trustees anticipate completing the presidential search by next spring.
---
President Quillen's Message to the Community
I write today to share with you my decision that academic year 2021-22 will be my final year as president of Davidson. 
Serving in this role and working with you all is an extraordinary gift. I'm grateful beyond words for the opportunities I have had over the past decade to share in your aspirations and accomplishments.
I love what I do and I love Davidson—and at the same time there is a natural course to a presidency. When I was hired, the Chair of the Board asked me to imagine a 10-year time horizon (the president's appointment at Davidson is renewed annually). That seemed right to me and I've been contemplating the timing of this decision to step down for the past few years.  2021-22 is my eleventh year. My head and heart tell me that this is the time.
Davidson has been a great college for a long time and it has been a privilege to build on that foundation. Thanks to each of you, much of what we set out to do together is well underway or completed. Davidson has new and renovated facilities, an even more beautiful campus, expanded, second-to-none curricular and co-curricular programs, Division I athletics done right, a robust endowment and an ever-stronger student applicant pool. The recent campaign far exceeded its goals. We've recruited singularly talented people to join us in every division. As a campus, we're seeking to build a genuinely inclusive community of learning that honors the dignity of each person and that commits itself to an unfettered quest for truth. I'm humbled and proud to be a part of these efforts.
Davidson and this community have become home. After a sabbatical year in 2022-23, I plan to return to Davidson as a professor of history. I'm excited to have the opportunity to work with our amazing students alongside amazing colleagues, and to return to research and writing. Thank you for the joy of working with you.
Eleven years ago, I was introduced to Davidson through a 19-member search committee who could not have been more different one from another. What's more, none of these individuals fit neatly into the stark categories that can sometimes shape our interactions. All were committed to Davidson, all sought with rare humility to live up to the values we as a community strive to uphold.  Through them I saw Davidson as a place that could bring out who each of us is called to be. I recognize and am thankful to that group for the leap of faith they took in hiring me.
Serving as Davidson's president has been far and away the greatest gift of my professional life. We have an exciting year ahead, one that will be filled with unexpected opportunities and likely some distinct challenges. I look forward to working with all of you as we reconnect as a community in pursuit of our primary purpose and highest aspirations.
I thank you from my heart for all that you do for Davidson and for what each of you has given me.
In gratitude,
Carol