Joy in the Journey: Three Students From the Class of 2025 Share Their Stories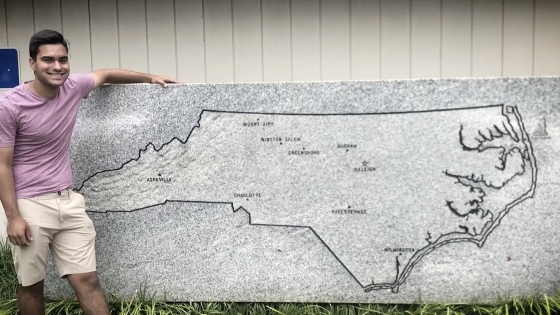 Their passions range from painting striking landscapes to studying constitutional law to protecting the environment.
One drove 100 minutes from her North Carolina home to Davidson College; another trekked 10 hours from northern New Jersey, and a third took a series of flights to make the 8,000-mile journey from Nepal.  
They all spent their last two high school years in the COVID-19 pandemic's shadow. A bright light shone for each when they found out they'd been accepted to Davidson. Now they're happy to be on campus and meeting people from around the United States and wider world.
Kassidy Liggins, Tim Schietroma and Bimal Shahi are well into their first semester as first-year students. We asked these class of 2025 members to introduce themselves and talk about their experiences.
Kassidy Liggins
Before starting college, Kassidy Liggins lived her entire life in Burlington, North Carolina, which is about 100 miles northeast of Davidson.
She's passionate about politics and environmental policy and has volunteered for causes ranging from political campaigns to park cleanups. She's also proud of her healthy houseplant collection and has incorporated that greenery into residence hall life.
Liggins applied for early decision and says when she received the letter online, "I sat for 15 minutes before opening it. I eventually opened it, and I was ecstatic."
At Davidson, she's excited to study physics and biology, and is a little nervous about how academically challenging the college is, "especially when it comes to writing history and English papers."
But she's really enjoying her classes and is confident that she'll figure it out. She knows she has the support of the tight-knit college community, which is one of the many reasons she chose Davidson.
Liggins is a James B. Duke Scholar. After college she may go to graduate school, or straight into the workforce, or maybe travel first.
"I believe Davidson will prepare me for all of those options," she says. "It's a fantastic school, and I can't wait to see where it brings me."
Bimal Shahi
Bimal Shahi started his life in a picturesque mountain village in Nepal and moved to Katmandu as an eight-year-old. He started drawing at 12. At 15, he began painting, and has created an extensive and impressive portfolio.
He had heard about Davidson from friends who thought it would be a good fit for him. He says he loved how the campus looked in photos, how safe it seemed, and was particularly impressed by the honor code—"honesty is something I really value."
When the college admission letter arrived in his inbox, he closed his eyes and sat for a while, waiting to open it. He told himself, "Ok Bimal, this moment can change your life."
And it did.
"I was so happy and screamed so loud," he says. "I was spellbound."
He prepared for his first-ever trip to the United States, and his first in-person visit to the Davidson campus.
Shahi is a Malú Alvarez Visual Art Scholar at Davidson. He says he looks forward to growing as an artist, "it is something that makes me really happy." He plans to double major in art and perhaps economics or sociology. He says he's enjoying his classes and loves being on campus and meeting new people and making friends: "I am so grateful to be here."
Tim Schietroma
Tim Schietroma spent his early years in upstate New York before moving to northern New Jersey during high school. As a young child, he became a lifelong soccer player and fan. He captained his high school team and has coached and mentored younger kids in the game.
Tim also loves theater, politics, and music, and got involved in all before coming to Davidson, ending high school as senior class president. He intends to major in political science, then head to law school to follow his passion for constitutional law. 
Schietroma plays club soccer, and has also joined the chorale, Mock Trial and Pre-law clubs and plans to audition for theatre productions.
He loves to sing, so if you hear someone belting out Nat King Cole or Frank Sinatra from a dorm shower, that's probably Tim.
He was nervous applying to Davidson, knowing acceptance rates at selective schools had dropped during the pandemic. He felt elated and relieved when he opened his admission letter. His mom hugged him and cried. 
He had only seen the campus virtually before applying. When he visited after being accepted, he turned to his parents and said: "This is it. This is my new home."
Published
Category
Admission & Financial Aid
Scholarships
News Headlines
Student Stories