COVID-19, Refugee Support, Social Justice, and Reproductive Choice: Religious Studies Alumni Give Back Through Their Work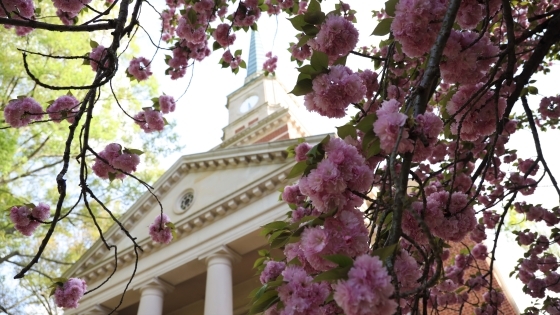 Providing Continuous Care
Christina Brown '17 has been busy since graduation. She spent a year doing clinical research at Emory's Winship Cancer Institute in Atlanta, took pre-medical post-baccalaureate courses, volunteered at a local hospice, and worked for the Washington, D.C. Department of Health as a contact tracer when the COVID-19 pandemic began.
She lived in Bath, England for most of the past 18 months, but is now back in the U.S. at Temple University's Lewis Katz School of Medicine, where she sees the occasional friendly Davidson face.
Christina currently volunteers with Temple physicians, treating Afghan refugees arriving at Philadelphia's airport.
Connecting Social Justice, Religion and Education
Julia Burkley '18 is in her final year at Austin Presbyterian Seminary, where she'll graduate in the spring with an M.Div. She is seeking ordination in the Presbyterian Church (U.S.A.).
Under the auspices of University Presbyterian Church, Julia leads the PC (USA) campus ministry at the University of Texas.
She writes, "I get to lean into my love for education and discussion by talking about social justice issues in religious contexts with my students."
Julia also works as a research assistant for Professor Suzie Park, who just published The Flawed Family of God: Stories about Imperfect Families in Genesis. One of her current professors is Professor Bridgett Green, Davidson Class of 2000.
An Act of Sacred Listening
The Rev. Katey Zeh '05 is an ordained Baptist ministry and the CEO of the Religious Coalition for Reproductive Choice.
She has written her second book, A Complicated Choice: Making Space for Grief and Healing in the Pro-Choice Movement, to be published by Broadleaf Books in January 2022. The book goes beyond the simplistic "pro-life" and "pro-choice" terms to focus on real people making the decision to end a pregnancy in the context of their full lives and circumstances.
She describes her work as an "act of sacred listening." 
---
This story was originally published in Volume 2 of the Religious Studies Newsletter, 'In the Fold.' For access to the full newsletter and to be added to the distribution list, please contact the Religious Studies Department (religiousstudies@davidson.edu).