Athletes' Mental Health and Performance Motivate $3 Million Gift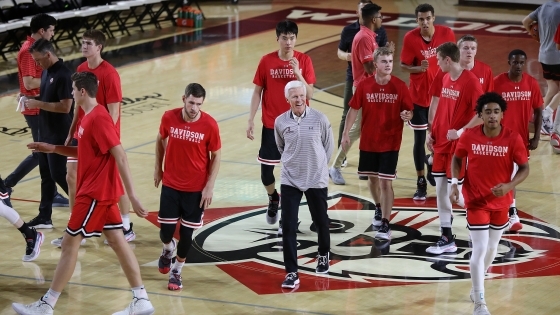 Athletes are under a microscope. Fans expect perfection. Professional athletes, including basketball star and Olympian Kevin Love and Olympic gymnast Simone Biles, are speaking out about the pressures they face--the pressure to do it all, and do it all well.
The same pressures exist for college athletes, who don't have access to pro-level support.
Now, a $3 million gift from Matt Berman '05 and his father, Don Berman, will provide new and critical resources to Davidson scholar-athletes. Part of the gift will make mental health resources more readily available to all scholar-athletes across the college's 21 Division I programs.
The Berman family's tremendous support prepares the Wildcats to compete more effectively, but not at the expense of their mental health.
"There are challenges students face today that I didn't deal with as a student," said Matt, who played on the men's soccer team. "Social media, the visibility of Davidson Athletics … I can watch every men's soccer game on ESPN+ if I want to. It's a different world compared to 15-20 years ago, and it's important for these athletes to be able to talk to someone who isn't one of their coaches or professors or teammates."
In tandem with mental health resources, the gift supports a dedicated sports performance coach position for the college's men's and women's basketball teams.
The new sports performance coach, Brian Seitz, most recently worked at The Ohio State University and has extensive experience training athletes across many sports, with special attention to basketball and women's programs. Head Coaches Bob McKillop and Gayle Fulks say the impact has been immediate and transformational, even though he has only been on campus a few weeks.
"It's a different world compared to 15-20 years ago, and it's important for these athletes to be able to talk to someone who isn't one of their coaches or professors or teammates."
"Brian understands the demands of the basketball season and can help each player on a customized level," Fulks said. "Before, we shared a strength and conditioning coach who might be able to give 6-8 hours a week to our program. Now, we have 40 hours a week from someone only thinking about our two programs and our players. He's at our practices, he's giving us real-time feedback. It's priceless. Our competitors already have this position within their programs, and Davidson has needed it for some time. This is something that puts us closer to the top of the A-10."
Seitz focuses on helping athletes optimize their athletic performance through individual goal-setting, customized workouts and more. Having him on the team is a significant piece of the recruitment puzzle, too, as coaches work to attract top talent to Davidson. He is thrilled to bring his expertise to the Wildcats.
"There is a tremendous amount of tradition and pride associated with Davidson's men's and women's basketball programs, and I am grateful for the opportunity that Coach McKillop and Coach Fulks have given me," he said. "I am excited to assist in the total development of these scholar-athletes and help them achieve their goals both on and off the court."
Rooted in Friendship
The Bermans are passionate about supporting Davidson College. They're also passionate about supporting their lifelong friends, the McKillops, and the vision of Director of Athletics Chris Clunie '06 to keep "doing athletics right."
Don and Bob's relationship dates back 55 years to New York's Prospect Park on Long Island, where they became friends playing against top flight Long Island basketball talent. Associate Head Coach Matt McKillop '06 was the best man in Matt Berman's wedding.
Not surprisingly, a basketball court is central to Don and Bob's friendship.
"The park was a battleground for life for both of us," Bob said. "If you won the game, you stayed on the court. If you lost, you sat on the sidelines. There was a relentless pursuit of excellence, teamwork and making yourself better so the next time you stepped on the court, you had improved. This same kind of mentality fostered Don's successful career. Decades ago, he told me he works hard because it gives him an opportunity to help other people. Don and Matt's gift to the basketball programs and in support of all athletes' mental health is vital to what makes us successful."
Don believes in his friend's legacy and the way the McKillops make a difference for the program and all those involved.
"Bob is a highly sought after coach, and he has spent his career taking a program that was once an afterthought to one that has a national profile," he said. "His devotion to Davidson has drawn me in, long before Matt chose to come to college here. We want to support the legacy Bob has created. Our gift is about supporting students and increasing overall competitiveness and visibility."
The men's basketball program, one of eight Division I teams in the country to have 20 consecutive winning seasons, has found great success under McKillop since 1989. In January 2021, he became the 40th college basketball coach to reach the 600-victory mark. He is Davidson's all-time leader in wins, years coached and games coached.
Get ready to cheer on the 'Cats! The women's basketball schedule is here, and the men's schedule is here.