My Davidson | A Student Blog
Student-to-Student: Advice on Navigating the Admission Process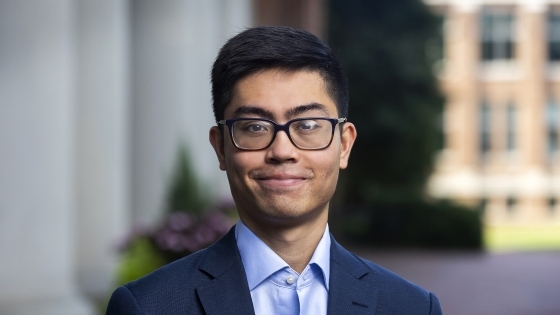 Zach Villamin '22 shares his experience applying to college and gives current high school seniors tips on how to better manage the application process.
---
About the Author
Zach Villamin '22 (he/him/his) is a chemistry major from Baar, Switzerland. Some of his campus involvements include being a Senior Admission Fellow, secretary of the Student Affiliates of the American Chemical Society, research mentor and chemistry lab assistant.
---
"So where are you applying to college? How are applications going? When is the deadline again? Are you applying test-optional?"
These 'triggering' questions strike fear into the hearts of countless students each year, and at one point, I was one of them.
Break It Down
For me, a lot of the stress surrounding the process was the lack of knowledge, the seemingly insurmountable amount of work that went into it, and later, the waiting. So, whether you know a lot about applying to college or were like me and knew very little, my first piece of advice is to do your research. Do what you can to learn about what goes into applying.
For many schools this means looking into and working towards completing the Common Application, which consists of a Common Application essay, for some schools, their supplements, a list of extracurricular activities, and letters of recommendation. By organizing the components of the application into these sizable chunks I was able to break down what was once an ambiguous undertaking into a more manageable set of steps.
Do Your Research
Now, for those of you who are thinking that my first piece of advice is annoyingly vague — I did that on purpose. "Do your research" pertains to all aspects of applying to colleges — the components of the application itself, you as the applicant, and where you want to apply. So, for the second part of "do your research," do some research into yourself.
Turns out, when admissions counselors would say "the application process is all about you" they were right and I was wrong to roll my eyes. The application is all about sharing who you are as a student and person and what you can contribute to an incoming college class. In order to share who you are in an application, you first need to figure out who you are at that point in time. In your 17, 18, 19, however many years, what makes you, you? For me, figuring out who I was meant digging into my background, experiences and interests.
When it came to considering colleges, I considered what I like in a learning environment. Just as important, what did I dislike? Did I like big classes where the teacher lectures, or classes driven by small group discussion? What programs, departments, courses, and extracurriculars excite me? How can the resources of a college help me find or drive my passions? What do colleges offer that sound interesting to me, and what could I see myself doing? All of these questions helped inform the type of school I wanted to go to, and this part is where the research came in.
Think about all the things you like about your high school experience; the teaching style (discussion or lecture), the disciplines, the extracurriculars, and the people, and try to find places that fit those criteria.
Check out the websites, social media, go on a virtual or (if possible) an in-person tour and talk to as many people as you can to get a feel of their experiences and to see if you can picture yourself there. Personally, my jumping off point — the way I quickly narrowed my search — was thinking about the academic environment I liked.
Nobody wants to be bored in class for the next four years. Since I had always liked the group discussions and collaborative projects in my high school, a small liberal arts college where I had the opportunity to dive into topics was the obvious choice. By considering what I liked and having the college fit my interests I, whether consciously or not, made sure that each school on my list was somewhere I was excited to attend.
Be Intentional
Which brings me to my next piece of advice: take your time. Keeping in line with cheesy references, "Rome wasn't built in a day and neither were you." You can't expect to jam your story into 650 words and do it perfectly on your first try. Most of us aren't that good.
There is a reason it's called the college application process — it's a process. It takes time to cultivate a story and a voice, so be patient with yourself. Take the time to do it. Be intentional with your visits, your research, or your interactions with people on-campus or those you meet virtually so that when you get to the application you have the information to answer why the school is a good fit for you.
Spend time writing and reworking your long essay and make sure what you're writing adds another dimension to your story — one not already covered in your extracurricular list or transcript — and again, make it yours. This is your journey and your story — no one can tell it like you can.
Be Thankful
Looking back at my application process as a senior in college there's a lot to be thankful for. Sure, the inadvertent nagging of my family, friends, teachers asking where I was applying, how applications were going, and when they were due was annoying, but it was just aggravating enough to get me started early.
Honestly, I was lucky, I had just enough of a fire under my butt that I completed my research and drafted my essays before senior year began. Whether I knew it or not, my parents and my teachers encouraged me to take the advice I now pass off as my own. I was fortunate enough to take time on my application, doing research on the front end so that when senior year of high school came, I knew what I wanted, I knew who I was and I put pen to paper and conveyed that to the best of my ability.
Be Proud
What would I have done differently?
I would have shown more pride.
Be proud of what you've accomplished in your time in high school. It's tough, but you have to own that and brag about it. College applications are not a time to be humble; so if I could do it all again, I'd share all that I was proud of accomplishing.
---