Friendship Transcends Politics, Paves Way for First-Generation Wildcat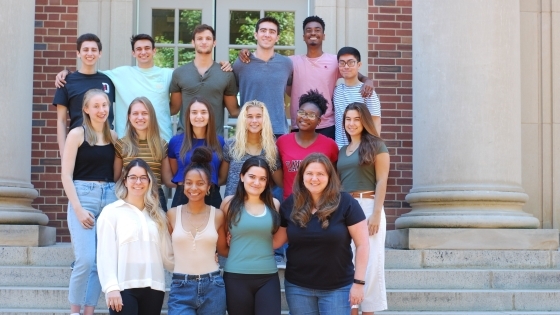 It's easy to imagine that finding genuine friends in a sea of politicians might be tough. But Thomas Kahn, who's had a long career in public service, found just that in former United States Congressman John Spratt.
"In my 40 years of public service, I have never seen a more dedicated, decent, honest, kind and smart public servant," Kahn said of Spratt, who graduated from Davidson College in 1964. "He always treated his staff with respect and loyalty, and those feelings were returned many times over by those who worked for him. He was fiercely dedicated to his constituents and making the government work for them. He's truly one of the most brilliant minds I know—an incisive mind with an extraordinary memory and the ability to synthesize quickly. It is not surprising that he has always generated universal support among his colleagues on both sides of the aisle." 
In recognition of their special, lasting friendship, and Spratt's pride in alma mater, Kahn has made a generous gift to Davidson College in support of the John M. Spratt, Jr. Scholarship. The scholarship, established in 2003 by Spratt and the McColl Family Foundation, supports students from the 5th Congressional District of South Carolina.
Throughout Congressman Spratt's nearly three-decade career, he celebrated many successes. He spent years solving a 150-year-old dispute involving the Catawba Indian Tribe, whose 144,000 acres were located within his district; he co-authored the Balanced Budget Act of 1997, putting the federal budget in surplus for the first time in 30 years and leading to accolades for his political skill and bipartisanship; and he was a leading national expert on defense policy, including nuclear and procurement issues.
The newspaper in Columbia, SC, The State, called him "one of his party's most reliable bridges to the Republican side." In a Washingtonian magazine survey, congressional staff voted him a "Workhorse" and "House Member I'd Like to See Win the Presidency in 2008."
For 20 of Kahn's 33 years working in Congress, he was staff director and chief counsel of the House Budget Committee. He also held senior posts for two other House Committees. On the Budget Committee, he played a critical role on several high-profile negotiations, including Simpson/Bowles, the Biden talks, the Super Committee, the Balanced Budget Act of 1997 and the enactment of the Affordable Care Act. He is now a faculty fellow at the Center for Congressional and Presidential Studies at American University.
Spratt appreciates the contribution to the scholarship, as it serves a college he loves with a mission he admires.
"I am incredibly grateful to Tom, who was my staffer, right hand and dear friend as we worked in Congress through the toughest issues," Spratt said. "I hope this scholarship motivates Davidson students to help their communities and the nation."
His friend Kahn shares that wish.
"There's no higher calling than to help your fellow citizens," Kahn said. "My hope is for the students who benefit from this scholarship to be inspired by the life of John Spratt." 
First-Generation Wildcat, Researcher, Mentor
Meaghan Cadieux '24 from Fort Mill, South Carolina, currently holds the Spratt Scholarship.
She'd initially considered only in-state, public colleges because of the cost. A family friend mentioned Davidson, she planned a visit and, thanks to the scholarship and a comprehensive financial aid package, the other schools were soon out of contention. Cadieux firmly believes she made the right choice, despite the challenges of attending college during a global pandemic.
"All my teachers are very willing to help me, meet outside of class time and refer me to others who are doing well—they want to make sure I'm doing all right," said Cadieux, a first-generation college student. "I'm also getting opportunities I would never have at a different school. As a sophomore, I've already been able to participate in research; I worked in a lab with classmates and upperclassmen over the summer."
Cadieux's research alongside Professor Nicole Snyder focuses on new ways to detect and target cancerous tumors and microbes. The need for this is high, with 9.5 million people dying from cancer each year and more than 750,000 microbial-related deaths per year due to resistant bacteria. She is now torn between pursuing a career in research or her original plan of becoming a doctor. Regardless, the goal is to help people, either in a face-to-face manner or through work on vaccines and medications.
"I hope this scholarship motivates Davidson students to help their communities and the nation."
When she isn't donning a white coat in the lab, Cadieux is part of Davidson's Pre-medical Society and the American Chemical Society. She is involved with Strategies for Success, an organization for first-generation students. She plans to become a mentor and help students walking a similar path. She works at the Davidson Commons Market and hopes to join the Club Soccer team in the spring.
Cadieux plans to major in chemistry with a genomics minor and has already enjoyed a true liberal arts experience, taking classes across the disciplines—sociology, history, religion and English.
"It feels like a little family here," she said. "We have the academic rigor but also the support system to make it manageable. I feel like I'm pushed every day to become the best version of myself. There's no question I made the right decision choosing Davidson, and I'm grateful for all the people who made it possible."