On Course: Haitian Dance and Reading Recommendations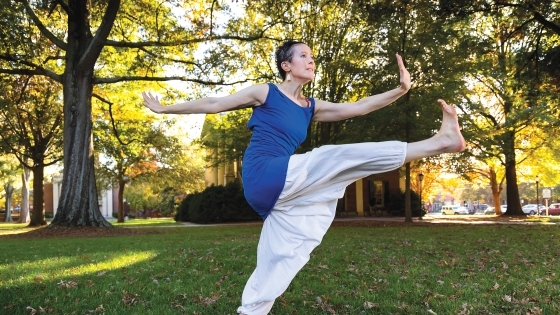 Heart for Haiti
Award-winning writer shares literature to provide context beyond news headlines.
In the wake of the devastating 2010 Port-au-Prince earthquake, Brenda Flanagan traveled to Haiti against warnings from the U.S. State Department. It was her fourth trip to the country, where political upheaval and natural disasters worsened by climate change inflect the daily lives of more than 11 million people.
Flanagan brought 5,000 lbs of medicine and toiletries, some of it donated by Davidson College faculty, and a desire to help. She volunteered at a clinic and stayed at a house that served as an orphanage to 23 children, crisscrossing steep hillsides to fetch medicine for them.
Flanagan, who is the Edward Armfield Sr. Professor of English at Davidson College, has a special regard for the people of Haiti.
"They are kind, and generous, and hardworking, and resilient," she says. She laments the way media portrayals of the island nation as a violent, terminally dysfunctional state shape public perception, and sometimes government policy.
The island country faced tremendous setbacks in 2021—a magnitude seven earthquake rocked Haiti in August, followed by the September assassination of Haitian President Jovenel Moïse, and rising numbers of COVID cases and deaths.
But Flanagan cautions that the country should not be written off only as a place of suffering—she says the country's literature offers another avenue into Haiti's culture and rich history.
"I teach literature, but the literature I teach is mainly connected to history," Flanagan says. "How are we going to understand anything about the American Revolution, or the French Revolution for that matter, if we don't understand something about Haiti? When I tell students that enslaved people in Haiti staged the first successful rebellion of enslaved people in the western hemisphere, their eyes open—they had never heard that before."
Flanagan will teach a course on Caribbean literature this spring. Through stories, she hopes to foster an atmosphere where students can ask questions about the history of Haiti and the ways in which the Haitian Revolution is connected to the United States.
"It's important to me when I teach the literature of the Caribbean," she says, "to show students that we cannot and should not think about America in isolation of the Americas, of which Haiti is an integral part."
Flanagan's connection to the Caribbean is personal. A high school dropout, she left a job at a cannery in Trinidad with two bottles of rum, a pint of pepper sauce, a scrap of paper bearing the name of an American social worker she'd met three weeks prior, and unspoken aspirations to attend college. A week after setting foot in the United States for the first time, she landed a job as an au pair working for prodigious talent and 'High Priestess of Soul' Nina Simone.
That life-changing experience set Flanagan on the path to university and ultimately to a career as an award-winning novelist, essayist, poet and playwright. She has represented the United States as a cultural ambassador in 12 countries. These are her reading recommendations.
---
Deep Roots, Hidden Histories
I have been studying the profound art and knowledge system of Haitian dance culture since 2004—first as a dancer in Boston and New York, then as a researcher in Haiti during Ph.D. fieldwork, and now as a scholar, educator, performer, and collaborator working with Haitian artist-activists.
Haitian dance derives from African-based culture developed in Haiti as a result of Africans upholding their humanity in resistance to the brutal conditions of colonialism and enslavement. The dances, and their accompanying music, songs, and sacred philosophies, continue African—as well as indigenous Taino—histories, aesthetics, and spiritual traditions in Haiti. This culture formation was central to the success of the Haitian Revolution and the establishment of Haiti as a free Black Republic in 1804. Yet due to the severe ongoing impact of European colonial ideologies, African and indigenous lifeways continue to be stigmatized and actively persecuted as backward and negative in Haiti and around the world. In all my work, I effort to counter this legacy and highlight the deep wisdom of Haitian people, culture and artistry.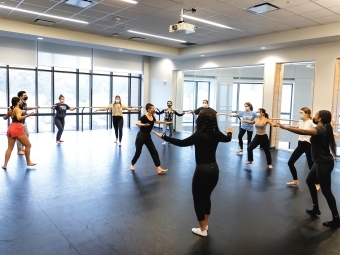 I am first generation American—my parents are white Jewish South African and Israeli. As a non-Haitian person invited into this dance culture, I learned early on how enduring colonial stigmas against African culture bear on Haitians' and Haitian Americans' relationship to this practice. The Haitian artists with whom I work courageously protect and promote their culture despite innumerable barriers, and I aim to support their efforts by advocating for the luminescent power of these practices with integrity and humility.
The dance and music traditions I teach stem from the Haitian folkloric repertoire—codified artistic renditions drawn from the culture of Haiti's sacred ancestral religion of Vodou, then shaped and innovated by many brilliant artists over time. Crediting the artists who crafted the form as well as my many teachers, I also emphasize the inherent Vodou principles foundational to these practices. I feel it is my duty, as someone who has the privilege to promote Haiti's beauty and depth, to make visible these cultural roots and histories. Haiti has much to teach the world about respectful connection with nature, ancestors, and each other as living beings on Earth, and Haitian dances also carry forward urgent lessons for understanding the true meaning of human rights, dignity and freedom for all.
–Dasha Chapman, Visiting Assistant Professor of Dance
---
This article was originally published in the Fall/Winter 2021 print issue of the Davidson Journal Magazine; for more, please see the Davidson Journal section of our website.