Astronaut Tom Marshburn '82 Beams in to Davidson From the International Space Station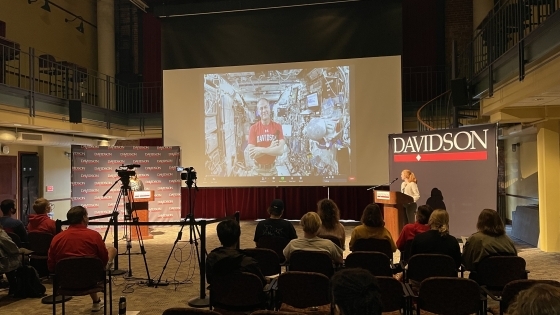 With a hand-held microphone floating in front of his red Davidson t-shirt, astronaut Tom Marshburn '82 chatted with the Davidson community from the International Space Station (ISS).  
From approximately 250 miles above the earth, Marshburn answered questions posed by students in the Alvarez College Union 900 Room while hundreds of Davidson alumni, faculty, staff and students watched over Zoom.
Marshburn is on his third mission to space. He flew to the space station on the Shuttle Endeavor in 2009. Three years later, he returned in a Russian Soyuz. This time, a cutting-edge SpaceX Crew Dragon carried the crew of four astronauts to the space station in November. Marshburn will return to Earth in April.
Student questions covered a wide range of topics–from the quality of an astronaut's sleep (incredible, after you get used to sleeping in microgravity) to the promise of privatized space exploration (NASA can focus on the moon and Mars).
However, one recurring thread was Marshburn's increased sense of connection to Earth, despite the incredible distance between him and his home. That bond is shared among his six crewmates aboard the ISS.
Marshburn, his three American crewmates and a German engineer from the European Space Agency live and work hand-in-hand with two Russian cosmonauts in a space with the total volume of a Boeing 747. Their work transcends–literally and figuratively–national boundaries.
After spending years in Russia training for his space flights and enduring grueling training alongside Russians, that bond has not frayed despite the Russian invasion of Ukraine.
"Our cohesion remains very strong," he said. "We are aware of events on the ground. We don't talk about them. … In general, in spaceships, politics is not a good thing to talk about. We remain very good friends and very good colleagues, relying on each other for our lives, really, to survive up here."
The ISS can't provide the hot sun or chill winds that Marshburn finds himself longing for--the 250-odd miles separating him from the ground has made him infinitely more appreciative of his time on Earth.
"I've never felt so much at one with our Mother Earth and with other humans," he said. "When you look out and see the Earth, it looks so incredibly fragile and therefore extremely precious."

Marshburn also reflected on how his time at Davidson prepared him for his incredible journey through medical school and into space. Although he graduated with a physics degree, he says his liberal arts background has proven vital.
"As humans, we are creators. That is essential for a team to survive and to work up here in space," he said. "Davidson changed my life for the better. It provided every tool I needed to get here, but also to do anything you want to accomplish."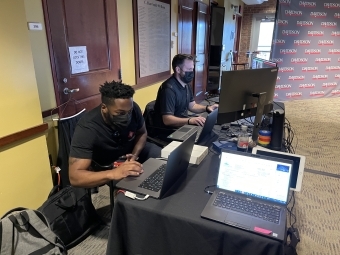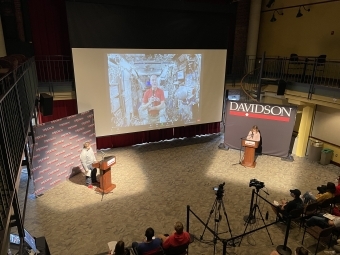 Marshburn and the ISS crew are working nearly around the clock, monitoring about 200 different experiments. They will be monitoring skin cells for the effects of radiation and zero-gravity, studying the movement of microliters of water and also capitalizing on the cold of space to monitor how atoms behave at near-absolute zero.
Despite their busy schedules, Marshburn closed by saying that he plans to request a special uplink to the ISS that will allow him and his teammates to keep an eye on the NCAA Tournament, where he hopes to be cheering on the Wildcats from his perch above Earth.
Related Stories
This five-part series of reports on astronaut Tom Marshburn '82 details his preparations for his third trip to the International Space Station.