Still Working on Your Bracket? We Have Last-Minute Tips From the Experts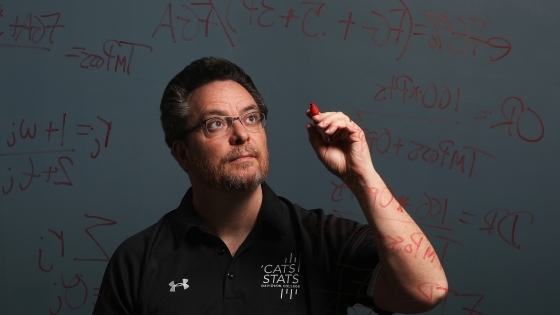 Every March the madness begins—and basketball fans set out to craft the elusive, perfect bracket.
With a little help from 'Cats Stats, Davidson's student-driven sports data analytics group, you might not achieve perfection (the odds of landing on the perfect bracket are estimated to be as low as 1 in 9.2 quintillion and as "high" as 1 in 128 billion), but you'll probably go further than that colleague who always somehow wins the office pool.
'Cats Stats grew out of "bracketology" methods Prof. Tim Chartier developed to assist college basketball fans. Chartier and his students have worked with the NBA league office, two fantasy draft sites and five professional NBA, NFL and NASCAR teams.
Wild, Wild West
The West Region of the NCAA Tournament is the Region of Legends. Of the 10 coaches in the tournament with 600-plus wins at a Division I program, four of them are in the West Region, including Bob McKillop, Tom Izzo, Mike Krzyzewski and Mark Few. This is the most of any region.
Cole Vulpis, the Wildcat Weekly guy for A10Talk, noted for Davidson fans that Bob McKillop could best fellow 600-plus win coaches in five of six rounds en route to an NCAA title. How? He could defeat Coach Izzo in the round of 64 teams, Coach K in the round of 32, Coach Few in the Elite 8, Coach Cal in the Final Four and Sampson, Barnes, Wright, Self, or Larrañaga in the championship game.
Step Into Class
How about bracket picks? Chartier, who is the Joseph R. Morton Professor of Mathematics and Computer Science, teaches ranking methods derived out of his research with a team that included a Davidson undergraduate. In class, students learn to implement the methods, make brackets and think about the tournament through the lens of "Mathness," according to Chartier. 
Here are some observations from this year's analysis:
The weakest #1 seed appears to be Baylor.

The most likely 5/12 upset is New Mexico State over UConn.

The highest ranked 16 seed is Georgia State.

The most likely first round upsets are as follows:

Rutgers or Notre Dame over Alabama loses to #11

Loyola-Chicago and Sister Jean over Ohio State

And yes, (using the math and not the heart) Davidson over Michigan State
Preparing for Finals
What about the Final Four and beyond? Gonzaga is a clear favorite in many models out of the West. The East has Kentucky, with St. Mary's of California putting up a surprising fight. The models appear to have Kansas as a lock in the Midwest. The South is where you have choices and can have your winning model. Arizona is often favored, but Tennessee, a #3 seed, is only a tad behind. Want a good sleeper pick to win it all? We volunteer the analysis that the Tennessee Volunteers are a good choice.
Want to do your own analysis and create a winning bracket?
Try the codes used all over and covered by such media outlets as The New York Times, ESPN, FiveThirtyEight, CBS Evening News, and USA Today, by going to March MATHness. Go 'Cats!