Truman Scholar Pursues Public Health Future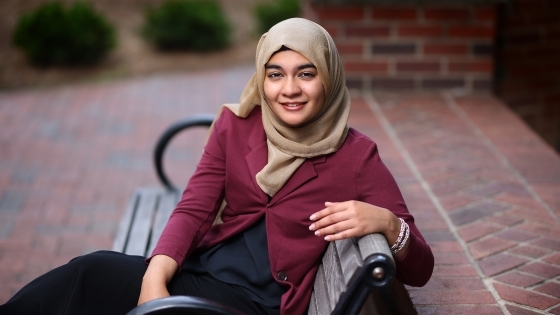 In 2016, bullies regularly taunted high school freshman Hana Kamran about the hijab she wore. She dreaded walking to classes and hearing words like "terrorist" callously lobbed in her direction.
Around that time, her family went to see the film Zootopia at a local movie theater. A security guard refused to let her in, saying the head scarf violated their no-hat policy and could be hiding explosives. She watched in frustration as another moviegoer walked right past in a baseball cap. 
She offered to undergo a pat-down search, but the guard refused. Her parents returned home and called the movie chain's manager, who apologized and invited them to return. They went back a week later, only to have the guard say they couldn't bring any large bags inside the theater—(in this case a normal-sized purse)—insinuating once again that they might have explosives.
She broke down crying. She later talked with her mom, who explained that bullies seek to intimidate and dehumanize people, and that you can't let them win.
"You can't control what people may say or do but you can control how you react, and how you treat others," Kamran recalls her mom saying. "Those experiences taught me that you don't let negativity define you. You see the way people stick up for you, and you also know what it means to not have anyone there for you in difficult moments. You realize you want to be there for other people and make it so that no one else has to go through this.
"And that's what pushes me forward."
Treating others well, as a medical doctor and researcher, tops her list of aspirations. That goal became more reachable recently, when Kamran, from Davidson College's class of 2023, was awarded a prestigious Truman Scholarship for post-graduate study.
The award, created to honor the nation's 33rd president, Harry S. Truman, goes to students with a strong record of leadership, public service and academic achievement. Some 705 top students from 275 institutions applied for the award; 58 were selected.
She hopes to use the $30,000 scholarship to help pay for medical school. After that, she plans to go into a public health career. Professors say she's a natural for a life of public service.
Hana is a talented scholar passionate about true community activism. She is also a wonderful human who is innately tuned to maximizing health and wellness, increasing inclusion and reducing bias. We are lucky to have her in the Davidson community.
Barbara Lom, Biology Professor
A Caring Family
Kamran, the daughter of Pakistani immigrants, grew up in North Carolina's Cabarrus County, about 20 miles from Davidson. She went to public schools with a mix of kids reflecting the county's rural roots, small urban core, and affluent newcomers flocking to booming Charlotte's expanding suburbs.
Her father, Kamran Arshad, is an engineer who works in IT. Her mother, Atiya Kamran, is also an engineer and former teacher who became a stay-at-home parent for Hana and her younger brother, Owais. Kamran's widowed grandmother lived with them. Her extended family includes a close-knit collection of aunts, uncles and cousins.
"Growing up in such a closely interconnected immigrant family, you share everything with each other, and you take care of each other," she said. "As family members age, you recognize the importance of quality health care, and how it should be available to everyone."
Her grandmother had Parkinson's disease that progressed significantly during Kamran's high school years. She remembers staying up until 3 a.m. on the night before her SAT exam, trying to help her dad calm her grandmother down during an agitated episode. Her grandmother died in 2020.
"He's so caring," Kamran said of her dad. "I watched my parents make those sacrifices and often wondered what happens to all the people who don't have that kind of support system. 
"It made me question what I could do. I decided that going into medicine and research was my best chance to help people."
She graduated as the valedictorian of her high school class and came to Davidson—her dream school—as a Belk Scholar.
Leading and Serving
She quickly became a Davidson leader. In her first year, she started as a consultant for, and later a member of, the campus program FIRST, (Fostering Inclusivity and Respect in Science Together). 
FIRST offers support to help students from underrepresented identities succeed in STEM. She co-founded the Davidson Textbook Initiative, which works with the Lula Bell's Resource Center to ensure that students of all means have equitable access to books and class materials.
"Hana was selected for our FIRST Action Team from a very strong candidate pool because of her abilities to ask good questions, to communicate clearly, to understand and explain contemporary challenges, and to work diligently for equity," Lom said. "She has tremendous energy, high aspirations and creative ideas. She's determined in all of the best ways and gets things done with incredible passion."
Public Health department chair Kata Chillag, the Hamilton McKay Professor in Biosciences and Human Health, first taught Kamran in her "Introduction to Global Health" class last year. Chillag, who had a long career in public health service before teaching at Davidson, serves as a mentor. 
"It quickly became apparent she had an extraordinary and creative intellect, strong work ethic, and commitment to public service," Chillag said. "Her work throughout the course demonstrated keen analytic skills, a focus on health equity and an ability to translate her research and analysis to credible policy recommendations.
"Hana has great curiosity about and affection for learning about all kinds of people and what makes them tick. She has resilience, flexibility, and a sense of humor when things don't go as planned, as is so often the case in public health and public service. She has been a joy to work with and I can't wait to see what she will do to advance health justice."
Besides being a top scholar and holding a variety of leadership roles, she's worked as a student researcher—all experiences that will help her as she pursues her career. 
"You don't find the environment of Davidson anywhere else. You're in small classes where you get to know each other and develop close relationships with professors, who really care about you," she said. "The mentorship I've received from faculty, the connections I've made with alumni and the unique opportunities provided to me to conduct research have made a big difference.
"Davidson has a strong track record of helping students get to the careers they want and also helping them grow as people."
Treating Those Who Need Her Most
Kamran serves as a volunteer EMT for the Davidson Fire Department. She's also volunteered at a Novant Health emergency department. As an EMT, she's helped patients in life and death situations ranging from car accidents to heart attacks. 
"In an ambulance, you work with everyone, rich and poor, of every background," she said. "Sometimes you get to help save a life and sometimes you see patients lose their lives. It made me realize that I want to expand my skills—so that I can become the person people come to for medical care."
Her experiences dealing with those who ridiculed her Pakistani roots and Muslim faith convinced her that the medical profession needs a much broader range of practitioners.
"When you're on the receiving end of something like that, it makes you realize how important it is to have diverse care providers," she said. "Not everyone should come from homogenous upper-class backgrounds. You need people with a variety of different life experiences. You realize that you never want to make anyone feel that way—you want to pick people up, not knock them down." 
She hopes to someday work with organizations such as Doctors Without Borders or other NGO's and nonprofits that serve the world's most poverty-stricken people. Though she knows there are careers in medicine that would be far more lucrative than public health, she remains passionate about service. 
On that point she turns to Truman, who never got wealthy from public service, and the adage, "If you remember where you came from you won't lose your way."
The values she learned as a child still hold true.
"There was an obligation, not just to help the people in your family, but also in your community," she said. "Your life is not just something that you live for yourself. 
"How you live is defined by how you help others."