How Sweet It Is: Bakers, Class of 2026 Turn Out for Cake Race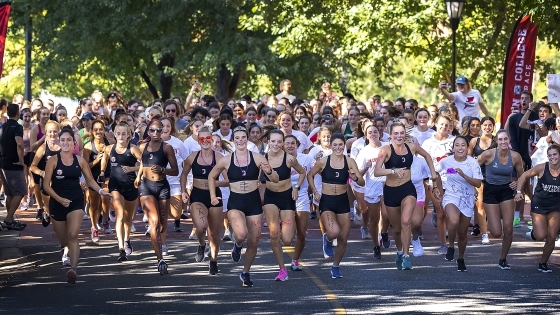 Over the years, we've come to suspect that some students chose Davidson College for the cake. A few have confessed as much.
Ryan Harris '26 isn't one of them.
He'd never heard about the college's annual Cake Race until he arrived on campus. And wouldn't you know he'd win it?
The men's track and field team runner outpaced all other first-year students at this year's Cake Race on Thursday. He had the honor of selecting the first cake after the men's race. Women's track and field runners Tate Arrington, Mary Shoop, and Molly Sullivan crossed the finish line together to win the Class of 2026's women's race.
These extraordinarily speedy people win lots of meets and medals. But winning cake is so much sweeter, especially when it comes from a community that takes its baking—and the welcoming of its newest members—seriously. And these champions walked away with some massive confections.
"I was a little nervous about it, but it turned out to be super fun," Harris, a middle-distance runner from Norfolk, Virginia, said after flying through the finish line. "This is a really great community."
Hauling the spoils took some effort, and balance.
He chose a heavy, three-tier red velvet cake topped with edible black and red streamers. Another newcomer, Dining Services pastry chef Katie Blackwell, created the masterpiece for her Cake Race debut. She's been a pastry chef for 28 years and worked in country clubs and had her own business before starting at Davidson two weeks ago.
She had fun baking for the event and is enjoying her everyday role at the college.
"I like that you get to be really creative here," she said. "You can try out new recipes to see how people respond. It seems like students are a lot more willing to try new things, it doesn't have to be something they've eaten their whole lives and is cooked the same way they're used to."
Another Dining Services offering came from assistant pastry chef Angela Anzini, who crafted a showstopping dulce de leche cake dripping in deliciousness. That one went to the top-placed women runners, who also chose a massive two-piece "26" cake donated by the E.H. Little Library staff.
"We're having a big cake party, so we need a lot of cake," Sullivan said.
Baked-in Tradition
It's fitting that track athletes usually win the Cake Race.
A Davidson track coach started the event in 1930 to uncover running talent among first-year students. In early years, faculty members' wives baked cakes and all students had to run. These days, faculty, staff, alumni, town residents and local schools bake and donate cakes. Running is no longer mandatory, but many do.
It's one of Davidson's most beloved traditions.
This year it followed an extremely popular event. On Wednesday, NBA basketball superstar Stephen Curry '10 visited campus for a solo graduation ceremony 13 years after he left Davidson to join—and lead—the Golden State Warriors to four national championships. Curry finished his degree requirements in spring, and the college also retired his Davidson jersey and his #30 at Wednesday's ceremony.
Men's Tennis Coach Drew Barrett, whose elaborate concoctions are always a highly anticipated Cake Race attraction, included that theme in this year's creation. His Mickey Mouse cake sculpture waved a "Curry for 3" flag. Black and red popcorn handed out after the Curry ceremony covered the base. (Another cake, shaped in the number 30, was also snapped up quickly.)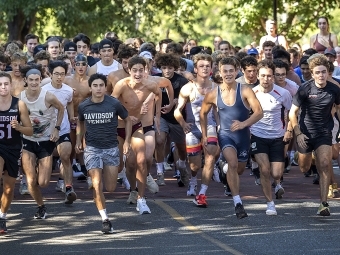 Hundreds of first-year students showed up Thursday to run the 1.7-mile course around campus and town. Upper-class members, coaches and teammates who would later share in the bounty came to, um, cheer? "Make sure you're up front for this Lucas!" one older athlete yelled to his first-year teammate.
Cynthia Marshall drove up from Charlotte to drop off "Grandmother Marshall's famous poundcake," which she makes using a recipe passed through multiple generations.
"It's a traditional cake for a traditional event," she said.
The family connection runs strong: her son Tommy and daughter-in-law Ellen Ott Marshall hail from Davidson's class of 1991. Their daughter, Katherine '26, ran in this year's race.
"I'm so thrilled that she's here, I love Davidson," Cynthia Marshall said. "And this is such a great chance to come and watch the race and meet her roommates."
By the way, if you're curious about what makes "Grandmother Marshall's" poundcake so famous, she shares this important family secret:
"Making sure the butter and sugar are fluffy is key," Cynthia Marshall said. "It's why our family poundcakes are never dry."