Davidson's Stephen Curry Celebrates Graduation, Hall of Fame Induction With His 'Home Team'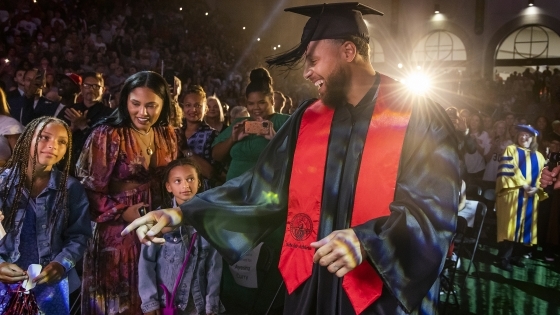 He's one of the world's greatest athletes, a basketball legend revered for the grace of his three-pointers, the seemingly effortless art of the swish. That's the superficial snapshot of Stephen Curry, the NBA's current MVP.
The Davidson College community carries a much longer scorecard.
Davidson's Curry uses his talent, fame and money to help the less fortunate with access to healthy food, medical care, books and athletic opportunities. He models the message that education matters; that what you do off the court means the most; that your net worth is defined by what you give back.
And that you keep your word.
Curry '10 walked across a stage in Belk Arena on Wednesday to accept the diploma he started working toward 16 years ago and promised he'd earn someday. And his college community took an afternoon to celebrate his graduation, induction into Davidson's Hall of Fame, and the retirement of his jersey and number 30.
Eight other Wildcats have had jerseys retired over the years; it's the first time the college has retired a number.
The "Curry for 3" event packed the gym with Curry's family, friends, former teammates, classmates and the college's current student body, faculty and staff. They celebrated his rise from the slight teenage underdog passed over by most colleges to a basketball icon, family man and philanthropist.
The town joined the celebration, with "Congratulations #30" and other banners strung along fences and hanging from roofs and windows of local homes and businesses.
A line of professors and college leaders dressed in traditional commencement garb processed through the arena to begin the ceremony. A hyped-up crowd, decked out in black and red, many sporting Davidson "30" jerseys, burst into a joyful, raucous standing ovation as Curry followed in a cap and gown.
"We are extremely proud to call ourselves your home team, your base of support, your cheering section," College President Doug Hicks said. "Davidson's statement of purpose says that we help students to develop humane instincts and disciplined and creative minds for lives of leadership and service. The world has seen that Stephen Curry is living out those words."
Many more ovations followed, with one especially big roar when Curry stood and proudly displayed his Davidson diploma and threw his graduation cap in the air.
"Seeing this many people…seeing these familiar faces, these friends, these people who believed in me," Curry said in an emotional speech. "Davidson lives with me and in me. This community is special. I can't begin to thank you all enough for showing up for me every step of the way."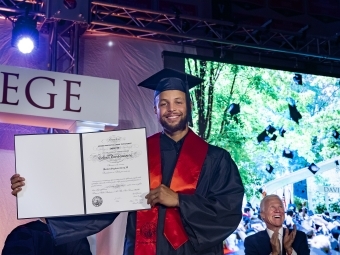 Keeping His Promise
Davidson loves its basketball.
And Curry played it magically as he led the Wildcats to an improbable spot in the NCAA's Elite Eight in 2008. He became the college's all-time leading scorer and was named an All-American in his third year.
There was some heartbreak—his own and college fans'—when he opted to forego his senior year after being drafted by the Golden State Warriors. But he promised his mom, Sonya Curry, and then-Head Coach Bob McKillop that he'd complete his degree someday.
He spent the next 13 years dominating the NBA and building a family. A 2011 league walkout and the COVID-19 pandemic offered rare opportunities to work on his degree. This past spring, he finished his college course work and earned a Bachelor of Arts degree as a sociology major.
Curry was listed among the Class of 2022 graduates at the May commencement but couldn't make the ceremony because of the NBA playoffs. Which turned out to be a good thing because the Warriors won their fourth championship title and he, the series MVP honor.  
Wednesday's ceremony at Davidson brought that journey full circle.
Sonya Curry described her initial reluctance about Stephen wanting to go to Davidson. She thought he should go to a bigger Division 1 school further from their Charlotte home. He asked her to go to a Davidson practice, so she did.
"I saw the joy Stephen had, how comfortable he was in that practice," she said. "I said, if this is what you want to do, we will support you."
She said she's excited to put his college diploma on the wall next to his brother's and sister's—and proud beyond measure.
"Today, I am so thankful and blessed to see you with your gown on, knowing that this is not an honorary degree," she said. "You earned this."
Committed to Brighter Futures
Curry's basketball fame spans the globe. As does his desire to make life better for those living in the toughest circumstances.
Oakland California knows Davidson's Curry well. He and his wife, Ayesha Curry, started the Eat. Learn. Play. Foundation in 2019 to combat poverty and inequities in the city's most underserved neighborhoods.
The Currys say they had "the singular goal of reaching kids and families in the areas that are critical to their future success—what they eat, how much they learn, and access to sport." The foundation helps build playgrounds, supply free books for "Little Town Libraries" across the city and provide healthy meals for hungry families.
Curry's charitable ventures have raised awareness and money for everything from combating malaria in Africa to ensuring equity for women's athletic programs, including at Davidson.
He doesn't just donate, he participates. Imagine being a kid in an underfunded Oakland elementary school and having your idol read a story to your class and tell you how much he loves books and learning.
"Stephen gives abundantly. He gives his time, he gives his love," McKillop said. "There is hope in the world because of Stephen Curry."
A Grateful Graduate
On Wednesday, Curry's time and love went to Davidson.
"I entrusted my college journey to a true leader," Curry said to McKillop. "None of this would have been possible without you."
"I hope you have the most amazing experience—all four years," he told current students, drawing a laugh from the crowd. "And go give back to the world."
Curry took time to thank professors, coaches and staff members, including Athletic Director Chris Clunie '06 and former President Carol Quillen. (Professors Gayle Kaufman and Clark Ross, who helped him with the logistics of earning his degree, also got a special shoutout.)
He described "bawling my eyes out" over the choice to leave Davidson for the NBA.
"That speaks to how much this place means to me," he said. "It was one of the hardest decisions I ever had to make. I didn't think it would take 13 years but here we are. I'm a graduate, I'm a Davidson alum and a hall of famer!"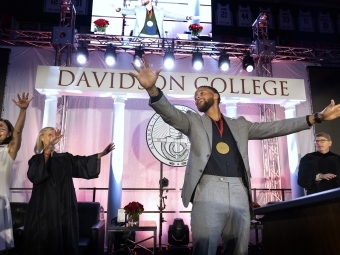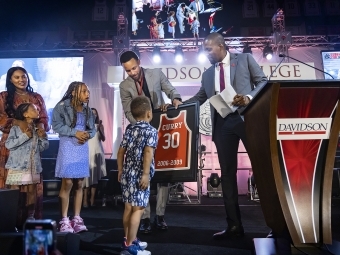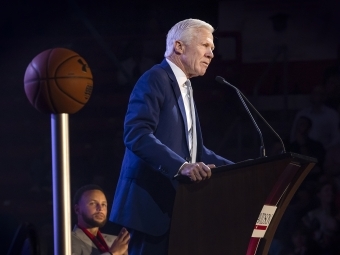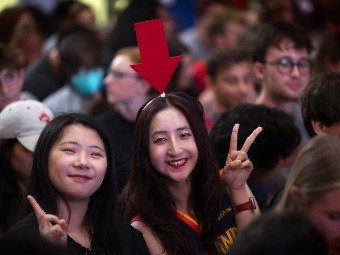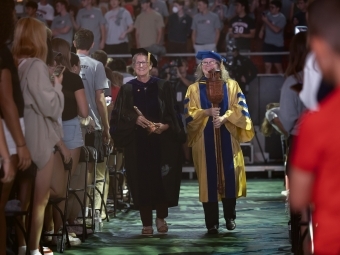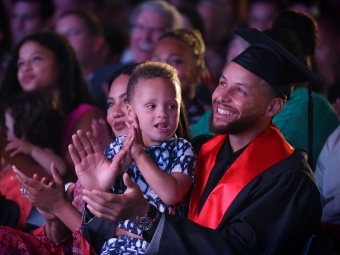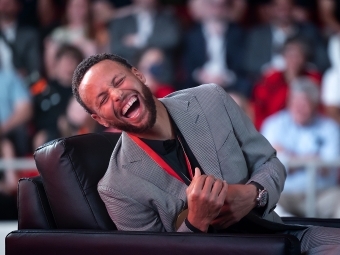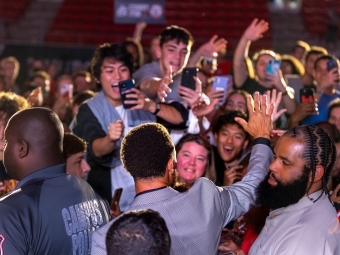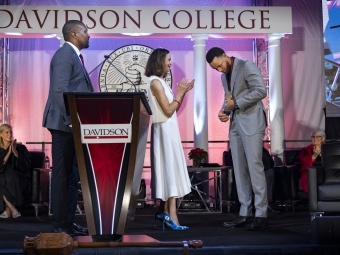 The ceremony ended with Curry leading the cheering crowd in the opening verses of Sweet Caroline, a favorite during basketball games: "Where it began, I can't begin to knowing. But then I know it's growing strong."
It's probably a safe bet to say that Davidson will never have another commencement ceremony like Curry's. And Hicks, Davidson's 19th president, had the odds for student achievement weighing heavily in his favor.
"Every president at every commencement makes hopeful statements about the graduates and their futures," Hicks said. "In that spirit, I predict with confidence, Stephen Curry, that you will enjoy considerable success in your life and career after college.
"Congratulations from your home team!"