Citizen of the World: New Dean Rusk Director Brings Diverse Experience to Post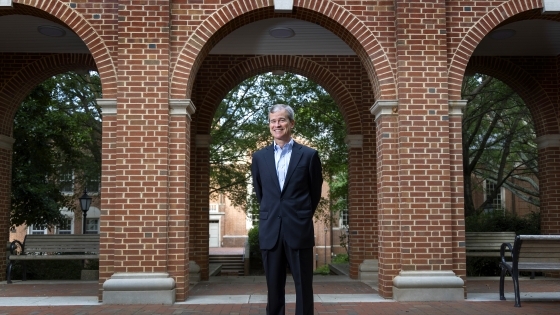 Dan Crocker has searched for oil in West Africa, designed detailed strategies for Silicon Valley startups, and helped expand and protect American investments around the world.
He's been both a business leader and United States diplomat, working in Europe, Africa and Latin America. He's got a lifetime of international experience, connections and wisdom that he's happy to share. And that's a win for Davidson College students.
Crocker recently began his new post heading the college's Dean Rusk International Studies Program. As the program's John and Ruth McGee director, he's most excited about mentoring and encouraging students to explore opportunities abroad. Whether it's a semester studying at a university or a summer research internship, the experience will help them in whatever career they choose, he said.
"I want to get students excited about living overseas and getting an international perspective," he said. "There are so many trade and investment issues that will end up playing a role in their futures. Whether you're talking about how Russia's war with Ukraine affects the world's gas and wheat prices or how lithium and cobalt from Africa end up as batteries made in China that end up in cars and computers in the U.S.—our world has become so inter-connected.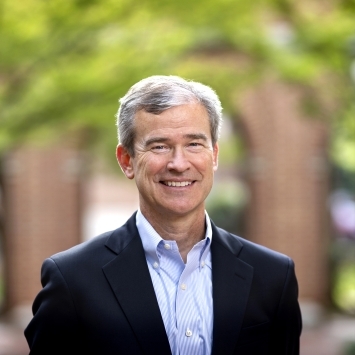 Living somewhere else gives you a better understanding of what motivates people. If you're running a business or working as a healthcare professional, that time you spent studying in Ghana or France or Guatemala changes you and gives you a much wider lens to view the world through.
Dan Crocker, Director of the Dean Rusk International Studies Program
A Return to Davidson
Davidson offers a wistful homecoming for Crocker, who was born here. His father, John, taught German at the college in the late-1960s before taking a post at North Carolina Central University in Durham. He later retired to The Pines at Davidson.
Other connections abound. His sister, Becky Crocker Delany '86, is now a family physician in nearby Cabarrus County. And his mother, Anne Crocker, lived in Concord until her death this past spring.
Crocker's parents met in Germany. John Crocker was an engineer working for the U.S. government on post-World War II reconstruction in Germany and Austria. Anne Crocker was the daughter of an Air Force chaplain stationed there.
Both of his parents spoke German fluently and raised their four children to learn about the literature and customs of other cultures. That shaped Crocker for a life often spent in other countries.
He studied abroad in Paris as a Princeton University student. He raced for Princeton's road cycling team and considered pursuing that as a career. He competed at the Elite/Category 1 level, but despite some podium finishes at home and abroad, didn't make the U.S. National Team and opted for other paths.
Fresh out of college, he ended up running an oil exploration operation in Angola. Besides the blistering heat, he encountered the perils of being abroad during a civil war. He was robbed at gunpoint and lived with an ever-present risk of being kidnapped.
"I was 22-years old, scared, lonely and living in a trailer," he said. "I knew it was dangerous and didn't want to be there."
He said the experience helped him build skills he'd need throughout his professional life. He returned to the United States after a year, worked for a railroad, then the U.S. Foreign Service. He briefly left government work for tech startup jobs in California, then returned for a 20-year career. Along the way, he earned graduate degrees in business and engineering from MIT and in foreign affairs from the University of Virginia.
That sense of wanderlust—and a compulsion for public service—remained.
He started in the U.S. Department of State, then later moved to the Department of Commerce. He rotated stints abroad with assignments in Washington, D.C. In his last post he served as Deputy Assistant Secretary for Europe and Eurasia.
Former U.S. Ambassador Barbara Stephenson, his superior during a post in Panama, said she always valued Crocker's solid advice and analysis. She said he had a sharp ability to break down complicated information on logistics and budgets to advise U.S. policy makers.
"He was the rare Foreign Service Officer who's also an MIT trained engineer," she said, and then joked, "he was also one of the few who could do math."
Stephenson is now vice provost for global affairs at the University of North Carolina-Chapel Hill. Crocker served on the board of the American Foreign Service Association while she was president between 2017-2019, "at a time when there was a concerted effort among some elected leaders to gut diplomacy," she said.
That included slashing budgets, staff and international relationships. She said Crocker helped garner bi-partisan support to keep important diplomatic policies and functions in place.
"Dan knows how to build a coalition, and he works hard at maintaining relationships," Stephenson said. "He brings people together to solve problems, he networks with a purpose, and always with integrity. When Dan brings you together, you will leave knowing that what you did will make things better."
A Diplomat's Life
Life in the Foreign Service comes with challenges.
There's the matter of uprooting your life—and your family's—to move abroad for a promotion or an experience most people will never have.
Crocker and his wife, Kimberly, were in the same class at Princeton but didn't know each other until an encounter at a Washington coffee shop eight years after graduation. They had their first date in December of 1997 and with an overseas assignment to The Dominican Republic looming, eloped two months later. (A bigger formal wedding followed.)
Their son Alexander was born in 2001, and daughter Catherine, the next year.
"We had to travel from Washington to Brazil when Catherine was four weeks old. She couldn't keep her eyes open for the passport photo," Kimberly Crocker said. "It was quite an experience getting through customs with a toddler, a newborn, and our cat in a cage. But we all adjusted, and Catherine's first words were in Portuguese."
It's a great way to learn another culture and meet interesting, powerful people. There are downsides, such as security concerns in countries where kidnapping an American is another form of commerce. They often lived in gated homes with armed security guards.
Alexander and Catherine, now both in American colleges, learned to adapt to the moves, discovering new friends along the way. By 2017, they made their last move from Madrid back to Washington, where Kimberly's mom had suffered a series of strokes. They were able to spend the next six months before her death close by.
"Balance is very important to us, and it was time to come home," Kimberly Crocker said. "That's one thing you have to remember, that family comes first."
Dan Crocker's mother's brain cancer helped him decide to apply for the Dean Rusk job. While she died before he started, "she knew we were coming to Davidson," Kimberly Crocker said. "She was thrilled, and we felt like life had come back full circle, and that was a beautiful thing." 
The pull was strong.
"The timing felt like this might be a message from God," Dan Crocker said. "It seemed like a heaven-sent opportunity."
Teacher, Mentor
Dan Crocker left the Foreign Service in 2019 after feeling "immensely uncomfortable" about orders coming directly from then-President Donald Trump's Commerce Secretary Wilbur Ross. Crocker described "directives that had profound geopolitical consequences but had not been vetted through any interagency process."
He'd worked well with both Republican and Democratic administrations in the past. He said the orders would have bypassed crucial—and required—safeguards and scrutiny. Crocker said he couldn't go along, so he resigned.
He became the CEO of Veracity Worldwide, an international advisory company. He learned about the Davidson opening from former Dean Rusk director Jane Zimmerman. They weren't acquainted but knew of each other and talked extensively about the post.
"Dan brings a unique skill set in both the government and the private sector," Zimmerman said. "Teaching runs in his blood, and so does a commitment to Davidson's values of cultivating humane instincts."
Mitch Larsen, who recently retired as executive director in the Commerce Department's Office of Europe and Eurasia Affairs, worked closely with Crocker and describes a loyal mentor and friend.
Crocker's style is not to tell people what to do, but to hash out facts, obstacles, benefits and detriments. He encourages people to think critically, and reminds them, "this is your decision, not mine," Larsen said.
"He's been such a great mentor to Commerce's entire Foreign Officer corps. The amount of knowledge and experience he has is amazing," Larsen said. "He also really cares about people. He values the influence of those who have helped him and wants to pay that forward. He knows a lot of ambassadors and executives but is never too busy to take a call from someone who's just starting out. Working with students is such a great fit for him."
Mills Jordan, a political science major and Chidsey Leadership Fellow, met Crocker over the summer when he spoke with a group of interns in the Davidson in Washington program. They met for breakfast later in Washington. Jordan has since attended a speaker's conference Crocker set up on campus and talked with him about potential grants for overseas research.
"He's very gracious and easy to talk to. He's got a great blend of on-the-ground experience and expertise," Jordan said. "I get the sense that he's very mission driven, and it's not out of self-interest. His goal is to help young people become more globally aware and engaged."
That is indeed a passion for Davidson's newest Dean Rusk director. He's spent the first month on campus meeting with students who are especially excited about going abroad after several years of COVID-19 travel restrictions and lockdowns.
In spring, he'll teach a political science course, using a case study to challenge students to weigh the need to balance global investing and trade with political realities.
He wants them to carefully weigh where they choose to go. Locations deemed unsafe by the U.S. government are off-limits, but that still leaves a plethora of opportunities.
"Much of the developing world has its challenges, starting with safety and security," Crocker said. "While I want to meet students where their comfort level is, part of the goal of getting outside of the U.S. is accepting deliberate discomfort, culture shock and a realization that in most of the world, living conditions and cultural norms are challenging.
"Understanding that challenge and confronting it builds a resilience and a greater self-awareness that pays lifetime dividends."
Published
Category
Dean Rusk International Studies Program