Professor Whose 'Joyful Wonder' Inspired Countless Students Honored By Alums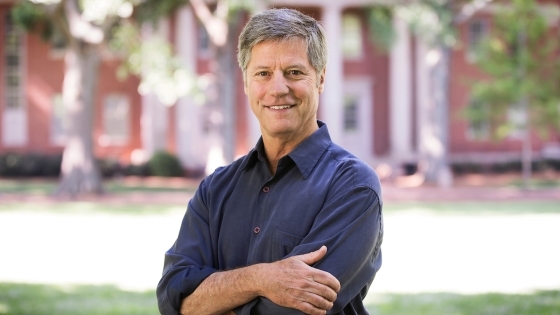 On the first day of class, in the first course she took with Professor Bill Mahony, Angela Rudert '89 wrote her teacher's words in her notebook: "All religions are right. Sublime. Profound. All religions are wrong. Ridiculous. Stupid." In that moment, she says, she felt like her teacher met her exactly where she was–a sentiment shared by Mahony's students for the last 40 years.
Rudert and fellow alum Patton Burchett '00 appreciate all Mahony taught them as students and all he has continued to teach them as a lifelong mentor and friend. Together with other lead donors, they have launched the William K. Mahony Fund for Contemplative Practice and Learning to honor their beloved teacher. Through this fund, future Davidson students will have greater opportunity to grow in experiences and knowledge related to Asian religions and/or mindfulness and contemplative practices like meditation, prayer, rituals or yoga.
"Bill teaches students to look within themselves for wisdom," Rudert said. "I was not a top student, but I always felt seen. I felt heard. I experienced tremendous growth as well as an intellectual curiosity that was sparked in his classes."
Like Rudert, Burchett recalls being a curious Davidson student, eager to expand his thinking and learn about new ways of being in the world.
"Once it was pretty clear the pre-med plan wasn't going to happen, I took a variety of classes and lucked into an Intro to Hinduism course with Professor Mahony my sophomore year," he said. "From that point on, I took every class I could with him. He was able to share what was inspiring about every tradition he taught, as if whatever he was teaching in that moment was his own personal tradition. The way he taught blew me away." 
Mahony retired in the spring and recalls his years teaching as being so much more than a job.
"I feel that teaching is a calling for me," he said. "This is what I came into the world to do, and I am so grateful that Davidson gave me the opportunity to do what I was called to do. And I am grateful for the students. I am enlivened by them. I am refreshed and renewed by them."
Mahony says part of his goal over the last four decades has been to widen horizons through his teaching of religions of India, Hinduism, Buddhism and Islam. Students often didn't know much about these subjects when they walked into his classroom.
"There's a real joyful wonder in watching something unfold," Mahony said. "Whether it's a flower blossoming or a sunrise—to watch somebody's spirit and mind and heart unfold is very moving, and that's what teaching at Davidson has given me the chance to see, year after year. The students are very bright and hardworking to begin with, so teaching was never a struggle. It was a dance. A joy."
Contemplative learning and practices are critical pieces of enhancing campus-wide health and well-being, and the Chaplains' Office will be a key partner in putting this new fund to good use. Ivan Mayerhofer, Davidson's associate chaplain for Buddhist programs, sees first-hand the craving from today's students to learn more.
"There is a deep desire and interest in practices of well-being among Davidson students," he said. "We live in a time where we are coming out of a massive disruption to many students' lives. As a result, there is an ever-increasing presence of mindfulness and wellness on campus, which has been wonderful."
Nearly 30 students attended the two weekend mindfulness sessions Mayerhofer offered during new student orientation last year. Last spring break, he asked if students would be interested in a Zen Meditation Retreat at Ann Arbor Zen Temple, where he trained. He assumed he would get a handful of students, and 17 signed up. 
"Support for this fund will allow students to be less worried about affording these kinds of experiences and more focused on how to participate in something and really engage," Mayerhofer said. "We see a movement over the last 10 years to lean into the diversity of Davidson, and that diversity is an expression of Reformed Presbyterian theology. This is a natural growth related to the needs of the time."
When Mahony was in college, he had the opportunity to go to Asia for six months and travel all over India, mostly by himself. He stayed at various meditation centers and then returned to the United States and finished college. He says it was a beautiful experience.
"It reminds me of a bird with two wings, representing knowledge and wisdom. And maybe the tail is discipline," he said. "I'd love for Davidson students to have the chance to do something similar. To study and learn in those traditions. To develop those two wings of the bird. And to come back to campus and talk with professors and other students about what they learned and observed."
In addition to student experiences, the fund will support the installation of a bench named for Mahony in the Davidson College Peace Garden, a part of Hobart Park.
Rudert and Burchett were influenced greatly as students by Mahony's teaching and friendship, but that was just the beginning. Both followed in their professor's footsteps and now teach in their own classrooms full of curious minds yearning to learn more—Burchett in the Religious Studies Department and Asian & Middle Eastern Studies Program at the College of William & Mary and Rudert in the Department of Religion at Colgate University. Through their leadership of this new fund and the commitment of the Chaplains' Office, many more students will broaden their horizons and have access to new opportunities at Davidson.
For those who wish to honor Professor Emeritus Bill Mahony's 40 years at Davidson and contribute to the William K. Mahony Fund for Contemplative Practice and Learning, a crowdfunding effort has launched HERE. Those interested in a multi-year commitment to the fund should contact Jeff Prince in the Development Office at jeprince@davidson.edu or 704-894-2137.