Film and TV Screenwriter Laeta Kalogridis '87 on the Who and What of Inspiration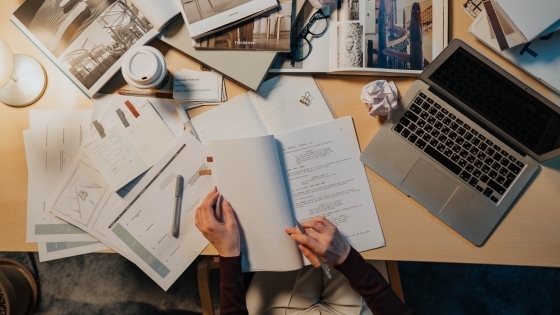 With writing credits for the likes of filmmakers Martin Scorsese, Oliver Stone and James Cameron, alum Laeta Kalogridis '87 has tasted success in a business where famine is more common than feast.
The screenwriter spoke to students and faculty as a guest of the Davidson College English Department for the 25th Annual Davidson Reads event in October. The event celebrated the work of Kalogridis and author Molly Sentell Haile '94, and honored an educator whose influence they both credit, Charles A. Dana Professor of English Cynthia Lewis.
Kalogridis earned her MFA at the UCLA School of Theater, Film and Television. She has written for and produced multiple television series and films, including Alexander, Shutter Island, Avatar, Alita: Battle Angel, and Altered Carbon. 
Kalogridis made time to talk with Nevaeh Angarita '26 about the art and business of writing, and her Davidson experience. This interview has been edited for clarity and brevity.
How did you break into screenwriting? Describe that journey.
I got into writing in general because I was encouraged to write creatively here at Davidson College, and studied playwrights like Shakespeare. Two professors, Cynthia Lewis and Elizabeth Mills [professor emerita], were the kinds of role models for an active life of the mind that encouraged me to think about what I wanted to say, and less about whether or not anyone else might approve or think it could work. Screenwriting is not a high-income profession. You have to go into it because you love it, since the chance of making a living off of it is so small. 
Where do you draw inspiration for your work? 
I think everyone gets inspiration from whatever they happen to be experiencing or dealing with at any given time. Immigrant identity is a large part of what interests me: the very, very complicated question of what is it to be American, what is it to belong, what is it to attempt to create a more perfect union, what those things mean, what is community. 
How do you connect with new projects, and what is your process?
The simple answer is, in my business you are always freelance. You go from job to job, especially if you write movies and television. I tend to ask my agent to help me identify existing properties in the market that I would be good for, or find something myself that I particularly like. It is a process of discovery–over and over again asking yourself what, at this moment in your life, attracts you? What do you want to write about at this moment in your life? It is never the same from one year to the next, or even one month to the next.
Is there a particular project that you're proud of, or that has brought you joy? Why?
Yes. Shutter Island and Avatar bring me a great deal of joy. I'm extremely proud of the first season of Altered Carbon. I feel that it is a huge privilege to make filmed entertainment of any kind because it will be seen and experienced by more people than you will ever personally know. The part where you enjoy it is knowing you were lucky enough to get to say something that resonated with other people.
What are you working on right now?
Tomorrow [Oct. 18], the television series, School for Good and Evil, comes out. I was one of the writers on that project. There were several writers–about three in total. It was a wonderful experience because I wrote lines for Kerry Washington, Charlize Theron and Michelle Yeoh. These women are my heroes in performance. It was a fun experience. I'm working on a couple of projects, but I'm not sure anyone would recognize them at the moment. One is an original series about a multiversal love story. 
What was your role in the 2007 Writers Guild of America strike?
My position in the 2007-2008 writers strike was that I was one of the founders and writers of the online blog, Hollywood United. I worked closely with the WGA leadership and negotiation committee. 
Have conditions changed for writers since the strike?
The Writers Guild is in a difficult space currently because of how writers are compensated. It has shifted seismically as the business has been disrupted. Many writers can no longer make a living the way they used to. I would say the proliferation of content has not translated into an equal proliferation of middle-class jobs, which is the basis of the Guild's and Hollywood's existence. Skilled workers did something so specific that you understood why it would support a robust middle class. I don't think writers are in as good of a position now. I think the employment situation is very volatile. COVID did not help, but a lot of things did not help. The disruption of our business through streaming, moving out of the linear broadcast, and moving away from the advertisement model all played a part. The disruption has been so complete that it is hard to pick any one thing and say that was it. It's an event cascade.
How did the #MeToo movement affect the lives and work of female screenwriters? 
It is my opinion that there aren't any women who did not connect with the fact that our reality is different and gender-inflicted on us. In any space, power disparities exist. But, there was behavior that ranged on a spectrum from casual bad behavior to blatantly criminal behavior. I think it has had a positive effect, in that blatant criminal behavior is no longer tolerated or taken as a necessary evil. There is a lot of conversation (as there should be) about casual or thoughtless behavior. You can't separate #MeToo from George Floyd and the reckoning we've seen, in terms of the awareness shift. What that awareness shift will mean is harder to say. We don't all experience life the same way–there is no universal lens, which is a good thing.
What are you reading, writing and listening to right now?
I'm listening to my son's first album, Boat Train, the soundtrack for an independent game that he wrote with some friends from The University of Utah. He is a composer attending the Berkeley College of Music in Boston. When I'm not listening to that, I like Joy Williams and Ruel. I like female artists. I listen to Nina Simone, because you can't write without listening to her. Anthems of independence are Aretha, but the anthems of pain are Nina Simone. I also like Irish artists and Hozier (before everyone else did). Lately, I've been listening to soundtracks–I write to them because they don't have lyrics. Songs with lyrics are very hard to listen to while writing, because they are poetry. 
What are your interests outside of writing?
I like to scuba dive. I like the ocean generally. The whole aspect of biodiversity loss and species collapse makes me super uncomfortable. I mostly like to read and garden, and regenerative agriculture generally. Davidson has quite an interesting sort of gardening space.
Was there a class, professor, mentor, or experience at Davidson that inspired you?
It was the combination of Professor Lewis and Professor Mills. When it came to Professor Lewis, it was an uncompromising approach toward the work. There is the push–the relentless push towards excellence. She was inspiring as a role model, and as a female scholar who also did research and wrote. Professor Mills was the first women's literature studies professor at Davidson College, and [she provided] my initial experience viewing literary tradition through a different lens of what female writers and writers of color brought to the conversation. At the time, they were largely not in the canon. It was transformative because there was a representation of someone that didn't look like you, or have the same background. I'm from Florida and my family was not involved in the entertainment industry. Without those two professors, I don't think I would've believed it was possible to do what I do. 
Do you have any advice for women who are interested in doing what you do for a living? 
It would mostly be to decide if you are more interested in television or movies, because even though there is a lot of back and forth, they are still very different forms. They are very different skill sets. Figure out which one you like better and watch a lot of it. Reading is necessary for a poetry writer, but watching television and film is necessary to be conversant in the form of the thing you want to do. Contemplate the almost definite necessity of moving to Los Angeles for some time. Similarly, to most urban places in America, the cost of living in Los Angeles has become prohibitively expensive, and that is a class issue that concerns me. If people want to break in [to the business], they need to not sleep in a car, assuming they even have a car. Be prepared for it [success] happening overnight–and if it does happen overnight, that brings problems, too. Everyone's experience is so radically different.
Explore Upcoming Literary Events
The English Department annually sponsors and co-sponsors significant contemporary writers and scholars, often winners of Pulitzer Prizes, MacArthur "genius grants," National Book Awards and various other honors.