New Book Translation Expands Professor's Influence in China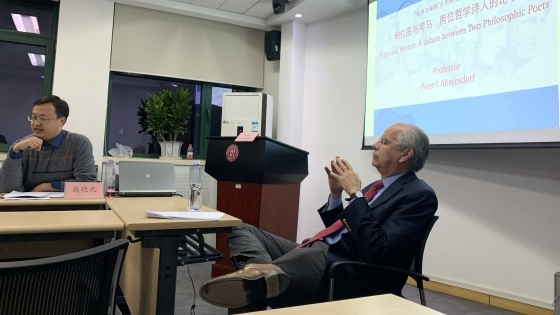 Davidson College Professor Peter Ahrensdorf's book, Homer on the Gods and Human Virtue: Creating the Foundations of Classical Civilization, published in 2014 by Cambridge University Press, has now been published in Chinese with a New Preface by Huaxia Press.
This latest translation is the eighth work by Ahrensdorf published in Chinese, including an interview he gave in 2020 in Political Thoughts Review, which is sponsored by the School of Political Science and Public Administration, East China University of Political Science and Law.
The translations further deepen Ahrensdorf's already significant relationship to China.
In February 2017, Ahrensdorf was invited by Duke University Associate Provost Noah Pickus to help recruit and evaluate applicants for tenure track jobs at Duke Kunshan University (DKU), a Sino-American joint venture institution. Pickus, who was also dean of curriculum and faculty development at DKU, tapped Ahrensdorf, along with John Wertheimer of the Davidson History Department, to help build the faculty that would launch an undergraduate degree program in the fall of 2018. Ahrensdorf joined the faculty at DKU in 2019 to teach political philosophy and politics and literature.
He joined fellow Davidsonian Lincoln Rathnam '07, a DKU political science faculty member who completed his doctorate in 2018. Rathnam taught at Davidson from 2016-2017.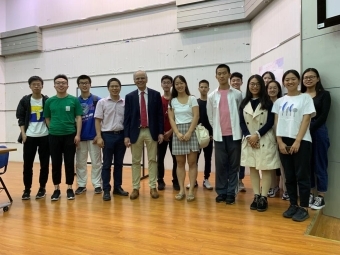 Located in the city of Kunshan, outside of Shanghai, DKU pulls undergraduate students from around the world. About two thirds of the students come from mainland China, while the remaining third come from countries including Pakistan, India, Turkey, Italy, Vietnam, Taiwan, and the United States. 
"They were amazingly smart, adventurous, energetic, and endearing," Ahrensdorf said of the students. "And they prompted me to rethink my whole approach to teaching the foundational texts of Western political thought, such as those by Machiavelli, Locke, Marx, Tocqueville and Nietzsche."
Beyond Kunshan, Ahrensdorf has lectured on Plato, Sophocles and Homer at three Chinese universities—Shanghai International Studies University, Sun Yat-sen University in Guangzhou, and Renmin University in Beijing.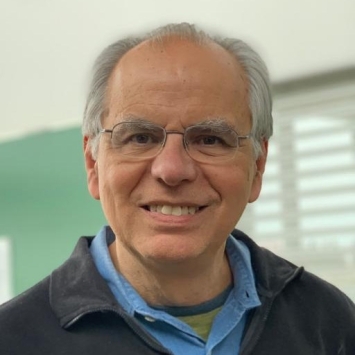 The scholars and students who attended those lectures asked me the most knowledgeable and the most penetrating questions, and offered me the most thoughtful comments about my work that I have ever encountered. China is at this moment producing the most impressive studies of classical Greek thought and indeed of Western political philosophy and literature as a whole.
Prof. Peter Ahrensdorf, James B. Duke Professor of Political Science
Despite the social and political challenges faced by the country's citizens, Ahrensdorf says thought and learning are flourishing in China's universities. 
"I made friends with many Chinese scholars and students, and I have continued to benefit from my long distance discussions with them," he said. "I look forward to returning to China to see them and to teach again at DKU in the not-too-distant future."
Snapshots from Abroad with Prof. Ahrensdorf
About the Book
This book seeks to restore Homer to his rightful place among the principal figures in the history of political and moral philosophy. Through this fresh and provocative analysis of the Iliad and the Odyssey, Peter J. Ahrensdorf examines Homer's understanding of the best life, the nature of the divine, and the nature of human excellence. According to Ahrensdorf, Homer teaches that human greatness eclipses that of the gods, that the contemplative and compassionate singer ultimately surpasses the heroic warrior in grandeur, and that it is the courageously questioning Achilles, not the loyal Hector or even the wily Odysseus, who comes closest to the humane wisdom of Homer himself. Thanks to Homer, two of the distinctive features of Greek civilization are its extraordinary celebration of human excellence, as can be seen in Greek athletics, sculpture, and nudity, and its singular questioning of the divine, as can be seen in Greek philosophy.
-Cambridge University Press