Celebrations of Martin Luther King Jr.'s Life Planned for Davidson and Throughout Charlotte Region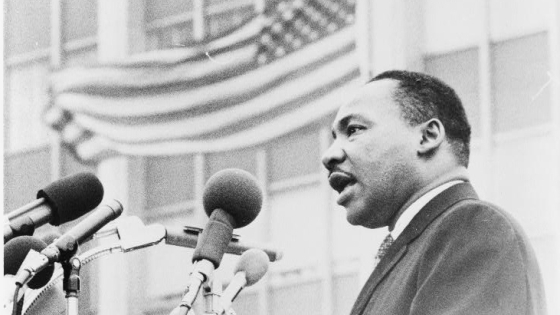 Davidson College will close Monday, Jan. 16, in remembrance of the life of civil rights leader Dr. Martin Luther King Jr.
Town of Davidson to Host Dr. Martin Luther King Jr. Celebration
College and community members are invited to a celebration of Dr. Martin Luther King Jr. at Davidson Town Hall (216 S. Main St.) at 10 a.m. on Monday, Jan. 16. Davidson College President Doug Hicks will be a guest speaker. The event also will include spoken word performances by Michael Connor and Chandra DuBose, as well as several musical selections. Light refreshments will be served before the program. 
 
For more information about the event, please contact Eugene Bradley at ebradley@townofdavidson.org or call 704-940-9653.
Special programs and activities in honor of King's legacy are planned throughout the Charlotte region and surrounding communities. Here are just some of the many opportunities available; most are free to attend.
Saturday, Jan. 14
MLK Day Call to Service with United Way of Central Carolinas: In-Person Service Project
Join the United Way at Northside Baptist Church, 333 Jeremiah Blvd, Charlotte, North Carolina, from 11 a.m. to 1 p.m., Saturday, Jan. 14, to help assemble snack packs for students attending tutoring and after-school programs supported by United Way. Pre-registration is required.
MLK Weekend Celebration in Cabarrus County
The Dr. MLK Jr. Celebration Planning Committee of Concord-Cabarrus is presenting several special events on MLK Day Weekend, including the MLK Dream Day Parade Saturday, Jan. 14, in Kannapolis, followed by Dream Day at the Ballpark. On Monday, Jan. 16, a family march and wreath laying will take place in Concord.
Sunday, Jan. 15
MLK Unity March and Wreath-Laying
Martin Luther King Unity March will take place Sunday, Jan. 15. Registration has closed for participating in the march, which begins at 2:30 p.m. at the intersection of Tryon and Montford Point Street and ends at the Martin Luther King statue in Marshall Park, Charlotte, North Carolina, but all are invited to the annual wreath-laying at the statue at 3 p.m. in Marshall Park, next to 3rd Street.
Bridging Musical Worlds: A Celebration of Martin Luther King Jr.
A Sign of the Times is presenting this popular annual concert, which brings together music from jazz, classical, R&B and folk traditions. The concert is a collaboration with Charlotte Strings Collective, UNC Charlotte Music Department, Charlotte Folk Society and Tosco Music. It takes place at 4 p.m., Sunday, Jan. 15, at Friendship Missionary Baptist Church, 3400 Beatties Ford Road, Charlotte, North Carolina. Tickets are $10.
Free MLK Art*Poetry*Music Concert with Opera Carolina
Opera Carolina is presenting a free program celebrating the life and legacy of Dr. Martin Luther King, Jr. Art * Poetry * Music MLK Concert will take place at 4 p.m., Sunday, Jan. 15, 2023, at Caldwell Presbyterian Church, 1609 East 5th Street. The program will feature famous works by African American composers, as well as readings by local personalities and more. A reception will follow.
Monday, Jan. 16
YMCA of Greater Charlotte 2023 MLK Holiday Celebration
The MLK Holiday Celebration is the McCrorey YMCA's cornerstone event. Since 1993, the annual event has engaged a diverse audience of Charlotteans who come together to honor Dr. King's spirit of service and celebrate the impact of the McCrorey YMCA. Over the years, the celebration has featured nationally acclaimed keynote speakers that educate, inspire and promote thoughtful, socially conscious discussion. The breakfast event will begin at 8 a.m., at the Charlotte Convention Center.
Martin Luther King Jr. Day Celebration at Gantt Center: It Takes a Village
The Gantt Center and Levine Museum of the New South are presenting a full day of activities from 9 a.m. to 5 p.m., Monday, Jan. 16, to honor Dr. King. They include a community mural, hands-on art experiences, theater and live musical performances, lectures and more. This is a free event.
"Meet Dr. King": Free Performance in Kings Mountain
To honor the memory of Dr. Martin Luther King Jr., the City of Kings Mountain and Mauney Memorial Library welcome Bright Star Touring Theatre to perform "Meet Dr. King" at the Joy Performance Center, 202 South Railroad Avenue, Kings Mountain, North Carolina. The performance will take place at 2 p.m., Monday, Jan. 16. This is a free event.