Roman Fenner '22: Mentors, Music & Medicine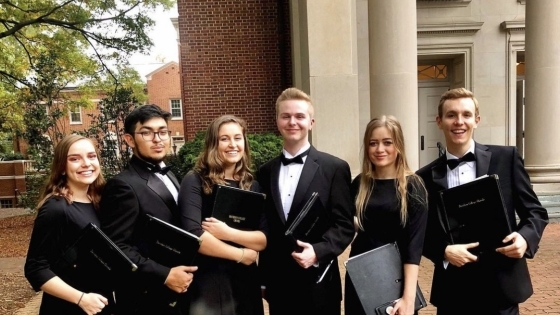 Roman Fenner '22 says the music scholarship he received from Davidson is what gave him "the total green light to go."
The Virginia native decided to visit campus after his aunt, living in Durham, mentioned it might be a good choice for him. Soon after visiting, he knew this was a place where he could pursue his medical aspirations and remain involved in choral arts and theatre. A real win-win.
"I had fantastic STEM professors who showed me I had a place in science and supportive music professors who knew I was going into medicine but treated me as a professional who was worth training," Fenner said. "I'm really grateful to have gotten that well-rounded experience, and I guess you could say that was my 'Davidson difference.'"
The Davidson College Chorale and Nuances a cappella alum is now a research technician at the Duke Human Vaccine Institute. His days are focused on HIV vaccine immunology, but he still makes time for music, singing in two choirs at Duke and holding a staff singer position at a local church.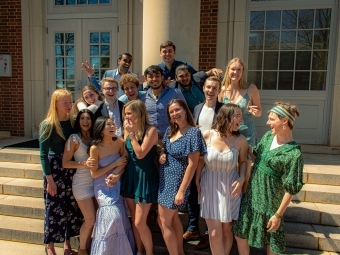 "After I started at Duke last summer, I realized I was missing something," Fenner said. "It's really nice to be singing, and it provides community, which is really important to me and something I always had at Davidson."
Fenner's medical pursuits are rooted in his own experiences. He and several family members live with a connective tissue disorder, Ehlers-Danlos Syndrome (EDS). The challenges he has faced and the lack of research available on EDS have led him to pursue an M.D. and Ph.D. so he can conduct research while also working directly with patients.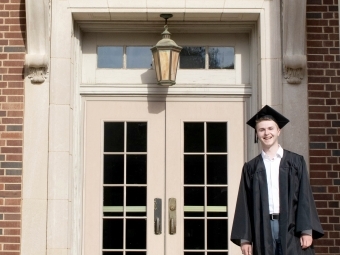 "I'm very interested in the bench-to-bedside approach to medicine," he said. "I can go into patient care and be an advocate without giving up the love I have found for education and study. It's really personal—I live with it, and there are many people who suffer because of a lack of understanding."
Fenner admires Davidson's focus on humane instincts and plans to bring as much of that as possible to medicine, which he says can often be cold and calculated. He also sees the ways his music background allows him to bring different perspectives to the field.
"I'm not sure where I'll land, exactly, but I'm positive I will find a great community—and probably lots of Davidson grads there, too."
Fenner was the recipient of the Donald Plott Music Scholarship and the Dr. John E.S. Davidson Scholarship.