Davidson College Celebrates Pioneering Women by Investing in Students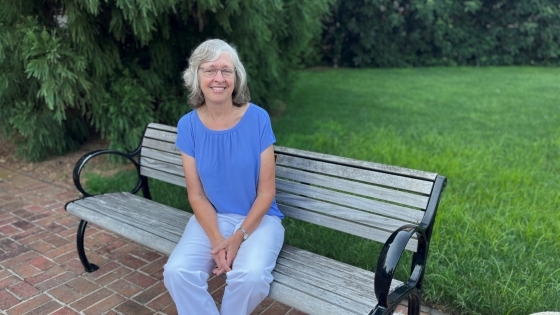 Sue McAvoy '77 views Davidson College as the beginning of her real life.
It's where she blossomed.
It's where she connected with like-minded and like-hearted people.
It's where she  found everything that's most important in her life: her best friends, her husband, her church, her career.
"If someone says they went to Davidson, I give them a big hug," she said. "That's the way it is for me. It's the place that launched my adult life, and Davidson red and black runs through my veins." 
McAvoy, an economics major, was in the first class of women to attend Davidson all four years—the Pioneers. While she and her classmates have given their time and resources generously  to Davidson for years, McAvoy's latest gift honors that pioneer experience while supporting students as they find their own "real life" beginnings. 
The Pioneer Internship Fund was created in honor of 50+ Years of Coeducation, which will be celebrated on campus Nov. 3-5. It aims to support students who need internship opportunities but may struggle to cover the costs of living on their own while holding a low-paying or unpaid internship in the public sector.
"Internships are essential, but they're also expensive," McAvoy said. "I want students to be able to say 'yes' to non-profits, for example, that are not able to provide much or any pay. These experiences are life-changing for students."
Unintentional Trailblazers
McAvoy grew up in the Philadelphia area and knew of Davidson because of its basketball success and through cousins who played in national junior tennis tournaments held at the college. Her mother went to Mount Holyoke College, and when McAvoy toured there, she saw a notice on a bulletin board announcing that Davidson was becoming co-ed. 
"I did think to myself, 'why do I want to go somewhere where I'll be expected to wear makeup and use curlers for mixers with all-boys schools when I can go to a co-ed school and just be myself?' A week or two later, an admission rep came to the Philadelphia area, and I met with him," she said. "I didn't even know about the idea of applying to 'safe schools' at the time, so I only ended up applying to Davidson and Mount Holyoke, which I realize now was probably pretty stupid. I visited Davidson, which quickly became my top choice, and I am so glad I got in."
McAvoy was one of 80 women on campus at the time. There were a thousand men. 
"I was all in for Davidson from the start," she said, "and it wasn't until many years later that I learned it wasn't all roses, sweetness and light for every female student at that time. We each had a different experience, and I am happy to say mine was a good one. It felt like a very level playing field."
A highlight for McAvoy, outside of academics, was the start of the women's tennis program. 
"We had the full support of President Spencer, and we had two student coaches—one was my hall counselor, Carol Goldsborough Jarrett '75, and one was an upperclassman, Dea Booth Verlin '76," she said. "They would write to different schools, tell them we were going to have a team and ask if we could play them. We didn't think about it as being on the forefront of anything; we liked playing tennis, and we liked each other, so we pursued it."
The new scholar-athletes asked a local seamstress to make tennis skirts for the team, and they found red tops to go with them. Two of the six teammates had cars, and that's how they traveled. 
"I'm not sure any of this could have happened if Dr. Spencer hadn't been president at the time," she said. "We only asked for enough money to cover gas, and then we'd eat a half a gallon of ice cream on the way home with six spoons." 
The second year, the college hired a coach for the team. 
"She didn't know anything about tennis," McAvoy said. "But she was very nice, and we got a van."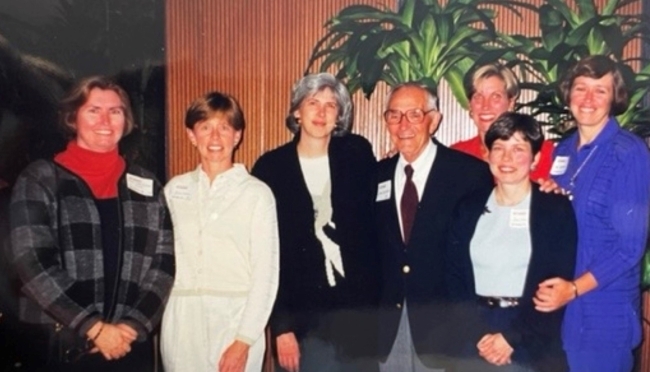 Wild Women Changing Lives
McAvoy originally planned to create the Pioneer Internship Fund through a provision in her estate plans but moved up the timeline so she could see the impact of the support. She also shared her project with fellow Class of 1977 Pioneers, many of whom have reconnected during a reunion at the beach every year since 2005. A few have already added support to the fund.
"Although I made the initial gift, it's important to me that it's considered 'our' fund, meaning the Pioneers," she said. "It's a celebration of what we call the Wild Women and a celebration of our collection of Davidson experiences." 
Besides tennis, McAvoy played field hockey and served as a hall counselor and co-editor for the Quips & Cranks yearbook. As an alum, she's led the Alumni Association Board and the Atlanta chapter's service efforts, now serves on the Board of Visitors and has been the 1977 Class Secretary since graduation.
McAvoy's long career in the legal community, including 20 years at Emory University's School of Law, inspired the idea for giving to Davidson in this new way. She supported Emory's public interest student group in running a program similar to what she envisions for the Pioneer Internship Fund. 
"When I was a Davidson student, the career center was a filing cabinet," she laughed. "You'd go through it and see what might work for you. I was interested in working at a national park for a summer, so I was pointed to a filing cabinet where I found something about working at Mount Rushmore. I got the position."
Today's students have exceptional resources available through the Betty and B. Frank Matthews II '49 Center for Career Development, and McAvoy is excited to add a new internship fund into the mix. She has seen first-hand the difference this kind of funding can make for students as they figure out their next steps and pursue their goals.
"Many students are drawn to Davidson because they want to make the world a better place," McAvoy said. "I hope The Pioneer Internship Fund helps some of them do exactly that."
If you would like to join the effort, please visit www.davidson.edu/makeagift and select "other" to designate your gift to the Pioneer Internship Expendable Fund.
---
50+ Years of Coeducation
Davidson College will celebrate 50+ Years of Coeducation on campus November 3-5, 2023. The planning team will also host regional events and virtual opportunities in the weeks prior.
Please visit the website for additional information and to share your story ideas.
---