Alum Takes Analog Approach to Water Conservation Work in Drought-Stricken West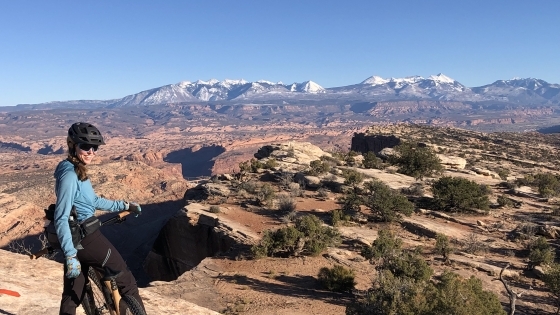 Climate change, dry winters and dwindling wildlife populations have taken a toll on the Colorado River, a water source that sustains more than 40 million people across seven states. 
Adde Sharp '20 has returned to her hometown of Breckenridge, Colorado, to help lead one of the country's most vital water conservation projects in the drought-stricken Colorado River Basin region.
Growing up in Colorado, Sharp has spent her life surrounded by this issue. It's far from a new problem, she says, and drought is just one challenge the river faces. The Colorado River Compact of 1922 determined how water would be allocated between the Upper and Lower Basin states. The Compact still governs water distribution today, but water levels have steadily declined since the 1920s, leaving several U.S. states and Mexico with inadequate resources.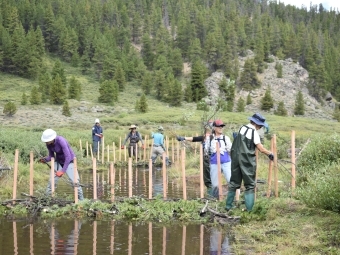 "People in the Upper Basin, especially in Colorado, sometimes think of this as a Lower Basin issue, but it's everyone's problem," Sharp said. "We all need water to live, and there's certainly no Plan B. I think this is the most pressing issue the West is facing today."
As the Colorado River Watershed Project Coordinator for the National Forest Foundation, she works for a nonprofit organization dedicated to the restoration of national forests across the United States in a role that marries her environmental studies background with her love of the Colorado landscape. 
"Growing up in Colorado, this has always been a present conversation," said Sharp. "The situation has been concerning for a long time now. Water resource challenges and water rights issues have always been an interest of mine."
Sharp's work focuses on a conservation tactic called Low-Tech Process Based Restoration (LTPBR). Pioneered by Joseph Wheaton at Utah State University, this process involves creating simple, inexpensive structures that alter the water's flow. For Sharp, this means constructing artificial beaver dams along the river.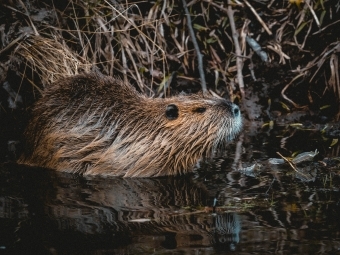 An unlikely hero, the beaver plays a crucial role in fighting the effects of climate change. As snowmelt rushes downriver in the spring, beaver dams help slow down and retain the water so that it can irrigate valleys, providing a safe haven for plant and animal life along the riverbanks. 
Due to excessive fur trapping in the 18th and 19th centuries, the population of beavers in the West is much lower than it should be. However, once an analog dam is created, Sharp says that positive effects start to happen quickly. Beavers arrive to populate and maintain the man-made dams, and water instantly begins to nourish the surrounding areas. 
"It's really rewarding work because you can see it happening before your eyes," Sharp said. "You go out, you build a beaver dam, and the water immediately starts to flood. It's great work to get students and volunteers involved in. Even in one season, the before and after imagery is incredible."
Path to Conservation Career
Sharp—a William Holt Terry Fellow, McGaw Scholar and Honor Council Chair—majored in environmental studies and focused on land conservation throughout her undergraduate years. She spent a semester in Peru, which helped inform her senior thesis on land conservation practices in the Southern Peruvian Amazon. 
Sharp says that while the conservation of the Colorado River has always been important to her, she wanted to spend some time on the other side of the country. 
"I toured Davidson and immediately knew I couldn't go anywhere else," she said. 
After leaving Davidson, she worked for the Catawba Lands Conservancy as a Davidson Impact Fellow. Her work focused on the Carolina Thread Trail, an initiative to connect North and South Carolina through a network of trails. In 2021, she returned to Colorado to earn a master's degree in environmental policy and management from the University of Denver.
Her time on the East Coast gave her a new perspective on water conservation.
"Water is abundant on the East Coast, and the way it's shared and allocated is completely different than in the West," she said. "Here, the Colorado River headlines some newspaper almost every day. I think people start to feel calloused and immune to the problem—it's hard to wrap our heads around the enormity of it."
As she continues to build a career in resource conservation, Sharp says she's hopeful for a change in approach when it comes to preserving and allocating this critical water source. The Colorado River Compact is set to be renegotiated in 2026, a reevaluation that aims to fairly and realistically distribute water among all seven basin states and affected tribal nations.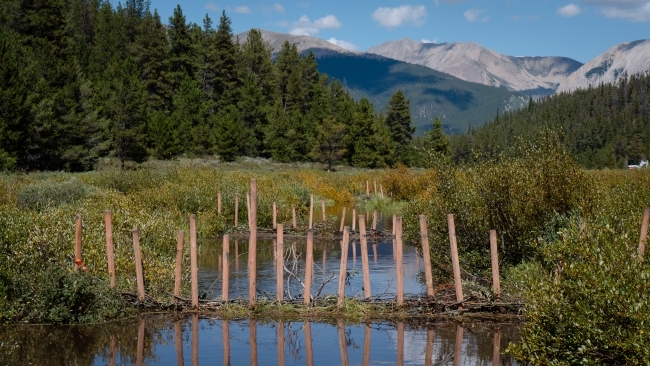 Sharp says that water conservation initiatives have garnered plenty of momentum in recent years. With the support of federal government funding, corporate sponsors, and public interest, she hopes they can continue to create a steadier stream of water for all who depend on it. 
"It's great to be working on a project that impacts the area I live in, but also impacts so many people who rely on this water supply," she said. "It's a very localized approach to a landscape level project."