Economy Getting a Vaccine, but Only for Some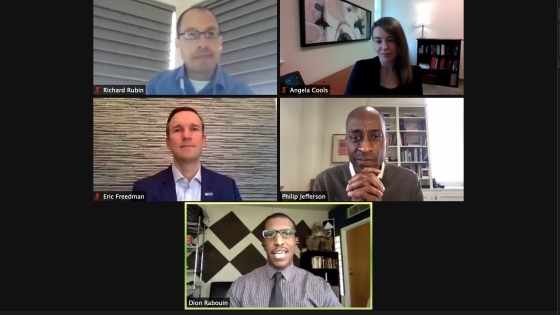 Economic experts frequently disagree, but a Davidson College-led national panel of four of them reached a consensus about the year ahead: The recovery will be swift…and uneven.
While acknowledging ongoing challenges, Eric Freedman, chief investment officer, U.S. Bank Wealth Management, pointed to a "durable optimism" spurred by Federal Reserve Bank support and the rapid development of a COVID-19 vaccine that promises a return to normalcy on the sooner side.
But the economy split in 2020, said Philip Jefferson, Davidson's vice president for academic affairs, a former Federal Reserve economist and the event's moderator. The sudden recession spurred by the pandemic wiped out low-wage, service-sector jobs. At the same time, the stock market climbed to new highs. The panelists, who gathered virtually to preview the 2021 economy, worried that the recovery will be faster for Wall Street than Main Street.
"For high-wage workers, employment levels are kind of back to where they were before the pandemic," said Angela Cools, assistant professor of economics at Davidson and labor market expert. "Whereas for low wage workers, employment levels are much, much lower. For all of us, thinking about policies that address this growing inequality we've seen this year is really important."
Dion Rabouin, markets editor for Axios, stressed that current fiscal policy is benefiting the upper class with no easy fix in sight.
"You can't Institute things like a wealth tax or these generally redistributive kinds of policies right now, because that would shake the economy and shake confidence," he said. "So you've really got no choice but to continue the policies of low central bank interest rates, policies of quantitative easing."
That, he said, benefits the folks higher up on the economic totem pole.
"Until there is a plan," Rabouin said, "you're going to see a further divergence of outcomes for richer, wealthier, white-collar folks and those lower, poor, more blue-collar folks, particularly in rural areas."
Richard Rubin, who covers tax policy for The Wall Street Journal, said he sees small signs of progress in the recent stimulus package that included funds targeted at hard-hit sectors of the economy like live entertainment venues.
However, there is one variable in the recovery that will be clear tomorrow.
"You can't actually overstate how important today's Senate runoffs are in Georgia," Rubin said, "for what the policy outcome is going to be."
The two races will determine which party controls the Senate, which has expedited procedures that allow the majority to act quickly on tax and fiscal policy.
"The difference for Democrats," he said, "between having 48 and 50 senators is massive."
With so much uncertainty, Freedman urged people to take time to understand what is happening.
"Make sure you're empowering yourself with knowledge," he said. "Maybe it's the Paycheck Protection Program. Maybe it's the Main Street Lending facility. These are different opportunities for individuals and small businesses to really empower themselves. The first way to do that is through knowledge."