Twelve Young Davidson Alums Offered Fulbright Grants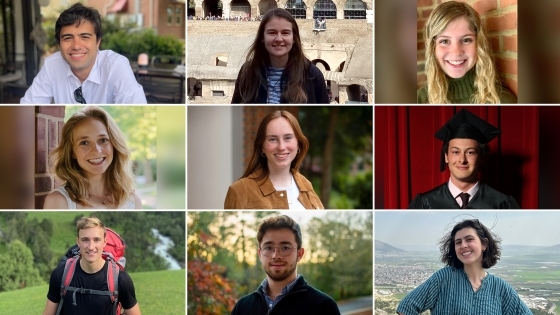 Anna Kate Daunt '23 started writing stories when her dad bought her a spiral notebook.
She was five, and many more notebooks full of stories followed, as did a passion for poetry developed at Davidson College. The award-winning poet and writer will take her love for words to South Korea, where she'll teach English to high school students.
She's one of 12 young Davidson alums recently selected to participate in the 2023-2024 Fulbright U.S. Student Program. They have been offered grants for independent research and English Teaching Assistantships in 10 different countries. Two other recent graduates are alternates.
Davidson's a long-time top producer for the Fulbright program and this is the college's second highest number of finalists. There were 13 in the 2020-2021 cycle, according to Fulbright's Top Producer data.
Interactive Map
Where in the world are the 2023 Fulbright finalists? Hover over each red dot to learn more.
Tan Abascal '23
English Teaching Assistantship, Türkiye
From:

Miami, Florida




Major:

Chemistry
Anthony Damian '23
English Teaching Assistantship, Spain
From:

Hawthorne, California




Major:

Political Science and Hispanic Studies
Anna Kate Daunt '23
English Teaching Assistantship, South Korea
From:

Tallahassee, Florida




Major:

English and Theatre
Sophie Eldridge '23
English Teaching Assistantship, Vietnam
From:

Wellesley, MA




Major:

Political Science
Breila Fuller '23
Study/Research, Germany
From:

Kamas, Utah




Major:

German Studies, Sociology
Catherine Johnson '20
English Teaching Assistantship, Romania
From: 

Orlando, Florida




Major:

Classical Languages & Literature
Ryland Pitts '20
English Teaching Assistantship, Uzbekistan
From:

K

noxville, Tennessee




Major:

Political Science and Russian Studies
Tomás Quintero '23
Study/Research, Colombia
From:

Baltimore, Maryland




Major:

Biology (Pre-med)
Isabelle Saba '23
Study/Research, Jordan
From:

Great Falls, Virginia




Major:

Arab Studies and Theatre
Three Finalists, Caro Djakuduel '23 (English Teaching Assistantship, Spain), Jamie Rose Montagne '22 (English Teaching Assistantship, Taiwan), Erin Papakostas '23 (English Teaching Assistantship, Taiwan), declined their Fulbright grants. Djakuduel has instead accepted a Watson Fellowship, Montagne is working for the U.S. Department of State, and Papakostas accepted the Anatolia College Postgraduate Fellowship in Greece. 
Two Davidson seniors were named as alternates:
Elizabeth Ayyildiz '23, English Teaching Assistantship, Mexico
Atticus Hickman '23, English Teaching Assistantship, Cameroon
Learn More About the Finalists
Tan Abascal '23 honed his teaching skills at Davidson as an apprentice teacher in the Hispanic Studies department. A Posse Scholar at Davidson with aspirations to attend medical school, he was also a member of the Pre-Medicine Society and conducted research in the Chemistry Department.
Anthony Damian '23 served as a tutor with the Young Eisner Scholars Program and team-taught Elementary Spanish at Davidson K-8. He was an Apprentice Teacher for the Hispanic Studies Department and taught English at Colegio Menéndez Pelayo in Cantabria, Spain. He received the 2023 Mundo Hispánico Award for excellence in the study of the Spanish language and Hispanic cultures.
At Davidson, Anna Kate Daunt '23 participated in mock trial, served as an Orientation Team Mentor, and was president of Catholic Campus Ministry. She was an ESL tutor for Korean students, editor of Exit 30 literary magazine, verse editor of Hobart Park, a Writing Center consultant, and a proofreader for a publishing company. A talented writer and scholar, Daunt has received multiple awards for her poetry and participated in the Abbott English Honors Program.
Sophie Eldridge '23 has extensive experience teaching and mentoring students as a camp counselor and tutor. She studied abroad at Trinity College Dublin and also served as an intern in the Office of the Middlesex District Attorney and as a Summer Business Analyst for McKinsey. As a Team Lead for Davidson's College Crisis Initiative (C2i), she was trained in key issues about education systems and institutions' responses. The Brookings Institution published her work with C2i, and she was interviewed by NPR and USA Today. Eldridge is a member of Omicron Delta Kappa and was elected to the Honor Council and president of Connor House.
Breila Fuller '23 will be a visiting student at the Historisches Institut at the Friedrich-Schiller-Universität Jena and will collaborate on research and programming with a public historian in the city of Arnstadt. As a research assistant for Davidson's German Studies Department, Fuller worked on the Mendel family archive of 6,000+ items and helped stage a symposium that publicly displayed parts of the archive in Berlin, a process she will replicate on a larger scale for her Fulbright. Fuller was a four-year Track and Field/Cross Country scholar-athlete at Davidson, received the German Studies Department's Bremer German Language Award, and volunteered with the Davidson Community Garden.
Catherine Johnson '20 has taught Latin and math in Charlottesville, Virginia, since she graduated from Davidson in 2020. She graduated Phi Beta Kappa and served as a research assistant, an Apprentice Teacher for Latin and Greek courses, a Latin tutor for the Center for Teaching and Learning, and an outreach intern for the Paideia Institute for Humanistic Study in Rome, where she studied abroad in 2018. She also participated in the Davidson College Presbyterian Church Handbell Ensemble and received the Society for Classical Studies Outstanding Student Award and the CAMWS Award for Outstanding Accomplishment in Classical Studies.
Ryland Pitts '20 grew up in Eastern Europe and studied Political Science and Russian at Davidson. He was a member of the Russian Club, completed a thesis examining Russian media influence in Belarus with grant-funded research, and worked for the U.S. Department of State as a participant of the Davidson in Washington program. He was also a Chidsey Leadership Fellow, Orientation Team Member and group leader, recipient of a voice scholarship from the Music Department, member of the Davidson College Chorale. He also served on the Common Reading Book selection committee. Since graduating from Davidson, Pitts has taught English in Thailand, Hungary, and Kyrgyzstan. 
During his Fulbright year, Tomás Quintero '23 will affiliate with the Grupo de Neurociencias de Antioquiais (GNA) and conduct research on Alzheimer's disease (AD) in a group of people in the Antioquia region who carry a specific gene mutation. To identify biomarkers for AD that could lead to therapeutics, he will employ lab skills he developed in coursework and research experiences at Davidson and the University of Texas Medical Branch Center for Biodefense and Infectious Disease. Quintero was a palliative care volunteer and an EMT in Panama and at the U.S./Mexico border. He was also a Bonner Scholar, President of Davidson College Global Health, and a mentor for Strategies for Success and the Minority Association for Premedical Students. Quintero received the Daniel Blain Woods award, two Dean Rusk grants, and a Meet My World Grant.
Isabelle Saba '23 will investigate how cultural expression, preservation, and personal identity have transformed among the more than 650,000+ Syrian refugees. Her Fulbright project will build on Al-Balad Theater's previous research on Syrian storytelling. Saba will draw upon her experience as a pastoral care intern (for which she received a Congregational Fellowship in Religious Leadership and Service from the Chaplain's Office) and advanced proficiency in Arabic. At Davidson, Saba was a tour guide, President of the Union Board, and member of the MENA Student Association. She was also elected to Phi Beta Kappa. Saba studied abroad at Mohammed V University in Rabat, Morocco, and participated in a virtual Arabic program with the Qasid Institute. She also participated in multiple Theatre Department productions, was awarded Davidson's 2023 Keiser Prize in English for Classical Performance, and served as an electric intern with the Kentucky Shakespeare Festival.
Learn More About the Fulbright Program
The Fulbright Program is the flagship international educational exchange program sponsored by the U.S. government. It's designed to increase mutual understanding between people in the United States and other countries.
The program's primary funding comes from the U.S. Department of State's Bureau of Educational and Cultural Affairs. Participating governments, host institutions, corporations, and foundations in foreign countries and in the United States also provide direct and indirect support. Recipients are selected on the basis of academic or professional achievement and leadership potential. The program operates in about 160 countries.
The Fulbright competition is administered at Davidson College through Gaylena Merritt (gamerritt@davidson.edu), director of Davidson's Office of Fellowships. For more information about the Office of Fellowships or how to apply for Fulbright through Davidson, visit www.davidson.edu/fellowships