Brenda Flanagan Receives Hunter-Hamilton Love of Teaching Award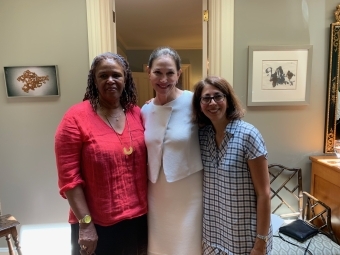 The Hunter-Hamilton Love of Teaching Awards went to the Edward M. Armfield Sr. Professor of English Brenda Flanagan and Chair and Associate Professor of Arab Studies Rebecca Joubin. The professors will each receive $7,500, and each gets to direct an additional $7,500 to fund a campus project of her choice.
Flanagan, an award-winning novelist, essayist, poet and playwright, has represented the United States as a cultural ambassador for multiple countries.
Students described her as "a balance of genius and humility," and "a constant presence of joy, a mentor, an advocate for cultural diversity and an inspiration for the aspiring." One wrote that her "desire to listen and to push me to stop at no ends for the things I most cared about gave me a refreshing sense of myself in the midst of my struggles."