Faculty Offer MLK-Inspired Reading Recommendations, MLK Day Community Celebrations Set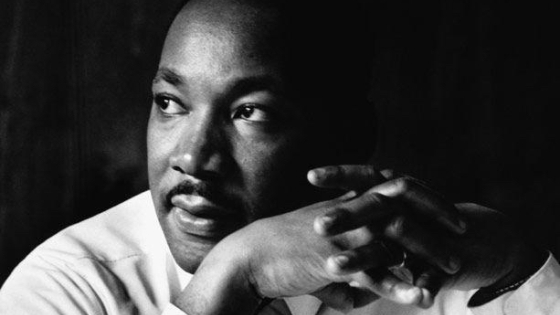 The college will close Monday, Jan. 20, in remembrance of the life and legacy of civil rights leader Martin Luther King Jr.
The Admission Office will be open for campus visits.
Martin Luther King Jr. personified the civil rights movement, drawing inspiration from Ghandi's teachings of nonviolent resistance. In this post, faculty recommend thought-provoking reads that explore racial bias, civil disobedience, surveillance culture and much more.
Feeding the Dragon: The True Story of the Little Girl Who Lived in the Library
By Sharon Washington 
This is an autobiographical one-woman, one-act play, which is also available as an audiobook. Sharon Washington grew up in an apartment on the top floor of the St. Agnes Branch of the New York Public Library, where her father worked as the building's custodian.
I love her story, because my mother was a public librarian when I was in elementary school, before many women were in the workforce, and before there were after-school programs. As soon as class was out, I would walk over to the library, roam the stacks, explore all the books and periodicals, and even take records into one of the listening booths to enjoy music until my mother's shift was over. I always left with books and records to take home. The other librarians were like aunts and extended family. Both Sharon and I discovered new worlds and a world of possibility, thanks to growing up in a library. We were also the first generation in our family to attend and graduate from college. Her story is warm and inspiring.
Recommended by: Jane B. Zimmerman, John and Ruth McGee Director of the Dean Rusk International Studies Program
Antigone
By Sophocles
There are many translations, including one co-translated by Professor Peter Ahrensdorf of Davidson College.
In a gripping tale of love, devotion and power, a woman sets her own convictions and piety to family above the will of those who govern. Against the counsel of her more cautious sister, Antigone pursues a nonviolent course of civil disobedience that eventually takes her to prison, where she stands firm in her resolve to the bitter end.
I recommend this book, really an ancient Greek tragedy, because it both celebrates and critiques with nuance our impulse to "speak to power" while at the same time humanizing the tragic struggle of the empowered to hear any voices not already ringing in their heads.
Recommended by: Keyne Cheshire, Professor of Classics
The Souls of Black Folk
By W. E. B. DuBois
A brilliant blend of history, religion, ethics, literature, music, psychology, sociology and autobiography—should be required reading for every American citizen.
Recommended by: Suzanne Churchill, Professor of English
Just Mercy

 
By Bryan Stevenson
A work of nonfiction that reads like fiction, with complex characters, intricate plotting, and cliff-hangers that will keep you turning pages. A personal story that brings you "in proximity" to victims of injustice, it will rock your view of the American legal system.
Recommended by: Suzanne Churchill, Professor of English
Unconscious Bias in Schools: A Developmental Approach to Exploring Race and Racism
By Tracey A. Benson
In Unconscious Bias in Schools, two seasoned educators describe the phenomenon of unconscious racial bias and how it negatively affects the work of educators and students in schools. In order to address this bias, the authors argue, educators must first be aware of the racialized context in which we live, and they show you how to do just that. 
This book is ideal for all educators who want to learn how to challenge the institutionalized racism that plagues schooling in America. It offers practical tools for how to become more aware yourself as an educator and then how to use data to change your institution and classroom. 
Recommended by: Devyn Spence Benson, Associate Professor of Africana and Latin American Studies
Regional Celebrations
The Town of Davidson will host an event to celebrate Martin Luther King Jr. at 10 a.m., Monday, Jan. 20, in the Davidson Town Hall (216 S. Main St.) Board Room.
The community event will include light refreshments, guest speaker Rev. Anthony Davis, Pastor of Reeves Temple AMEZ, and spoken word performances by Bonner Scholar Maurice Norman '20 and Chandra DuBose.
For more information about this event, please call the Davidson Parks and Recreation Department at 704-892-3349.
The City of Charlotte MLK Planning Committee has organized a series of regional events to celebrate diversity and service in the community, including the MLK Holiday Parade. Details are available on the City of Charlotte website.