Amid Coronavirus Fear and Confusion, Compassion and Community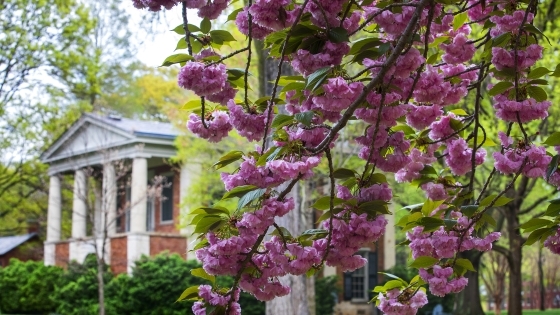 When Leslie Vergara '21 needed to get home to Houston in a hurry, Kamran Shahbaz '19 cashed in his saved Southwest Air Miles to get her a ticket.
"I was so sad and shocked that we had to leave campus and wondered how I would pay for it," Vergara said. "I didn't know him, but he texted me and said he could do this. He was so nice, and I will always be grateful."
As the coronavirus pandemic shattered plans for the end of the school year, the Davidson College community rallied.
Alumni and families donated money, airline miles and gift cards. Local families called to offer food, rides to the airport and empty guest rooms. Professors spent hours on the phone reassuring students they'd figure out how to navigate classes through a computer camera.
Hey @DavidsonCollege students!

I'll be in my office for the next few hours if you need to talk/help come up with a plan for your next steps. Feel free to drop by.

— Chris Marsicano (@ChrisMarsicano) March 12, 2020
Leaving campus abruptly created a hardship for many students. Some don't have money for expensive, last-minute airplane tickets. Others need storage space. Several don't have homes to go to. And a small percentage will stay on campus until it's safe to return home.
As the days unfolded, tension about the unknown turned into action.
"I've been so inspired by the response of the college community," said political science professor Ken Menkhaus, vice chair of the faculty pro-tem.
"I'm so impressed by the empathy I'm seeing for the status of others. There's such an outward focus, this sense that we all cope a lot better when we branch out from 'how does this affect me' to how to make it better for someone else.''
Giving Back
When Shahbaz, a business analyst at Deloitte Consulting, got an email saying students needed help, he thought about his college years and time as a residence hall counselor.
He imagined the grief many were feeling, especially seniors. He wondered about the logistics of moving so many students out at the same time; knowing that for some, it would be especially difficult.
Shahbaz, who lives in Boulder, Colorado, figured his frequent flier miles could help. He's racked up many by traveling twice a week for work and staying in hotels.
So far, Davidson alumni and families have donated more than 225,000 airline miles to help students get home.
"As a recent graduate, I've been wanting to give back," Shahbaz said. "It would be unacceptable to think that students would not be able to get home because of the cost.
"It makes me happy to know that this will help them be home safe with their families and not have to worry about the financial burden."
Close Community
Assistant History Professor Rose Stremlau has spent most of the last week helping students figure out how they're going to get home or find new housing.
She's offered rides, packing boxes and tissues to tearful students. During farewell visits, she listened as they worked through emotions. Her dog, Rio, provided pet therapy.
@DavidsonCollege students remaining on campus, I am headed to Costco at 10 am Monday. Reach out if you want to go. If you need supplies but are self-isolating, I can pick things up for you.

— Dr. Rose Stremlau (@RoseStremlau) March 13, 2020
"Because of our personal relationships with students in and beyond the classroom," Stremlau said, "the faculty and staff see the granular impact on each Wildcat."
She said she's been reassuring anxious first-year students that she'll make the online version of class as close to in-person as she can; and "That I'm still here, and I still care about them."
Senior students bear an even greater weight of altered expectations, Stremlau said.
"I'm honoring a profound sense of loss, and acknowledging how sad I am, too, that while we can look forward to some future commencement celebration, these weeks won't look like what we wanted for them and what they've worked toward for the last four years," she said. "Spending time with them before they left, and staying in touch with them via social media, email and text is important."
Altered Expectations
On Monday, Mara Papakostas '20 and her sister Erin '23, loaded up their Toyota Camry, dropped a few boxes off at a professor's house, and left town. Mara drove Erin to the airport then headed to Emory University in Atlanta to pick up their sister, Deidra. (The car isn't big enough for all three and their stuff.)
The two sisters drove from Atlanta to Jackson, Mississippi, on Tuesday and plan to make it home to Dallas on Wednesday night.
It's been an emotional few days since Mara Papakostas and her friends found out that the coronavirus would send them home during what should have been their final weeks on campus.
Sitting with my roommates talking about the several stories we've heard of seniors professing their love to others @DavidsonCollege I guess if there was a silver lining in this, it's this ❤️

— Meghan Rankins (@MeghanRankins) March 15, 2020
"We were in class, and we all just broke down," she said. "We just needed to come together, to say goodbye much sooner than we thought we'd have to. We have made these great friendships, with such strong bonds and it felt like it was all ending so abruptly. We were all so sad.
"But then the community rallied around us. We had emails from professors and alumni and the staff reaching out with offers to help. And then we got some perspective and knew it was going to be okay."
Inspiration Over Anxiety
Besides airline miles, food and shelter offers, Davidson alumni have so far donated nearly $31,000 to help students with food, transportation and special needs.
At least five families have offered to waive refunds that the college plans to issue for the semester's remaining room and board.
 "While I am always proud to be a Wildcat, it is at times like these—when the world seems to be pulling apart—that I am most grateful to be part of this wonderful community," said Marya Howell '91, Director of Alumni and Family Engagement.
"It's been really touching," Howell said. "Where I could be sitting at home and feeling anxiety, I'm instead feeling inspiration."
Ashley Ip '22 said at first she was upset that Davidson didn't send students home sooner but has since become impressed by the outpouring of support.
students are getting $ back for room/board, full pay for work-study students, laptops/wifi-hotspots are being made available, dining services will stay open, airport shuttles to those going home, free storage units and much more..administration is truly looking out for EVERYONE.

— Ashley Ip (@AshleyIp1) March 14, 2020
She's immunocompromised and self-isolating on campus. She says that traveling home to New York City, now in the midst of an outbreak, would be far more risky.
Friends have delivered meals to her doorstep. Alumni have helped her and others with expenses.
"I'm grateful to go to Davidson because they truly look out for their students who are coming from all different backgrounds and personal situations," Ip said.
"And I really need to send a shout out to our alumni and emphasize how much their help has meant to us."