Elizabeth Brigham '04 Tapped to Lead Jay Hurt Hub for Innovation and Entrepreneurship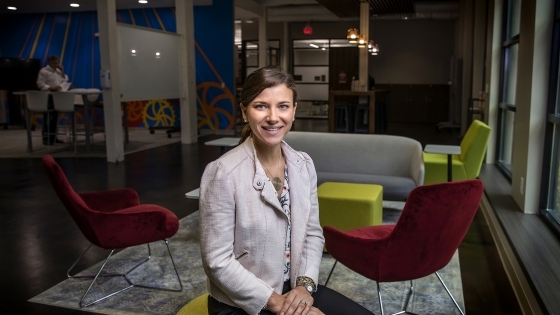 Elizabeth Brigham lives by her mother's adage: Luck favors the prepared mind. That preparation, so far, includes leading tech product marketing and management teams at organizations like Disney Parks, helping to create a new Star Wars character, attending more than 500 concerts, earning an MBA, and mentoring many start-ups.
And it all brought the 2004 Davidson graduate back to campus. Brigham, who goes by "Liz," will apply her extensive experience at the intersection of technology and business as the new director of the Jay Hurt Hub for Innovation and Entrepreneurship. She starts Oct. 19.
A first of its kind among liberal arts institutions, the Hurt Hub supports early-stage start-ups and provides opportunities for students to bridge what they are doing in classrooms with the world beyond Davidson. Since its 2018 opening, it has offered a vibrant point of connection where students and faculty collaborate with entrepreneurs and businesses and community partners to innovate and explore emerging technologies. The 23,000-square-foot Hurt Hub also provides coworking space, private offices, classrooms and office space for anchor tenants.
"Liz brings experience coaching teams and building brands, as well as a deep knowledge of Davidson, to this role," said Davidson College President Carol E. Quillen. "She will lead the Hurt Hub team to expand the experiences and opportunities that help cultivate in our students the courage to innovate for the world that awaits them."
Brigham will lead a team that develops programming for students, connects faculty and students to entrepreneur mentors and industry partners, builds partnerships in the Charlotte region through educational and networking events, and serves the needs of the Hurt Hub's 200-person co-working community.
"We are extremely fortunate to have someone with Liz's special blend of passion, experience and intelligence as the director of the Hurt Hub," said entrepreneur Jay Hurt '88, whose $5 million gift fueled the creation of the facility and its programs. "From the first time I met her, I was struck by her commitment to and enthusiasm for helping Davidson students prepare themselves for meaningful contributions to their communities as innovators and entrepreneurs in a variety of ways. Her love of Davidson and her passion for the work of the Hurt Hub inspires me as I know it will for countless students and alumni in the years to come."  
Brigham comes to Davidson from Morningstar Inc., where she is a head of product, Morningstar Direct and Reporting Solutions software and leads commercial product development and go-to-market strategy for new and existing advisor and asset management software product lines.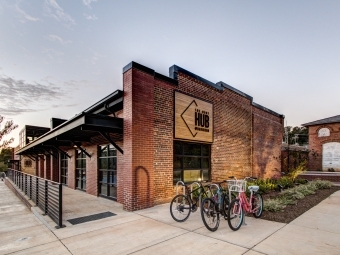 Before joining Morningstar in 2017, Brigham led product marketing and product management teams at enterprise technology start-ups in Chicago and at public companies, such as Jive Software and Walt Disney Parks & Resorts.
Storytelling Roots
Brigham refers to herself as a "self-proclaimed Davidson groupie." The reference to devotees who follow their musical icons is no accident—Brigham's a live show enthusiast and has attended more than 500 concerts around the world. She leans on music metaphor to explain her leadership philosophy in "Why I Coach, Not Manage." And she credits her experience as concert committee chair at Davidson as her introduction into business.
Developing and balancing budgets, surveying the students to figure out which bands they wanted to come to campus, packaging and pricing the shows, building the stages, arranging for security—what Brigham considers core business skills—she learned from that volunteer experience at Davidson.
She thought of that experience when she enrolled in the MBA program at the University of Michigan and joined the business school's entertainment and media club.
"I just really wanted to get back to that feeling of creating experiences that brought people joy," Brigham said.
Then she discovered tech. When her grad school team won an Apple case study competition for new app ideas—their idea was for a travel guide in your pocket—she was hooked.
"I got this sort of bug for the intersection of technology and solving real problems that I had in my day-to-day life," she said.
Straight out of business school, Brigham joined Disney.com, where she learned everything she could about the technology and commercial storytelling practices of one of the most respected brands in the world.
One of the coolest projects? Brigham worked on a team with the director of The Blair Witch Project to invent a new Star Wars character—an intergalactic travel agent—and an original video series to support the re-opening of the Star Tours attraction at Walt Disney World in Orlando, Florida.
Brigham traces her affinity for storytelling to Davidson and her English major roots.
"Dr. [Randy] Nelson's classes really focused on the architecture of storytelling," Brigham said, "and how characters are motivated and incentivized in certain situations."
Brigham says successful marketers must develop a deep understanding of and empathy for their audiences.
"That has been the foundation of nearly my entire career, whether I'm marketing a mobile app, whether I'm marketing magical memories and vacations through Disney Parks or I'm marketing financial services software. Empathy is the common thread."
Giving Back
Brigham attended Davidson before the town boasted a Michelin-rated restaurant, when you could walk up to a pseudo food truck parked at the only gas station in town on a Friday afternoon and order a pulled pork sandwich, French fries and a sweet tea for $4. She left town when she graduated, living on the West Coast, in Paris and eventually settling with her family in a Chicago suburb, but she never lost her connection to Davidson. 
Brigham said her experience as a Terry Scholar forever shaped her relationship to the college.
"The responsibility I feel to the college started with all of the additional enrichment and educational experiences and relationships that were really born through that program," she said. "I was fortunate enough to be at the college when Dean Terry was still alive and still very active."
Brigham has served on the Board of Visitors, Alumni Association Board, as a mentor through the Center for Career Development and the Davidson in Silicon Valley program, and as an ambassador to prospective students through the admission process. She co-founded the Randy F. Nelson Summer Internship Grant supporting Davidson College students pursuing unpaid internships in the arts. She has also made it her mission to impart her love of Davidson to her young sons and her husband, who are looking forward to cheering on the Wildcats.
"All of my volunteer time, most of my mentorship time and philanthropic efforts have really been dedicated in service to the college," Brigham said. "I feel an incredible responsibility to give back to Davidson for everything Davidson gave me.