Hope to Heal: Chair of the Commission on Race and Slavery Anthony Foxx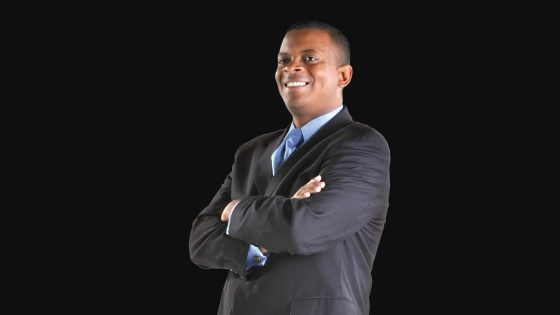 Looking to make friends during his first week at Davidson, Anthony Foxx '93 headed to the gym to play some pickup basketball games.
He remembers about eight or nine other guys split into two teams, one white, and one Black. They were deep into the game when an athletic department staffer stopped them and asked the Black students for their IDs.
"So there we are digging around for our IDs while the white guys are just standing there," Foxx says. "I felt like I was in South Africa."
Another incident occurred that fall when he was a cheerleader for the football team. As he cheered during a home game he heard a Davidson fan proclaim loudly, "He's one enthusiastic n----."
They're tough memories, but Foxx feels abiding love and loyalty to the college, which he says prepared him for a storied career in law and public service.
He was Davidson's first Black Student Government Association President. Twenty years later, the lawyer and Charlotte mayor became the U.S. Transportation Secretary, serving in the cabinet of the nation's first Black President, Barack Obama.
"You try to do what you can to make things better," Foxx says. "Back in college, that was getting involved in student government and trying to teach the campus to be a more open place for everybody."
It's a goal he still works toward. 
As chairman of the college's Commission on Race and Slavery, Foxx has wrestled with how to reckon with Davidson's past to create a more equitable present and future.
"It was challenging to turn the mirror on a place we all care greatly about," he says. "Institutions in this country struggle with how to do it the right way. The committee had so many smart, talented people who were so passionate. They really led the work, not me. And the work is now for the larger campus community to pick up and carry forward.
"I could not be more happy about how it all turned out."
An Outsider
Foxx grew up in a Black, working-class Charlotte neighborhood and went to West Charlotte High School. From a first-week square dance among a sea of white faces, to the basketball court incident, "Davidson was a bit of a culture shock," he says. "There was an otherness to the experience—initially."
He and Black friends spent weekend nights playing basketball while white students went to Patterson Court parties. He says he doesn't think white students intentionally excluded Black students. It was more of a sticking with your clique situation, he says.
"It seemed like Davidson was designed to be very comfortable for white students, especially white students from the south," Foxx says. "Was I ever completely comfortable? No. But I always tried to choose my place in the world rather than have it selected for me."
"I never questioned whether other people were coming from a good place," he says. "It wasn't like they were attacking me or that my feelings of isolation were coming from any animosity on their part. The world had not given them a reason to question race or to contemplate racism."
Foxx says he had a diverse collection of friends, including white classmate Joe Cook, "a guy from Indiana who came from a more conservative background than I did. To this day he is one of my best friends." 
Foxx says a Dean Rusk scholarship to study abroad in South Africa during his third year in college broadened his perspective on inequality. When he saw South Africa's persistent segregation and the opportunities Black residents didn't have, he came back to the United States more determined than ever to excel.
He won the Student Government Association election that spring. The next day after his medieval history class, then-Professor Price Zimmerman pulled him aside and congratulated him, paraphrasing the John F. Kennedy and biblical quote, "To whom much is given, much is expected." 
"Those words landed in my soul," Foxx says, "and they've stayed with me in every position I've ever held." 
Time to Look Back, and Ahead
Foxx is hopeful that the college's acknowledgement of its past wrongs and commitment to establishing an antiracist community will lead to positive change.
"Davidson is a microcosm of our society. The things I experienced there are not unlike what I've experienced throughout my life," Foxx says. "As Americans, we can sometimes be so close together, and yet so far apart. Even as a student, I saw that duality for what it was."  
He anticipates the commission's work will create a path to healing. 
"We now have a launching pad for greater examination of our community, to help us see things as they happened," Foxx says. "It might take a little luster off of our narratives, but I hope it makes us more humble, more human, and more humane, and helps us to be a better place."
That desire extends beyond Davidson, as the country grapples with deep racial and political divisions.
"I hope our whole country goes through a process like this," he says. "It gives all of us a chance to heal."
---
This article was originally published in the Fall/Winter 2020 print issue of the Davidson Journal Magazine; for more, please see the Davidson Journal section of our website.
Published
Category
Davidson Journal Fall/Winter 2020