Love for Our Library: E.H. Little Wins National Award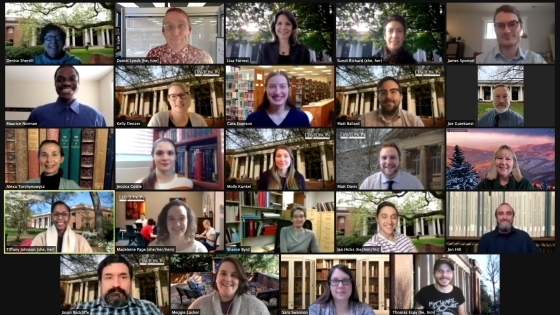 At Davidson College, all paths intersect at the E.H. Little Library.
When COVID-19 shut campus down last spring, the library staff helped professors transform some 700 courses from in-person to remote instruction. As the college confronts its history of slavery and racism, library staff, students and faculty continue to partner on researching archives and creating digital projects about that past. While students navigate learning in a pandemic, the library keeps expanding access to digital texts and course materials.
That leadership and commitment caught the attention of the Association of College and Research Libraries (ACRL), which selected Davidson's as the 2021 winner of its college excellence award.
The E.H. Little Library has demonstrated how their expertise, programming and resources support and enhance the strategic priorities of the college. [The staff demonstrated] that all library work contributes to social justice, providing a model for others to follow in engaging meaningfully with this work at a campus level.
Lauren Pressley, Chair of the ACRL's 2021 Awards Committee
Pressley said the library's strong partnership with professors resulted in exceptional training and educational opportunities.
Davidson students, faculty and staff say the library embodies the college's aspirations. Library support ranges from mentoring first year students to providing thesis research materials for seniors to undertaking multiple racial justice initiatives.
"In a lot of places people view the library as a house of books, but as a freshman, I saw right away that we really are a space committed to academic exploration," said Lilly Rothman '21, an E.H. Little student research consultant. Through the pandemic, "The library has made it possible to maintain our status as an institution and has been the backbone of our community."
Engaging the Community
After helping professors transition to online courses at the pandemic's beginning last March, the library team's Digital Learning Institute (DLI), led by Sundi Richard, prepared the faculty for fall. The DLI offered intensive training over four weeks in July to help more than 200 faculty members redesign their classes for a hybrid of online and in-person learning.
"I could not imagine how our college could have made it through our pandemic accommodations without the dedication and expertise of the library staff," Fuji Lozada, associate dean of faculty and anthropology professor, wrote in an award recommendation letter.
"Even during these difficult conditions, the library continues its campus and community engagement," Lozada wrote, "Especially in its commitment to social justice."
The college's Commission on Race and Slavery relied heavily on the library's archives, special collections and staff as it researched Davidson's complicated history and made recommendations for a more equitable, inclusive campus.
The "Stories Yet to Be Told," initiative, housed in the library, develops and supports projects that investigate race, racism and accountability on campus. Digital Projects Fellow Maurice J. Norman '20 leads the effort with library staff, who support a growing number of projects to more fully document the experiences and contributions of students, faculty, staff and alumni of color.
"We hope to confront and overcome gaps, omissions, and silences through stories told, untold, and yet told," Norman said.
Lifetime Connections
The library helps keep Davidson alumni connected long after graduation. Its "Then and Now" photo project invites alumni to the library during alumni weekend to find their old yearbook senior photo. A photographer then takes a new picture to post next to it. The library's Alumni Story Booth offers them a chance to record their Davidson memories.
It seems as if everyone at Davidson has a library person, or two, or three.
Scott Denham, Charles A. Dana Professor of German Studies and E. Craig Wall Jr. Distinguished Professor in the Humanities, often works with library colleagues for his courses. The library has hosted workshops where his students explore how Davidson's historical power structure affected Black, Jewish and LGBTQ student experiences. Students used library artifacts such as old posters and essays to support their research.
Archivists partnered with Denham for the initiative, which he describes as "transformative." He said students subsequent questioning about context, voice and power was evident in their year-end digital portfolios.
"What do we need to know to understand this artifact?" Denham asked of his students. "Ask a librarian—not for the answer, but to point you to the tools, and more importantly, the critical position, to find out for yourself."
The ACRL award comes with $3,000 for the library, and priceless prestige. It's the first time that Davidson has won the award.
"The way the team rose to the emergency situation we found ourselves in was incredible," said Lisa Forrest, the Leland M. Park library director at Davidson. "Our team is so talented. To be acknowledged this way and make their work more visible, and to serve as a model for colleges across the nation is such a thrill."
The award also puts the spotlight on a team that works mostly behind the scenes to get students and faculty access to the materials they need, wherever they are in the world.
"I'm proud of the expertise and resources that have supported the college's initiatives, especially in the areas of access and social justice," she said. "This past year took such a toll and was stressful at times, but it made us even closer as a group and as a college community."