Traffic Stop App Aims to Save Lives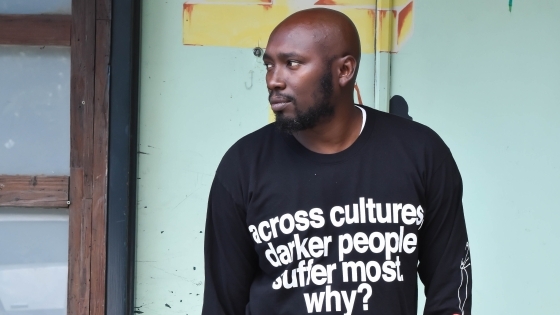 Mbye Njie spent his first career selling other people's products.
He sold discount coupon books and rental car services in the early days, then later convinced major companies to switch their computers to Apple MACS. Njie's second career is selling himself, and his vision to make life safer and more equitable for people of color.
Njie '04 is CEO of Legal Equalizer Inc., a phone app that records and livestreams interactions with police and immigration authorities. It sprang from his anger and frustration over police killings of Black people, and his own frequent traffic stop experiences. 
"It wasn't about revenue, it was about saving lives," Njie said. "And I realized if I was going to succeed at that, I'd need revenue and had to figure out ways to do that."
Davidson College has a long history of turning out entrepreneurs, with a vast array of students and alumni creating businesses and non-profits from passion projects. On this week dedicated to  National Entrepreneurship, we celebrate their innovation and determination.
Like Njie, many entrepreneurs build their businesses from personal experience, and by recognizing unfilled needs in a rapidly changing world.
Innovation has a campus home at the Jay Hurt Hub for Innovation and Entrepreneurship. The space facilitates access and exposure to innovation and entrepreneurship for all Davidson students, alumni, faculty, Hurt Hub co-workers and community members. The Hurt Hub offers educational programming, experiential learning in a safe environment, an inclusive co-working space, a strong mentor network, and access to startup capital.
"You've got to sell yourself and your vision; you have to be extremely articulate and passionate when you're trying to get people to invest in your business," said Hurt Hub Director Liz Brigham '04, who has worked with and mentored many entrepreneurs. "So much of it is your own personal gumption—who you are and your ability to execute."
She recently interviewed Njie for the Hurt Hub's new speaker series, Hub and Spoke.
"I have so much respect for him and what he's doing," said Brigham, whose friendship with Njie began during their first year as Davidson students. "He's obsessed with this problem, and he's obsessed with helping others."
Personal Experience
Njie was a baby and only child in Gambia, West Africa, when his parents divorced. Both met other people, and at 7, Njie left his home, mother and most of his family in Gambia to live with his father and stepmother in Macon, Georgia. His parents believed he'd have far more opportunities in the United States.  
At Davidson, the anthropology major served on the Union Board, walked onto the men's soccer team, then later played club soccer. He was active in the Black Student Coalition and co-hosted a point-counter-point type WALT 1610 radio show about campus happenings. (Brigham, also on the Union Board, offered some of those counterpoints.) As a senior, he was homecoming king and had a brief stint as then-mascot "Mr. Wildcat."
His first job out of college had him sitting alone at a desk all day—a terrible fit for an extrovert who likes to move around. He transitioned into a variety of sales jobs, putting thousands of miles on his car as he traveled the South to visit clients and potential customers.
He became a traffic stop target. Getting pulled over by police, who he says usually offered little or no explanation why, became a weekly occurrence. At one point in late 2014, he got stopped three times in 10 days. He filed his first complaint when an officer handcuffed him and put him in the back of a police car, alleging a warrant that didn't exist, before releasing him 20 minutes later.
And that got him thinking about so many other Black people who described similar experiences. He thought especially about Michael Brown, a Black teenager shot to death by a white police officer in Ferguson, Missouri, that year. He couldn't get over that no one had recorded the incident. The police officer wasn't charged.
Njie turned his frustration into a change-making opportunity.
He left his job in 2015 to work fulltime on Legal Equalizer. He initially got startup money through a Go-Fund me effort, and has gained investors along the way, including some Davidson alumni. He recently won a spot in Techstars, an intense immersion program that helps entrepreneurs build their businesses.
Njie is in the middle of the three-month program, which matches start-up founders with established entrepreneurs, lawyers and businesspeople. Forbes Magazine recently featured him and Legal Equalizer in a business article.
Njie works with a single employee, a code specialist, in Atlanta. He has adapted the app since its early inception. It's now available in English and Spanish and he plans to eventually offer other languages. If you're stopped by police or immigration officers, the app alerts and livestreams the encounter to as many as five emergency contacts. It provides legal information about the alleged infraction and displays contact information for attorneys specializing in traffic or immigration laws. A new component lets domestic violence victims discreetly alert their contacts to call for help in an emergency.
More than 200,000 people have downloaded the app, which is free. At this point, the company hasn't made money, but he's hopeful that will change. He's working on a subscription service where attorneys across the United States can pay to be included on the site. 
"It's been trying at times. There have been days when I've had to choose between paying my own bills or keeping the app running," he said. "But I've never quit, because I have a full vision of what this is going to be, and how much good it can do."
He plans to grow his company and hopes his app will result in the decline of violent confrontations. He wants to ensure that his investors get a healthy return for the trust they place in him.
And he hopes to someday revisit Gambia, where his biological mother and siblings still live. He last saw them when he was nine, but Gambia's volatile political situation has prevented him from returning. He thinks about them often and dreams of a day when they can reunite.
"I'm the lucky one, I was raised by loving parents here who stressed the importance of education," he said. "My mother (in Gambia) made so many sacrifices—imagine how hard that must be to not see your first-born child grow up. My younger brother ended up in a refugee camp after he was cheated out of all of his money (by smugglers he'd paid to get him into another country.) My little sister was a toddler when I last saw her, and now she's a mother herself."
"I would love to one day go back and be able to say, 'you guys don't have to worry about anything anymore.' It's a very deep motivating factor that drives the hell out of me."