Ally Rice '12: Making It in the Big Apple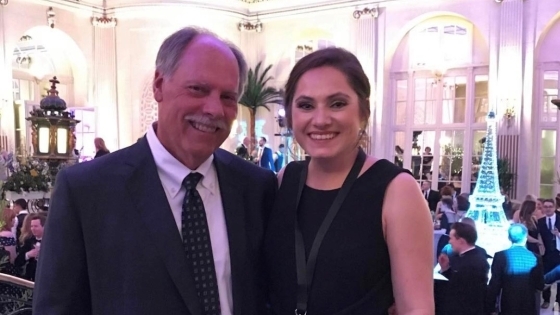 If you are one of the more than two million people who has watched the "You Can't Stop the Beat" compilation on YouTube, you have enjoyed the digital editing work of Ally Rice '12. Used as part of a fundraiser for The Actors Fund COVID-19 Emergency Financial Assistance program, the piece required editing 144 submissions from Broadway actors, musicians and more. It was one of the first "Zoom square videos" of its kind, so she was creating the template as she went along.
Rice was a theatre major at Davidson, a home she found in high school after tennis-related knee injuries pushed her to try something new. Today, she is an active member of the Davidson Arts & Creative Engagement Advisory Board.
"I knew I wanted to do theatre in college, and after meeting [Samuel E. & Mary West Thatcher Professor] Ann Marie Costa during a campus visit, I was sold," she said. "It is a multifaceted program, and I found that it was actually beneficial that it was not an MFA program. I had a wide array of exposure and a well-rounded view of the industry. I also loved how we were on a first-name basis with professors – there is a mutual respect among students and professors in the department, and I think that's unique."
New York City called Rice's name after graduation, and she jumped into the cut-throat world of auditions. During that time, she also started working for a production company that did traveling shows. She got into digital editing, the work she continues to do today.
A highlight was spending six months in London working on "An American in Paris."
"Coming from a liberal arts background, I had the skills to do and learn lots of different things," she said. "Had I not learned the work ethic at Davidson and had the experience of trying hard, being held to the Honor Code and not cheating on take-home exams, I'm not sure I could have transitioned to this career as easily. In the real world, no one is checking to be sure you aren't doing something shady to get ahead, and people fail that way."
The pandemic has required Rice to shift gears from producing b-roll for live shows to projects like digital marketing and online fundraising gala content. She also does freelance work on the side, some of it coming her way following the viral Actors Fund project.
"It's a really scary time for our industry, but fortunately, digital content is not solely reliant on live shows," Rice said. "I have so many friends—actors, dancers, general managers—whose work is shut down, and we've been very lucky to stay afloat."