Religious Studies Majors, Minors Earn Recognition in the Classroom & Beyond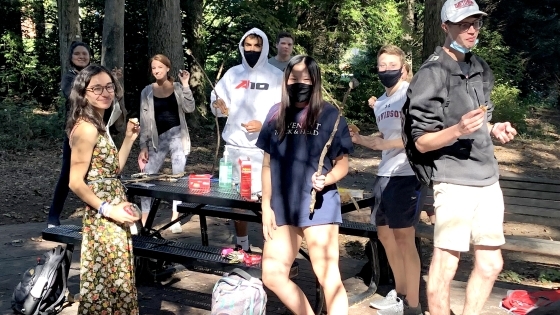 Beatrice Levy '22
Beatrice received the 2021 Samuel D. Maloney Essay Prize for her fine essay, "Dance as Sacred Afro-Atlantic Shapeshifting." Bea applied the traditional categories of Religious Studies to the various manifestations of African shapeshifting, which she sees in the dancing of homeless African-American women in Detroit, in the survival strategies of enslaved peoples in the American South, in Afro-Caribbean Limbo dancing, and in the science fiction of Octavia Butler. Bea's carefully crafted essay helps readers understand the multifaceted legacies of African religious practices in the transatlantic diasporas.
Zane Alkoor '21
Zane won the Alberta Smith DeVane Religion Prize. In recognizing Zane for his accomplishments in the study of religion, department faculty praised his deep-seated respect and appreciation for the complexities, subtleties, and possibilities of the human spirit as expressed in religious sensibilities around the world.
Zane defended his thesis in early May titled "Japanese Orientalism: Shifting the Gaze towards Japanese Imperialism and Islam." 
Courtney Clawson '21
Courtney presented the research she conducted in her REL 395 course during fall 2020, titled "Love, Trauma, Hope" at the N.C. Religious Studies Association annual meeting on March 5, 2021.
Courtney also wrote a Kelley Honors Thesis titled "Gridiron Girls: Women and American Football, 1964 – 1980." 
---
Internships, Fellowships and Extracurriculars
Coy Williams '22
Coy played on the history-making 2021 Davidson Wildcats football team, which won the Pioneer Football League Conference Championship for the first time in College history. Coy, a running back with 521 yards for the season, was chosen for the PFL All-Conference First Team.
Williams has been selected by the Chaplain's Office as a Congregational Leadership and Service Fellow. Williams will be serving as a ministry intern at Praise Church in Beaumont, Texas. Williams will return to campus in fall 2021 and is looking forward to things being "closer to normal." He hopes for another successful football season.
Ben Haden '22
Ben took part in Davidson Mindfulness this year. He says it was"fun and challenging" to explore and lead weekly practices. According to Ben, mindfulness practice helped students "cope with the many stresses of a condensed COVID semester and live as fully as we could throughout."
A classical trumpeter, Ben also plays in the Davidson College Jazz Ensemble. He credits Bill Lawing for making it possible for the ensemble to play two concerts with featured guest artists. Ben reports that the concerts "were by far the most fun I've had with music since the pandemic began."
This summer, Haden has been selected by the Chaplain's Office as a Congregational Leadership and Service Fellow. Haden will intern at All Saints Episcopal Church in Atlanta.
Before beginning his internship, Haden will study at Tunghai University in Taiwan through Fulbright, exploring Buddhism and music rituals on the island. Haden will return to campus in fall 2021.
Clare Harbin '23
Clare, a Theatre and Religious Studies double major, was involved in three productions this year—a departmental show, a French major's thesis show ("completely in french," she says), and one show for which Clare designed the set.
Harbin will be working at Camp Talisman in the mountains of North Carolina with kids and young adults with autism. (Fun fact: Linda Tatsapaugh '88 majored in Religion at Davidson and is the owner and operations director at Camp Talisman.) 
---
Post-graduate Studies
Annie Griffith '21
Will be starting her Ph.D. studies in cognitive neuroscience at the University of Kentucky. She will be researching the effects of ovarian hormone cycles on alcohol abuse in women. '
---
This story was originally published in Volume 1 of the Religious Studies Newsletter, 'In the Fold.' For access to the full newsletter and to be added to the distribution list, please contact the Religious Studies Department (religiousstudies@davidson.edu).