Pat Peroni Greenhouse Honors the Dream of a Beloved Professor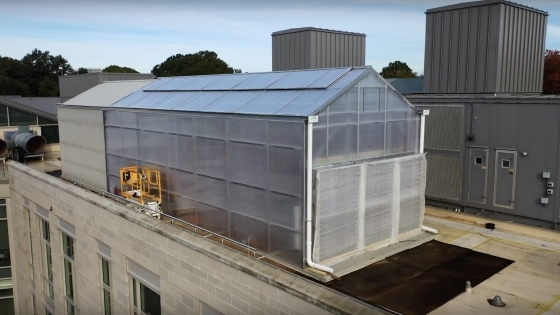 Rising from the roof of E. Craig Wall Jr. Academic Center is the college's newest classroom.
The Pat Peroni Greenhouse is in its final stages of construction. It will offer state-of-the-art features, including climate control, automated shades, and grow lights. And more so, it'll offer a new space for students in the classrooms below—in biology, environmental studies, chemistry, and more—to conduct research that hasn't been possible here before.
"Students are very interested in plants and how they impact society, which could be anything from an interest in agriculture and sustainable food supply to learning about ecology and the role that plants play in green cities," said Susana Wadgymar, assistant professor of biology. "But we didn't have a facility where we could grow plants in a way that allowed to students to develop hypotheses or address them with experiments. This greenhouse will provide a space for students to do that, either in their independent research with faculty or as part of a class."
The driving force behind this greenhouse was its namesake, Professor Pat Peroni. Peroni began teaching at Davidson College in 1992, and she often took students out of the classroom and into the field for her classes in ecology, plant biology and environmental studies.
Peroni's dream was to have a greenhouse on campus to bring some of those lessons closer to students. While the campus did have an older greenhouse, it was a basic structure that lacked temperature control and other features that would allow students to conduct experiments there.
Peroni died in 2019. Her colleagues in the biology department took on her dream as their own. They found partners at the college—David Holthouser, the director of facilities management, and Phillip Jefferson, the vice president of academic affairs and dean of faculty—who helped to make her dream a reality.
Soon, students and faculty will conduct plant research in a new greenhouse on the roof of the Wall Center, just an elevator ride away from their classrooms and offices. As the academic calendar extends from fall through spring—including the roughest times of the year to grow plants—this greenhouse will allow students to conduct plant experiments year-round.
Perhaps no student is more excited about the greenhouse than Louisa Bartkovich '22. She's a biology major, environmental studies minor, and a lover of plants. Bartkovich, a Bonner Scholar, credits Wadgymar's mentorship over the past two years with intensifying her appreciation for the beauty of plants and deepening her understanding of their complexity. 
And now, she's excited that more of her classmates will get that first-hand experience as well.
"If you have the awareness that plants are these amazing, incredible organisms that we can learn a lot from, you'll put in the work to learn more," Bartkovich said. "The greenhouse won't only cultivate different plants, but it'll cultivate the minds of Davidson students and professors. I don't know what we'll get to discover in there, but that's the beauty of it."
The greenhouse will house students' research projects that will evolve into scientific conference presentations and academic publications, which will enhance applications for graduate school and medical school. It'll host faculty research, with collaborations creating connections across departments and disciplines. And it'll spark big questions and bigger ideas, on topics like climate change, crop yields and plant genetics.
"A greenhouse like this can last for decades," said Chris Paradise, professor and chair of biology. "It could be on that roof for 40 years, maybe longer. We'd like it to be one of the pieces of infrastructure that we can hold up as an example of a space where students and faculty can collaborate. We take pride in our mentoring of students in research projects, and this space gives us the ability to enhance that even more."
But, bittersweet, is knowing that the person who initiated this project will not get to see its completion.
"I was very much looking forward to learning more from [Dr. Peroni]. I thought we'd have a decade together," Wadgymar said. "She would be beyond thrilled to see students continue to be engaged with plants and biology—I can't imagine a more fitting tribute than this. It's what she wanted."
One of Peroni's research interests was a seed bank. The concept of a seed bank seems as sentimental as it is scientific: A seed bank preserves a seed by storing it under special conditions. Then, when given the right triggers and conditions, that seed will grow when it's needed.
The greenhouse won't only cultivate different plants, but it'll cultivate the minds of Davidson students and professors.
Louisa Bartkovich '22
Peroni didn't know that her greenhouse was such a seed. She fostered the idea and preserved it through her years of teaching at Davidson. After she died, her colleagues gave this seed the conditions it needed to grow. Now, the greenhouse is taking root. Soon, Bartkovich and her classmates will cultivate what grows from the seed that Peroni saved.
"I will happily be one of [Dr. Peroni's] germinants," Bartkovich said. "She kept the idea safe until the school could get this greenhouse approved and built. And now, students will be able to go on the roof of Wall Center and see a bunch of plants growing in the middle of winter. That'll be beautiful."
Read more about Pat Peroni's life.
---
Construction on the Pat Peroni Greenhouse began in June 2021 and will wrap up in January 2022. The space will create new teaching and research opportunities for faculty and students in multiple disciplines. The new structure on the roof of the E. Craig Wall Jr. Academic Center is named for beloved outdoor enthusiast and Biology Professor Pat Peroni, who died in 2019. These photos show the early phases of construction. Check out the video for a look at how far the greenhouse has come.