Alumni and Foundation Support Create Trio of Endowed Professorships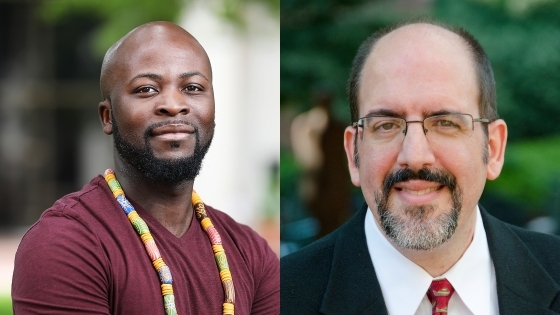 A devoted alumni family and two foundations are helping to advance the teaching, mentoring and scholarship of Davidson College's nationally ranked faculty.
The alum and foundation support is enabling the college to create an unprecedented trio of new endowed professorships.
"Davidson's strength lies in its community, especially the way our professors offer both challenging courses and caring mentorship," said Davidson College President Carol E. Quillen. "These gifts help recognize their amazing work."
The endowments mean that the three positions already are funded each year.
Vann Professor for Racial Justice and the Vann Fund for Racial Justice
Jim Vann '50, and his wife, Lee, worked with the college to transform an existing professorship they funded into the Vann Professor for Racial Justice and the Vann Fund for Racial Justice. The Vanns have demonstrated an uncommon dedication to Davidson's primary purpose to produce the principled leaders that society needs, and they see no more urgent ethical challenge for the nation right now than racism. The new professorship will be held by Joseph "Piko" Ewoodzie, a sociologist and author who examines how communities structure themselves into "us" versus "them" to the benefit of those who belong and the alienation of those who don't. He is the author of Break Beats in the Bronx: Revisiting Hip Hop's Early Years and Getting Something to Eat in Jackson: Race, Class, and Food in The American South.
Second Kenan Professorship
The generous support of the William R. Kenan, Jr. Charitable Trust, along with excellent investments and careful stewardship, has allowed Davidson to create a second Kenan professorship. That role will be filled by acting chair and sociology professor Gerardo Martí, whose teaching and research focuses on race, religion, power, and social change. Martí is an elected leader in several international associations dedicated to rigorous scholarship and the author of eight books, including American Blindspot: Race, Class, Religion, and the Trump Presidency and The Glass Church: Robert H. Schuller and the Crystal Cathedral, co-authored with Mark T. Mulder. Currently, Martí's research is funded by a $1 million grant through Lilly Endowment's Thriving Congregations Initiative and focused on churches actively confronting racial injustice.
James B. Duke Professorship
The Duke Endowment, which has generously supported Davidson and three other institutions of higher education for nearly a century, is supporting the creation of the James B. Duke professorship in the Africana Studies Department. That new position moves Davidson another step toward fulfilling its initiatives in response to the college's Commission on Race & Slavery, which included a pledge to create four new tenure-track professorships, in part or entirely, in Africana Studies. 
Ewoodzie said he's excited to work with students to turn their growing interests in social justice into life-long careers dedicated to social justice. 
Martí said his endowed position will allow him to further resource his teaching and research, and to remain attuned to the changing ways that longstanding issues dynamically develop in society.