Author Jack Livings '96 on Reading Deeply and Finding Joyfulness in Language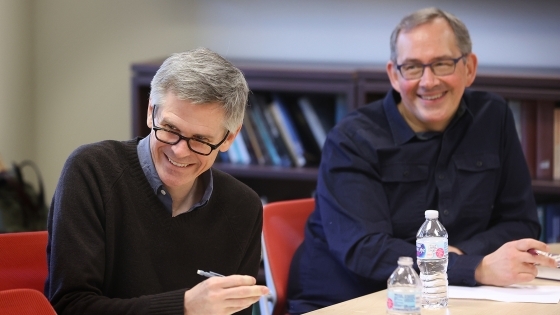 Jack Livings '96 took a few of Tony Abbott's classes as a Davidson student, and jokes that in creative writing, "he tolerated me."
Livings, now a critically acclaimed novelist (The Blizzard Party) and award-winning short story collection author (The Dog), recently returned to campus as the first speaker in the Abbott Lecture Series. Abbott, a poet and Charles A. Dana Professor of English Emeritus at Davidson, died in late 2020.
Livings also took time to speak with students in several English classes, answering questions on topics ranging from his writing process to the inspiration behind the tales he spins. English Professor Zoran Kuzmanovich, another former teacher, says that as a student, Livings didn't settle for writing papers that were "clumsy summaries."
"He cared very much about the what and the how of his writing, he already knew what style is, and he knew that his writing had it," Kuzmanovich said. "And that such care and knowledge were not affectations."
Kuzmanovich's students have read some of Livings' short stories; and he plans to teach The Blizzard Party in a future course.
"The passing of time in Jack's fiction is always charged with meaningful possibilities, and mere sequences become consequences," he said. "There are few writers whose long sentences are necessary and reward the reader upon the second or subsequent readings: James Joyce, Virginia Woolf, William Faulkner and Ralph Ellison come to mind. Jack's native sense of the ways sentences can use adverbial clauses to generate parallel worlds makes his long sentences necessary."
We sat down for a conversation with Livings:
What inspired your recent novel, The Blizzard Party?
Two things. My father's family suffered a tragedy that predated me—it happened before I was even born—the effects of which were still being felt decades later. I was always aware of it even before I knew the details of what had happened. That was the emotional core of the book, the wide wake of grief that trailed the drowning of a little boy. Then, on the writing side, after working for so many years on short stories that had some pretty stingy linguistic requirements, I wanted more looseness on the page, some space for joyfulness in the language, even if the subject matter wasn't always so joyful.
Can you describe how your time studying abroad as a Davidson student in Beijing led you to write the short stories in The Dog?
Well, for me, at the center of every story that's worth writing, there's an unanswerable question, a why that compels the writer to stay at the desk for months or years, chipping away at it. When I was a student there, China was full of unanswerable questions. I saw things every day that, because of my elementary grasp of the language and culture, I couldn't comprehend. Every day was filled with whys.
Did you ever worry, as an American writing about fictional Chinese characters, that readers would take offense?
Sure. I wanted to approach the material with as much respect as I possibly could, without it leading into a white glove treatment of the characters, which I think is offensive and patronizing. I treated it in some ways like journalism—you do your research, you present what you see, try to be objective and create a distance between the narrational voice and the characters. That's not just the way I approach writing about China, it's pretty much the way I approach writing about everything.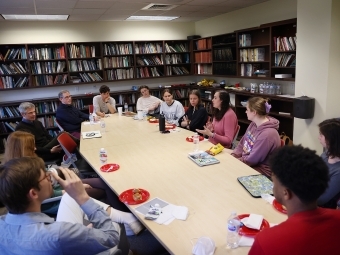 Any advice for someone writing about characters from a different country/culture?
You have to write about individuals, not culture. Fiction is about two people sitting across a table talking about something that's not right between them. If you take that as your starting point, you inform that conversation with all the research you do, and try to understand, as well as you can, what's going on.
How would you advise aspiring writers to develop their craft?
Read broadly and read deeply. Don't be afraid of reading the classics, because you can learn from them. If you're a student writer you've got to read. You read stuff and try to understand why you have an emotional reaction to it. If you are moved by a passage, go back and try to take apart the mechanics of it. I think there's sometimes a resistance to this idea, a fear that you'll burn off the joy of the emotional reaction, but understanding the mechanics can actually enhance the experience of reading. There's wonderment in trying to understand how a writer has done something, in getting under the hood and seeing the structure and how the sentences work, in identifying the cadences there. And in your own writing, try not to be resistant to criticism—which is so hard.
The annual Abbott English Honors Program dinner and lecture celebrates the generosity of Tony and Susan Abbott, whose support encourages senior English majors to imagine an ever-expanding range of projects. These events connect senior English majors to the wider world of scholars and artists, as represented by a distinguished visiting speaker, and to the history of Davidson's English Department, as represented by emeriti professors and their families, particularly members of the Abbott family.