Remembering Tony Abbott: Poet, Beloved Professor and Founder of the Abbott Honors Program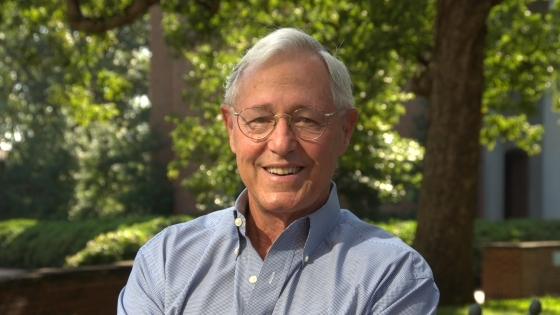 Tony Abbott came with his family from Maine in 1964, and in virtually no time at all, Davidson–the college and the town–became the home he had been looking for since childhood.
Charles A. Dana Professor of English Emeritus Anthony S. Abbott passed away Oct. 3, 2020. He will be remembered as a tremendous scholar and teacher, a talented and influential writer, a selfless volunteer to his community, a steadfast friend and a devoted husband and father. A service to honor him will take place at 2 p.m., Oct. 17, 2020 at Davidson College Presbyterian Church. Because of the COVID crisis, only family will be permitted in the sanctuary, but the service will be available via livestream.
"There's something extraordinary about Davidson," he said. "Telling anyone I had to go to work each day was really a lie. I never considered it work. Helping people discover something about their lives through literature is very rewarding. Living and working in this loving community is a very special gift."
The Charles A. Dana Professor Emeritus of English officially retired in 2001 but continued to serve as an adjunct professor until 2006, when he taught his last section of Humanities. Spouse Susan also held positions at the college, including several years in the Development Office coordinating special events.
The Abbotts have made tremendous contributions to the English Department during their more than 50 years in the community, and now support from the couple, both through current-use gifts and a provision in their estate, will form the Abbott Honors Program in English. The program will support the most promising English majors with stipends for student research, creative work and independent research toward the completion of honors theses. Additionally, it will provide support to bring distinguished scholars and writers to speak at Davidson on a regular basis.
"Davidson is enjoying a resurgence in the humanities, and this program will make a valuable contribution to that trend, both by validating the worth of English honors students' work and by underscoring all majors' investment in the department and their English studies," said Cynthia Lewis, Charles A. Dana Professor of English. "The self-esteem this program will bring to our students is inestimable and so very important to confidence, creativity and learning."
Abbott, who had specialized in drama and American literature, started writing poetry and novels in the middle of his career. He used those skills to foster creative writing as an academic focus.
He tells the story of Patsy Daniels '79, who wanted to write a novel for her honors thesis, which was not allowed at the time. Daniels asked Abbott to present her project to the English Department, the department accepted her proposal, and Abbott directed her thesis. Daniels–today known to the world as best-selling author Patricia Cornwell–wrote the first creative thesis in the English honors program.
With the help of positions like the McGee Professor of Writing, the English Department has been able to enlarge its creative writing program and sponsor as many as four or five creative honors theses. Now, with the Abbott Honors Program, the department will be able to give much-needed support to students writing scholarly and critical theses, as well as those doing creative work.
Creator, Scholar, Teacher
Abbott has always considered the bigger picture of his field. In addition to mentoring Davidson students, he has supported writers across the state by serving as president of the North Carolina Writers Network and the N.C. Poetry Society. His first book of poems, The Girl in the Yellow Raincoat, was nominated for a Pulitzer Prize, and his novel, Leaving Maggie Hope, was the winner of the 2003 Novello Literary Award.
"When I came to Davidson, Tony Abbott was the chair of the department," said Shireen Campbell, professor of English. "To me, he epitomizes the intellectual flexibility, excellence and generosity of the faculty on campus. A drama scholar, gifted poet and compelling professor, Tony is both critic and creator, scholar and teacher. The Abbott Honors Program will encourage our majors to think deeply, write well, and so honor Tony and Susan's legacy."
Abbott was honored for his teaching during his long tenure at Davidson with the college's Thomas Jefferson Award in 1969 and the Hunter-Hamilton Love of Teaching Award in 1997. In 2015, the State of North Carolina honored him with the N.C. Award in Literature.
Davidson alumni, parents and friends interested in supporting the Abbott Honors Program may contact Stephanie Glaser '92 in College Relations at stglaser@davidson.edu or 704-894-2114.
This story was originally published on Oct. 17, 2016.