Introducing Sarah Todd Hammer '24, President of the Davidson Disability Alliance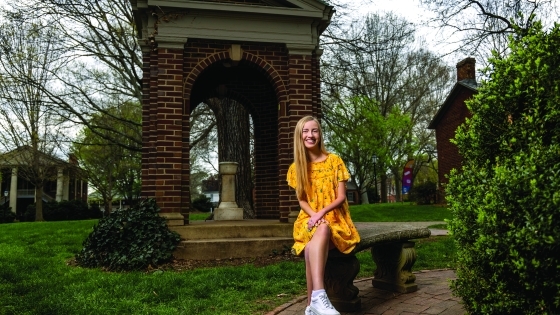 During a ballet class, eight-year-old Sarah Todd Hammer suddenly lost the use of her arms and hands. Overnight, the paralysis crept into her legs. 
She was diagnosed with Acute Flaccid Myelitis (AFM), a neuro-immunological disorder caused by a viral attack on the spinal cord. Sarah Todd recovered the ability to walk after a two-month-long hospitalization.
Despite partial paralysis in her arms and hands, Sarah Todd was determined to dance. She turned to choreography, adapting her movements. And she turned to YouTube to share her dances, her story and words of encouragement with others.
Over the past 12 years, Sarah Todd has grown into her role as a disability advocate, gaining a substantial social media following, sharing relatable anecdotes about her life as a college student and schooling viewers on topics including ableism, or discrimination against disabled people, and the importance of accessibility.
Sarah Todd is a psychology and communication studies double major, and president of Davidson Disability Alliance (DDA). The new student organization works with others on campus to provide awareness and education surrounding disability, as well as celebrate disability culture and identity. 
Learn more about Sarah Todd in this brief Q&A, and read more about her journey at my.davidson.edu and  sarahtoddhammer.com.
What is your favorite spot on campus and why?
The Well is definitely my favorite spot on campus. It's so picturesque and pretty. I feel like it's a great landmark for the campus. If I'm ever taking cute pictures, I always like to take some by the Well.
Is there a class or professor who has influenced your work as a disability advocate?
The most influential class I've taken in my two years at Davidson was Dr. Ann Fox's "Disability in Literature and Art." We read several literary works and studied pieces of art that included representations of disability. While my experience as a disabled person provided me with ample preemptive knowledge on the subject, I learned so much in this class. Upon completion of this course I felt even more well-versed in disability scholarship. Dr. Fox has also been a great support system for me, offering me advice and serving as a mentor. I'm so thankful to have taken a course with her.
You say in your blog post that you've learned that it's empowering to be your own advocate. How did you come to that understanding?
At Davidson, since I'm living on my own without my mom or an aide, I have to advocate for myself. Advocating for myself includes ensuring I receive the academic and housing accommodations I require, getting help from others when I need it, and making others aware of ableist happenings and encounters. I've realized that being my own advocate is empowering. Informing others of my needs affirms my experience as a disabled individual. I'm constantly feeling empowered in this way, as I require assistance from others every day. I have to ask my friends for help with various tasks; the kind workers at Vail Commons assist me with getting food; the Disability Office provides me with my accommodations. When I inform others I need assistance in any capacity, I don't see it as an act of weakness but as an act of liberation. Recognizing your needs and making others aware of them is freeing.
---
Portions of this article were originally published in the Spring/Summer 2022 print issue of the Davidson Journal Magazine; for more, please see the Davidson Journal section of our website.