An Enduring Purpose, a Hopeful Future: Davidson College Inaugurates Douglas A. Hicks '90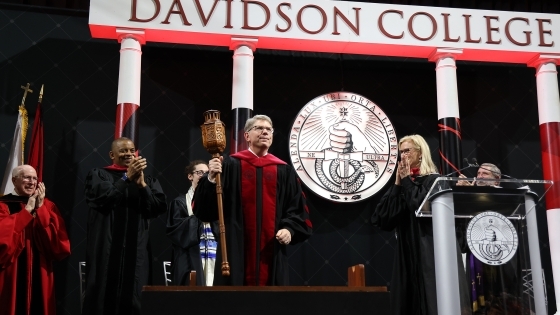 "Davidson friends, today we inaugurate our shared future, and I am so honored to lead in that process."
-Davidson College President Douglas A. Hicks
Davidson College officially welcomed its 19th president today with an inauguration ceremony that brought the college community, family and friends together to celebrate one of their own.
President Douglas A. Hicks '90 invoked tradition and progress, saying while sometimes there's a tension between the two, both play important roles in Davidson's mission to turn out humane leaders prepared to tackle the challenges of a rapidly changing world. Essential to that, he said, is an inclusive college campus welcoming to people of many differing backgrounds and perspectives.
"For me, the Davidson tradition has always been about expanding our world view and sense of community," Hicks said. "Nearly four decades ago I arrived at Davidson from Indiana in the family minivan. Faculty opened my mind both to what is possible in the ideal realm and what social realities keep people and communities from reaching that ideal.
"My Davidson education led me to frame the key question of my professional life: How do we shift our focus away from human deficits and deprivation to build our human capabilities?"
With hope and purpose, he said.
For any liberal arts education to go beyond understanding our world to shaping it, we need hope. We dare to hope for a future that is more equitable and humane, with less suffering and division than the present. We dare to believe that Davidson's high educational purpose can play a key role in bettering ourselves and those around us.
Doug Hicks '90, 19th President of Davidson College
Hicks started his new role in August. Friday's ceremony followed long-standing tradition, with Davidson and visiting faculty processing in full academic regalia. The college's Symphony Orchestra and the Brass Ensemble performed. Faculty Marshal and Physics Professor Daniel Boye carried the college's mace, carved from Honduran mahogany by Jack H. Ramseur '31.
Poet Leah Mell '19 read Spring Unraveling: A Crown, which she wrote for the occasion. The poem describes Davidson's evolution, from the original bricks laid by enslaved workers through its history, touching on the multi-faceted academic, cultural and social experience of Davidson.
The president's daughter, Ada Neill Hicks, 16, read Psalm 100.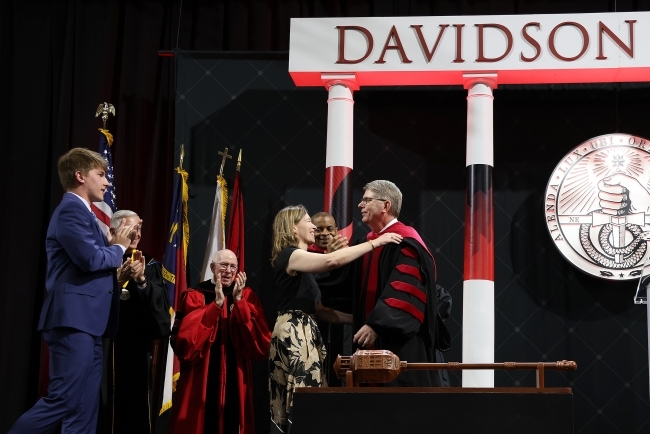 Besides students, alumni, faculty, staff, trustees, friends, families and community members, a cast of luminaries included the four previous presidents: John Kuykendall, Bobby Vagt, Tom Ross and Carol Quillen. Dozens of delegates represented colleges from across the country. Notables from the political front included U.S. Senator Thom Tillis, U.S. Representative Alma Adams, and Davidson Mayor Rusty Knox.
College trustee Anthony Foxx '93, a former Charlotte mayor and former United States Transportation Secretary, introduced Hicks.
We're in a moment that craves hope. Our president, Doug Hicks is ready for the job. We're excited and proud that you have returned home.
Anthony Foxx '93
College Priorities
During Friday's ceremony, Hicks outlined college priorities that included continuing to broaden access and affordability, transforming the library and academic programs for the digital age, and building stronger connections with the town of Davidson and greater Charlotte region.
He called for advancing athletic programs amid NCAA changes, forging new paths between a liberal arts curriculum and an evolving global workplace, and "seizing the moment to model an inclusive and mutually respectful campus culture."
"In the coming academic year, we will undertake strategic planning together to prepare for a dynamic shared future," he said. "We'll do so from a position of strength, and with a firm sense of what we value. We'll also do so in the spirit of hope—that is, seeking inspiration from our high ideals, and employing careful analysis and strategic use of resources to guide Davidson."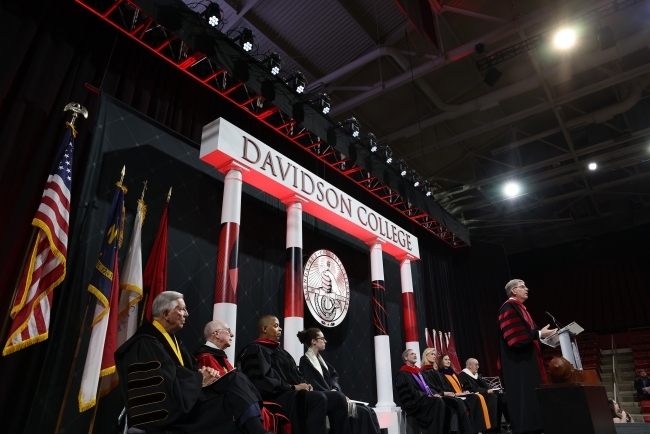 Coming Together
The college held a series of special events around the occasion of the inauguration. On Thursday, Davidson announced plans for a memorial, With These Hands, to honor the enslaved and exploited workers who built and served the college in its early days. Later Thursday, Hicks led a panel discussion with conceptual artist Hank Willis Thomas and architectural firm Perkins&Will, who have partnered to create the memorial.
On Friday morning, Hicks led a panel of experts for a lively talk about the college's future, touching on themes of history, memory—and hope. As it wrapped up, he asked each panelist what gave them hope.
"My hope for the future is based on the students I see every day," said Hilary Green, the James B. Duke Professor of Africana Studies. "They do the work to make a more inclusive, more just Davidson. I'm around people who want to build a better future."
Foxx, a panelist who served in President Barack Obama's cabinet, paused before answering.
"Mr. President," he said to Hicks, "You give me hope."
Foxx talked about getting a text from his classmate and best friend from Davidson, Joe Cook, the day after trustees announced Hicks' selection.
"Joe and I could not have been more different. I was from Charlotte; he was from Indianapolis. He was pretty conservative, I'm pretty not conservative," Foxx deadpanned. "Just about every way that we could be different, we were different, but we were brothers."
Foxx learned that Cook and Hicks went to the same church as kids, and that Cook went to Davidson because he respected Hicks so much. "Inspired choice," the text said.
"You see the shadows being cast from the life you've led," Foxx said. "I'm very hopeful that somewhere in the cacophony of where we are as a culture and society, your heart, your mind, your scholarship, your leadership is going to get us to a better place."
The week's festive events ranged from food trucks to music to a gala. A Wednesday game night featured Hicks demonstrating his indomitable ping pong prowess. On Saturday Hicks, a former Wildcat baseball player, is scheduled to throw out the first pitch at the current baseball team's game against Fordham University and host his class of 1990 for a barbecue.
Continuity and Change
Hicks was dean of Oxford College at Emory University before returning to lead Davidson. He majored in economics at Davidson, earned a Master of Divinity from Duke University, and Master of Arts and doctoral degrees in religion from Harvard University. He's also an ordained minister of The Presbyterian Church (USA).
His studies in economics and religion have made equity issues central to his life and leadership. Viewpoints may vary dramatically, he said, but Davidson cultivates a culture of facing problems with an eye toward solving them.
That includes a need to learn from the past—and respectfully engage with different generations—as new ideas, innovation and social changes propel the college forward.
Ours is a living tradition that embraces the tension between continuity and change. It strives to be responsive to the educational needs of our students in every era, preparing them for their individual and shared futures.
Doug Hicks '90, 19th President of Davidson College
"At a time when some seem to take pride in polarization, let us be known as a college focused less on winning arguments and more on listening to and learning from each other."
And hope, he said, is essential.
"In both philosophical and religious worldviews, hope is a virtue," he said. "Hope is more than that. It is a practice. A daily practice, a way of being in the world.
"We exercise our critical thinking skills to analyze and understand the world. We exercise our moral imagination to see something better. Then we exercise our courageous resilience, and we get to work."