Fulbrights Around the Globe to A10 Records at Home: Convocation Turns Spotlight on Student and Faculty Achievement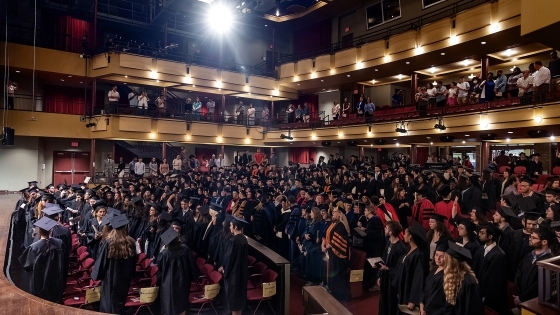 One gifted linguist used her Farsi skills to help a family from Afghanistan settle into their new American home. She taught fellow students how to cook North African and Middle Eastern favorites to bring their course work to life.
One student traced the roots of the 2008 economic collapse in Greece and the rise in political extremism; another dug deeply into maternal healthcare in the South; and a third drew detailed connections between chemistry, business, healthcare and regulatory authorities.
Two scholar athletes broke multiple Davidson College and A-10 conference records.
An artist gave a presentation on Tibetan tea house art at a major conference and an actor delighted theatre audiences with his "bumbling, awkward and disarming" portrayals that revealed "his perfect comic timing and passionate heart."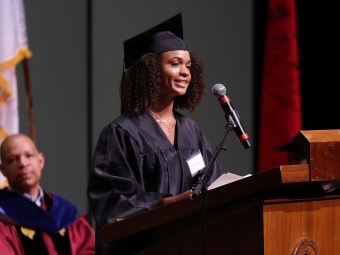 These are the kind of students you meet at Davidson, and the college honored them and others at its 2023 Spring Convocation April 20. They received awards for their vast array of academic, athletic, artistic and leadership achievements, as well as their commitment to making Davidson and their communities better.
Like the bursting blooms that cover the campus and the warming weather that sends everyone outside, convocation is a rite of spring—a chance to look back on the year's (and some college career) accomplishments. It's also time to recognize outstanding faculty and staff members who contribute to student success. Convocation serves as a prelude to the upcoming May 14 commencement.
Doug Hicks '90 attended his first convocation as Davidson's president, and Rob Spach '84, his last as the college's chaplain. Spach retires later this spring, and the crowd at Duke Family Performance Hall rose in a heart-felt standing ovation to celebrate his 30 years in that role.
Celebrating Excellence
Convocation spotlights character, innovation, service and sportsmanship. It offers a glimpse into what these future writers, teachers, doctors, economists, military leaders, scientists, artists and sociologists will bring to the wider world.
It's also a time to recognize honor society members, scholarship recipients and students planning on post-graduate international fellowships.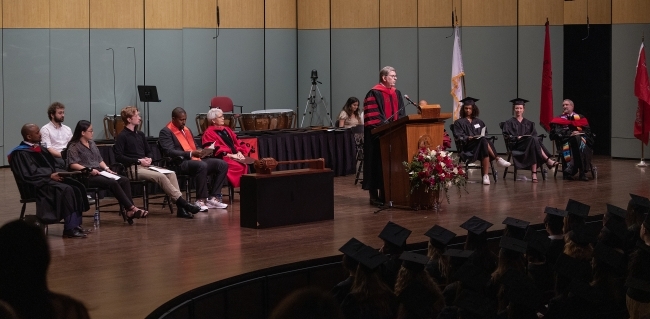 "It's a joy to be together as a community, to celebrate your accomplishments," Hicks said. "These achievements are celebrated today in the past tense, but we are looking forward with you."
Hicks cited the college's mission statement: helping students develop humane instincts, moral courage, discipline and creative minds to prepare for lives of leadership and service.
"We celebrate those qualities today. Our communities, our nation, the world need these attributes perhaps more than ever in our history," Hicks said. "Congratulations for your remarkable accomplishments. We are so proud of you."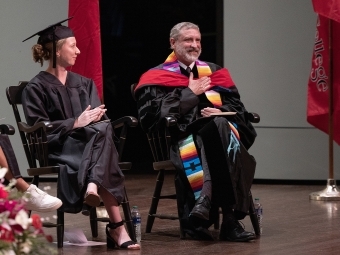 Spach gave his final convocation benediction:
"My beloved Davidson community: May each of you be astonished by the vast and intimate mystery of your life and by the enduring, fathomless mystery that encompasses all with this blessing.
"May you know that you're known, treasured, loved—without condition, without limit, without end."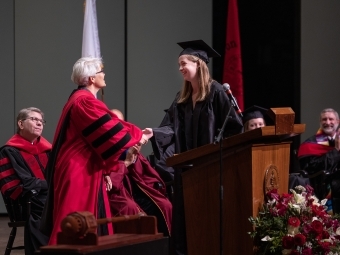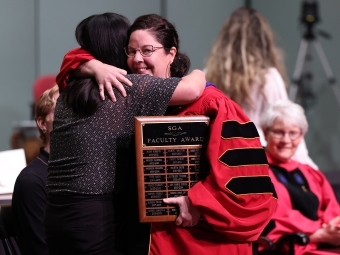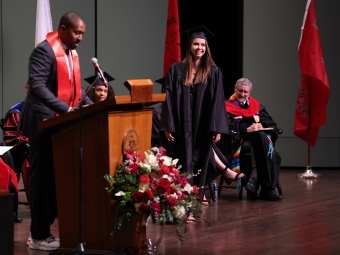 Award Recipients
Listing of Spring 2023 Convocation Award Recipients
2023 Convocation Awards with Descriptions
Staff, faculty and community members were also honored Thursday with awards:
2023 ODK TEACHING AWARD - Malcolm Campbell, Herman Brown Professor of Biology
"His willingness to serve, educate, and support is like no other. Dr. Campbell has an incredible passion for supporting the student body, not only in the classroom, but outside as well. His support results in the success of Davidson students, allowing them to reach their goals and fulfill the purpose of Davidson College. His presence is uplifting and encouraging for all of those lives he touches."
2023 ODK STAFF AWARD - Carolyn Stevanus, Building Services
"Carolyn exemplifies quintessential Davidson values in her genuine compassion for students. She greatly impacts Davidson through her willingness to serve others and check on all whom she encounters within the halls. When her workload increased, she never complained but rather worked harder to make sure the dorms remained clean all while keeping a smile and connecting with students. She is an important presence within the walls of Belk residence hall and beyond as she intentionally engages, encourages, and uplifts others every day."
2023 ODK COMMUNITY AWARD - Rick Rudisill & Scott Greenwalt
"Rick Rudisill and Scott Greenwalt exemplify the meaning of sacrifice for the Davidson Community. As lifelong friends of Davidson College, these two men work with the Student Government Association to coordinate airport shuttles, or safe rides, for Davidson students from 10 p.m. to 2 a.m. In the past, they have gone above and beyond by paying out of pocket to put a safe rides sticker on their van. Despite severe weather or the hardships these men conquer in life, Rick and Scott will always put Davidson students before themselves."
Student Government Association
2023 SGA FACULTY AWARD

⎯

Sara Baugh, Assistant Professor of Communication Studies
"Her classroom is shaped by the passions of her students to maintain the already impressive level of engagement that she fosters. She respects her students as people first and continues to show up for them inside and outside of the classroom, circumstance notwithstanding. Even surgery recovery did not stop her from living out her teaching philosophy every day. She is a proud Chicana and her stated goal is to 'demystify hidden knowledges.'"
2022 SGA HOLISTIC ADVISING AWARD ⎯

Emily Eisenstadt, Associate Director for Programs
"She demonstrates immense joy as she supports her advisees, who describe a caring and attentive advisor who doubles as an intentional listening ear. She goes out of her way to ensure her students are doing well and making the most out of their Davidson experience. She fosters a truly safe space for students to naturally feel comfortable and come to whenever they need it. She aids students' growth and development by assisting them in exploring new avenues, building relationships, and diving into their individual passions."