Novel Treatments for Disease, Affordable Pharmaceuticals Are Goals of Goldwater Scholars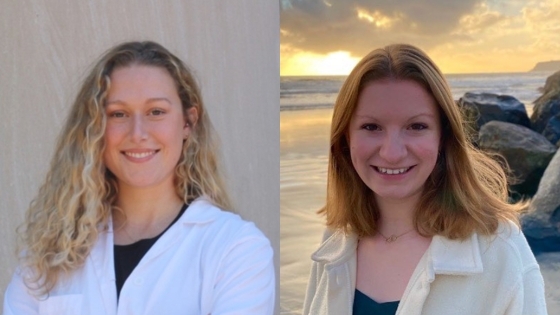 The Goldwater Scholarship honors outstanding students who are pursuing research in the fields of the natural sciences, engineering, and math.
It is among the most prestigious awards of its kind, and this year, two recipients are Davidson College juniors: Madeline Fitzgerald '24 and Susannah Armstrong '24.
Madeline Fitzgerald '24
For Madeline Fitzgerald, a major in chemistry and a minor in computer science work in tandem toward an ambitious goal: to make pharmaceutical research more efficient. Fitzgerald is interested in synthesizing molecules and modelling reactions using machine learning and virtual reality, so researchers don't always need to conduct research in a physical lab. The implications could be far-reaching.
"In theory, that should mean that it's less expensive to produce the drug molecules and easier to synthesize the precursor molecules," she said, "which could—potentially!—lead to greater availability and lower costs of pharmaceutical products."
Fitzgerald fell in love with organic chemistry during her first year at Davidson in a class taught by Professor Felix Carroll. Her interest intensified the following summer when she began research. She has since worked alongside her research mentors, professors Hanna Key and Tabitha Peck. Fitzgerald says Davidson offers her invaluable research opportunities: At a small college, she doesn't compete with graduate students for time in the lab, and she's able to form close relationships with professors who do the type of research she wants to pursue.
Even as she spends time in the lab, Fitzgerald is just as at home in the classroom. Her experience as an embedded tutor in an organic chemistry class inspired her professional ambitions to teach at the university level.
"I really enjoyed tutoring, seeing the dots connect as students progressed through the class," she said. "I found it to be very fulfilling. In the future, I would like to work in an academic setting where I can mentor and teach students."
In addition to teaching, Fitzgerald intends to conduct organic and computational chemistry research in natural product synthesis after earning her doctorate in organic chemistry. This summer, she will work in Professor Keary Engle's lab at the Scripps Research Institute in La Jolla, California.
Susannah Armstrong '24
Growing up, Susannah Armstrong watched her grandmother deal with Parkinson's disease, an experience that taught Armstrong about the need for good therapies and medications. A desire to help people around the world with similar diseases led her to pursue a career in chemistry.
"Throughout school, I fell in love with chemistry and biology and science," Armstrong said. "For me, the clearest application of these subjects was to treat diseases that people like my grandmother have."
Later, the COVID-19 pandemic solidified her ambitions. Feeling helpless amid a pandemic is hard; she wanted to become one of the people working on solutions to treat pervasive diseases. As a high school student, Armstrong believed that her only option for doing this work was to go to medical school to become a doctor. Being a student at Davidson, however—where she's been able to work alongside professors in labs—taught her about another option that she loved even more: research.
"I've been able to seek out professors who do the kind of research that I'm interested in," she said, "and put the techniques I learn in class into practice."
That research has created a path for Armstrong that began in Davidson but extends far beyond it.
"As part of our work together, [Susannah and I] spent time in my colleague Laura Hartmann's lab in Duesseldorf, Germany," said Nicole L. Snyder, professor of chemistry. "Within the first week, I knew I was working with a highly talented scholar. Her unquenchable thirst for exploring new knowledge landscapes, combined with her impeccable work ethic, led her to solve a research problem we grappled with for years."
Scientists also need a healthy dose of persistence to make strides in research.
"What impressed me the most about Susannah was her independence and her ability to persevere despite multiple challenges and setbacks," Snyder said. "Every time she hit a roadblock, she found a new road to travel, and when she ran out of roads to travel, she built her own."
Armstrong will continue to pursue research this summer at the National Cancer Institute. After earning her doctorate in synthetic organic chemistry, she intends to conduct translational research to develop treatments for globally pervasive disease.
The Goldwater competition is administered at Davidson College through the Office of Fellowships. For more information about the Office of Fellowships or applying for the Goldwater Scholarship, visit www.davidson.edu/fellowships.