Winners of Spencer-Weinstein Awards Break Down Boundaries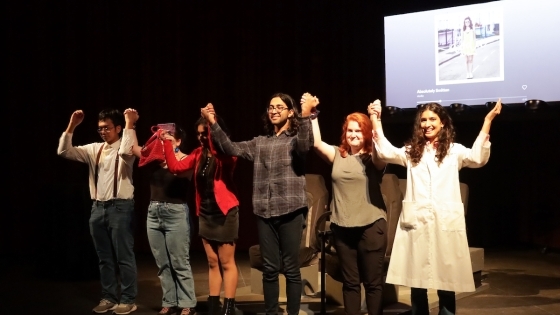 Davidson College has recognized three students and two chaplains with the Spencer-Weinstein Prize for Community and Justice for their pursuit of a more just world through sharing stories, building community and embracing difficult conversations.
The annual award was created by close friends of Davidson College Carole and Marcus Weinstein.
The 2022-2023 recipients are students Zayna Abuhakema '24, Sahana Athreya '25 and Amy Tedeschi '25 for their work with the Social Justice Theatre Troupe, and Associate Chaplains Daniel Heath and Ivan Mayerhofer for leading the "Beloved Community in a World House: Interfaith Fall Retreat to Atlanta, Georgia.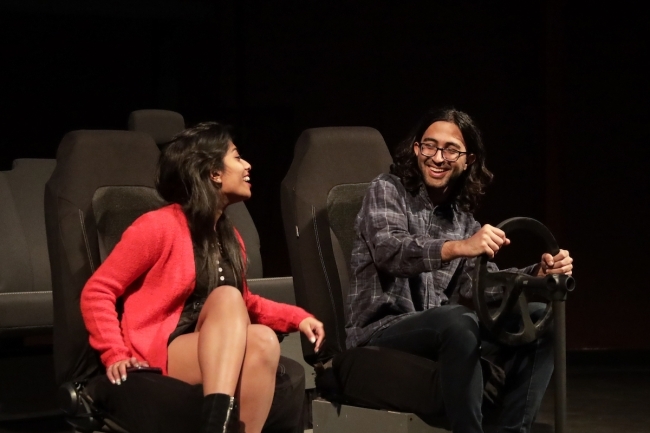 Social Justice Theatre Troupe
When Athreya wrote the story that would become Backseat of a Taxi in her screenwriting class, she never imagined it would come to life as an interactive, cabaret-style production. The story centers around a South Asian girl who accidentally comes out to her father and the aftermath as he grapples with this new information. 
After realizing the story might work best on stage, Athreya brought the idea to the Social Justice Theatre Troupe. The group, led by Theatre Professor Sharon Green, met weekly to share ideas and host workshops. 
"I think comedic relief helps people talk about heavier topics," said Abuhakema. "It was a super positive experience for people to be able to interact with the story and debrief afterwards. Everyone in the audience had a different connection to different characters."
Inclusivity, especially in the world of theater, is a core theme both in the play and for the troupe itself. The six members of the cast, five of whom are people of color, wanted their performances to authentically represent the experiences of the characters in the story. 
"We had a great relationship with the cast, and everyone got really close," Tedeschi said. "Being able to bring this story to life with my friends and see how happy they were with the show was incredibly rewarding."
After Backseat of a Taxi, the audience moved to the other side of the room, where students from across campus stepped up to an open mic and read monologues they had written and rehearsed with the troupe over the previous weeks. The team said the personal monologues made the show even more inclusive and accessible to a diverse group of students, including those who hadn't participated in theater before. 
Interested students were asked to build their monologues around the prompt "I am from." In the audition process that followed, the troupe decided who would participate in the final show through open conversation and group discussion. 
"There were no boundaries to this idea," Athreya said. "It naturally fit together. So much representation came through these identity-based stories, and those are also central themes of the play."
What's next for the Social Justice Theatre Troupe? Athreya, Tedeschi and Abuhakema walk away from this performance confident in their ability to work together, to call their audience in and to bring challenging conversations to the stage.
"This is something I definitely want to continue doing," Athreya said. "Nothing has brought me as much joy as the ability to create a story. I want to continue writing plays that highlight marginalized identities and bring people into theater."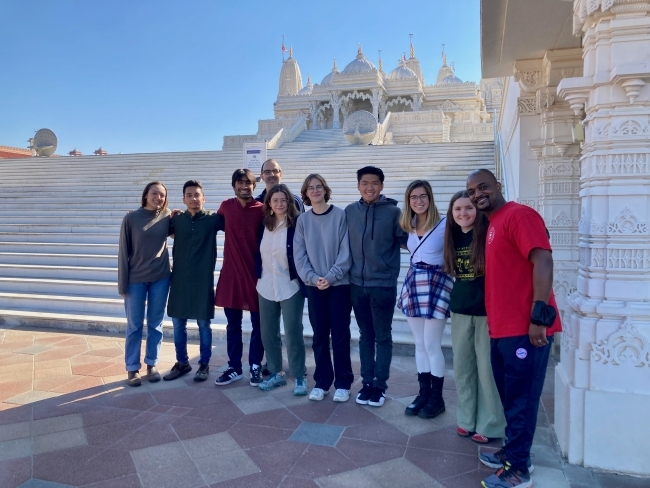 Beloved Community in a World House: Interfaith Fall Retreat to Atlanta, Georgia
Associate Chaplains Heath and Mayerhofer approached the task of leading an interfaith student retreat with open hearts, hands and minds.
The "Beloved Community" part of the retreat's name comes from a biblical concept popularized by Martin Luther King Jr., meaning a community that cares for all of its members. Heath and Mayerhofer were drawn to the concept after reading Lawrence E. Carter's book, A Baptist Preacher's Buddhist Teacher, in which Carter—a professor of religion and the Dean of the Martin Luther King Jr. Chapel at Morehouse College in Atlanta—writes about the challenges and rewards of living together in a "world house."
"I was really struck by the phrase 'world house' that Carter uses," said Heath, a Morehouse alum. "That's really the theme of the whole retreat."
In the months leading up to the trip, Heath and Mayerhofer carefully selected eight students from different religious and non-religious backgrounds whom they felt would be most interested in engaging with community. The group headed to Atlanta, where they would spend fall break living together under the same roof, sharing meals, exploring the city and ending the day with conversation.
Mayerhofer said it was crucial that the group live in a house together, a community-building aspect informed by his experience attending Buddhist retreats. Their interactions with the city around them were equally important, Mayerhofer said.
"We didn't want this trip to feel like spiritual tourism," said Mayerhofer. "We wanted the students to really engage with different communities in a transformative way, and Atlanta has such a rich history to explore – that history is alive right now."
The group began their trip by visiting key sites that reflect the living history of civil rights in Atlanta: the Ebenezer Baptist Church and the tombs of Martin Luther King Jr. and Coretta Scott King. Afterwards, they connected with the Georgia Justice Project, an Atlanta-based organization that pursues restorative justice and serves Georgians impacted by the criminal legal system, and spoke with Executive Director and Davidson alum Doug Ammar '84 about what it means to care for people within an unjust system. At Morehouse College, they met Dean Carter at the Martin Luther King Jr. International Chapel and participated in the Chapel's Sunday Evening Vesper Service.
"Interfaith really is about engaging differences all around us," said Mayerhofer. "Our students really leaned into these conversations and felt comfortable enough to ask difficult questions."
In the following days, the group visited the BAPS Shri Swaminarayan Mandir and the Drepung Loseling Monastery, a Tibetan religious center where they opened the day with meditation.
"Everything from discussing difficult social issues to sharing a meal felt different in the context of our varied experiences," said Gabby Valencia '25, who participated in the retreat. "I came away with a much more dynamic understanding of what makes worship meaningful and how to make peace with the world through that worship."
For both chaplains, the experience served as a reminder of what living in a beloved community can look like, both at Davidson and in the world. They left Atlanta with a renewed passion for  serving the people around them, excited about the future of their work at Davidson. 
"It's a fact that we live in a world house, but beloved community is a choice," Heath said. "We choose to participate in our community. It has to be done with intentionality. I hope students walked away from this experience willing to choose to lean into the communities around them." 
About the Award
The Spencer-Weinstein Prize for Community and Justice, established by Carole and Marcus Weinstein and honoring the late President Emeritus Sam Spencer and his wife, Ava, recognizes students, faculty and staff working to foster dialogue across difference and build bridges for a more just community. The winners share a $10,000 prize. Carole Weinstein is a former member of the Davidson College Board of Trustees and currently serves on the Board of Visitors.