My Davidson | A Student Blog
Navigating Disability in the College Process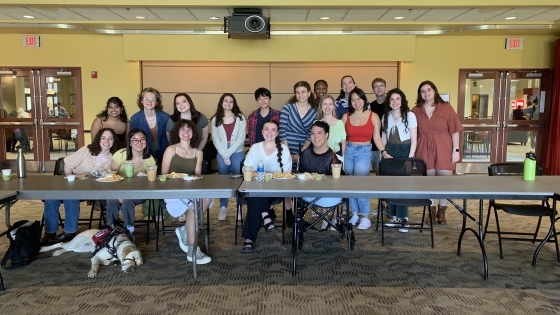 Three Davidson College students reflect on the extra challenges that a disability presents when choosing a college. They share their Davidson experience and offer advice to prospective students with disabilities about going through the selection process.
---
About the Authors
This piece was co-written by Sarah Todd Hammer '24, Spencer Wolff '25 and Rui Rui Bleifuss '26. Learn more about them below.
---
ST Hammer '24: Start Early & Find Your People
I have had a physical disability since I was eight-years-old, so I knew I would need to prepare for college more than non-disabled students. I began my college search process early, touring my first college in 9th grade. There were so many additional things I had to consider, such as the accessibility of the campus, what academic and housing accommodations I would require, whether I would need to hire an aide to assist me each day, etc. Immediately upon touring Davidson my junior year of high school, I knew I wanted to attend school here. I fell in love with the campus, and I appreciated the college's emphasis on being a good person as part of the application process. Their focus on recruiting empathetic students made me feel like I would feel more welcome as a disabled student.
I met with the Academic Access and Disability Resources (AADR) office before I was even accepted to Davidson so I could get a sense of how my needs could be met. Once I was accepted, I returned to campus, where the director of AADR walked around with me to try out doors in different buildings to ensure they were accessible to me and meet the dining staff, who would assist me with getting meals. I appreciated gaining this sense of familiarity with AADR, the dining services staff, and the campus before arriving as a student. Not knowing if a place will be accessible or if people will be around to help me is anxiety-inducing, so working with AADR to plan ahead eased these nerves for me.
My advice for prospective students with disabilities who are navigating the college search process: Never be afraid to ask for what you need. Accommodations are in place to help us succeed, and there is nothing shameful about making use of the accommodations you deserve. College is a wonderful time to get comfortable advocating for yourself, and it can be empowering to do so.
---
Spencer Wolff '25: Find Your Home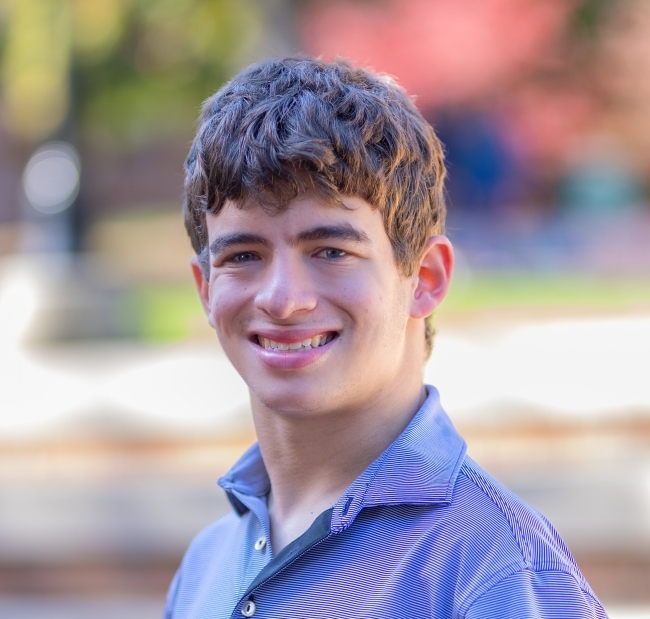 As someone who navigates life in a wheelchair, accessibility is a cornerstone of my life, and especially my experience at Davidson. When I first started in my freshman year, coming to a new place and living on my own, it all seemed scary and a lot to handle. However, two years later, I am so lucky to say that my experience has been one that has made this place feel like home. That feeling of home started from my first step in the application process to Davidson, the tour. A week before my tour, the admissions office had reached out to me, detailing the accessibility of the tour and where we needed to go in a way that no other school had. That set the tone for the welcoming and community-like environment that I felt on my tour and have felt every day as a student. This mainly informs what I learned from my experience applying to college as someone with a disability. For me, it's important to be aware of the topography and location of the campus. For example, I did not look at any colleges north of New York City because navigating in the snow would be too difficult. But most importantly, it's about finding the right place and the one that makes you the happiest, and Davidson has become that for me.
As a student here, that community and helpful vibe has continued, especially when it comes to accessibility. The AADR office has been very helpful and supportive, from walking me step-by-step through the accommodations made to my dorm room to making sure that I have the proper academic resources to succeed at Davidson. My professors have also gone out of their way on multiple occasions to make sure when things were not going well, that I was okay and to make the academic experience as great as possible. Lastly, one of the things that I was nervous about, especially as someone who has physical challenges, was that I would find friends who would support and care for me. Luckily, my friends at Davidson have become much more than just friends and are always willing to do anything to make sure my experience is the same as everyone else's. I was initially anxious about what it would be like here, but even in my toughest times, I feel that I am in a community surrounded by people who are always there for support.
---
​​Rui Rui Bleifuss '26: Self Advocacy & Asking the Important Questions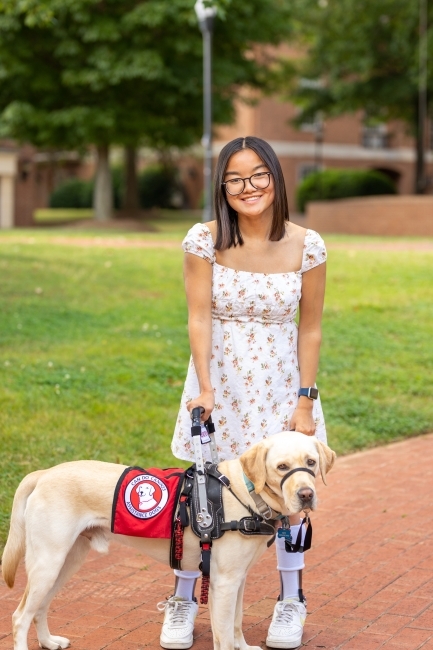 Applying to college–let alone choosing one–is already an extremely daunting process. Now, add a disability into the mix and things get even more stressful. I have a physical disability that affects my strength and balance. Most of the time I use my electric scooter and service dog, Yeti, to get around. When I was applying to schools, and eventually picking one, accessibility was one of the most important factors. After I received my acceptance decisions, I made sure to contact each college's accessibility office, which I found very helpful for making my final choice.
When deciding on a college, I asked myself the following questions. As I begin my sophomore year, here are my answers for Davidson.
Is there a Disability Alliance Club?
Yes! The Davidson Disability Alliance is an extremely active club that hosts a bunch of social and educational events. I made sure to get involved right away, and am now the vice-president!
What is the terrain of the campus like? Is it flat or hilly?
There is the occasional hill here and there. Overall though Davidson is very flat, which makes it pretty easy to navigate.
How big is the campus? Will I be able to get around?
Davidson is a small campus, so I find it easy to get around using my service dog or my scooter. The town of Davidson is close too, so I am able to run to CVS between classes or go to some of the restaurants with friends on the weekends.
What are the accessible housing options?
Davidson will make modifications to your dorm room to fit your accommodations, but I have had to fight for these at times. Some of the dorms have elevators, but unfortunately not all of them.
Does the school offer any disability study courses?
Yes! There are some excellent disability studies courses and professors here. I'm even considering majoring in Disability Studies, through the Center for Interdisciplinary Studies.
Are the professors approachable and willing to meet your accommodations?
Most have been great about this. I have had to advocate for myself at times, but the size of Davidson encourages students and teachers to really get to know each other, which helps.
No school will be perfect, but I have found that Davidson has been willing to work through the challenges with me. Throughout the process, remember to advocate for yourself, ask questions, and don't be afraid to reach out for help when you need it.
---