Bucket List for $1,000: Theatre Prof Mark Sutch Competes on 'Jeopardy!' on Tuesday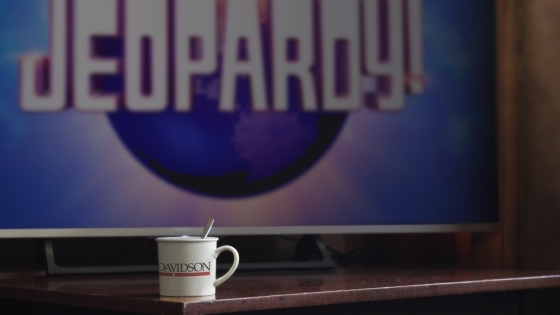 On the first day of the semester, Mark Sutch, professor and chair of the Theatre Department, couldn't make it to his classes. He was in Los Angeles, filming an appearance on the long-running game show, "Jeopardy!"
Now, almost three months later, Sutch's episode will air on Tuesday, April 11. Show rules prevent him from sharing the results of his appearance but Wildcats across the country can cheer him on. Times vary, so check local listings.
Sutch is the second Davidson professor to stare down Final Jeopardy! Hansford Epes '61, a professor of German and the humanities, won three straight games in 1992.
How long have you been watching and trying to make the cut as a contestant?
It's been a life-long dream for me to be on the show. I've been watching pretty religiously since the late 1980s. 
One of my high school teachers was a contestant around that time, and I'd pepper him with questions about Alex Trebek, how the buzzer worked and the audition process. 
Had you auditioned to be on the show before?
I first applied to be on one of their teen tournaments, which back then meant sending in a postcard with my name and address on it, but I never heard back. Then, I auditioned in person in Rhode Island about 20 years ago and made it to the final stages of the process: a practice game and interview, which I completely bombed. Again, never heard back. This last audition process began two and a half years ago, when I took the online audition test.
How did you prepare?
I did play online trivia games and reviewed some commonly referenced lists, like the periodic table, but it's kind of futile to try to learn a bunch of new stuff quickly and expect it to stick. Mostly, I just watched the show and played along. 
Once the invitation came through, I set up a mock podium in my living room and used a spring-loaded toilet paper holder as a "buzzer." I also kept track of my performance statistics across multiple games, so I knew how frequently on average I was ringing in, how many questions per game I was answering correctly, how often I was correct on Daily Doubles and Final Jeopardy--so I could wager more intelligently. 
There's no good way to prep for the actual experience, but this was helpful in getting my mind in the right game space.
How does the filming process work? 
I was invited for two days of taping; they tape five shows a day so they can knock out two weeks of shows in two days. 
On both days, the staff put us in makeup, gave us the rules, Ken Jennings offered some very useful advice, and we played a full practice game on set. None of the contestants know which game they'll be playing until a few minutes before the game is taped, so while we were waiting to be called, we sat in the studio where "Wheel of Fortune" is filmed and watched the "Jeopardy!" tapings on a monitor. I wasn't called until the second game on the second day, but by then, I'd gotten most of my nervousness out because I'd met all of the contestants, seen six games taped, and played two practice games. I'm actually glad that I had that time to just calm down and study how it all worked. 
How was host Ken Jennings?
He was awesome and kind and went out of his way to say nice things to me about my performance. I made a few silly mistakes, but to be fair, it's a truly surreal environment and you can't really control what your brain spits out.
What will you be doing on the night of the broadcast?
I'm actually doing a Zoom event for the Office of Admission that night, speaking with prospective students, so I'll probably just DVR Tuesday's episode and watch it later that night with my wife.